RP5500
RP5500 Portable Generator
The Cat® RP5500 5500 Watt Generator is flexible enough for small jobs, home power outages, and a campsite.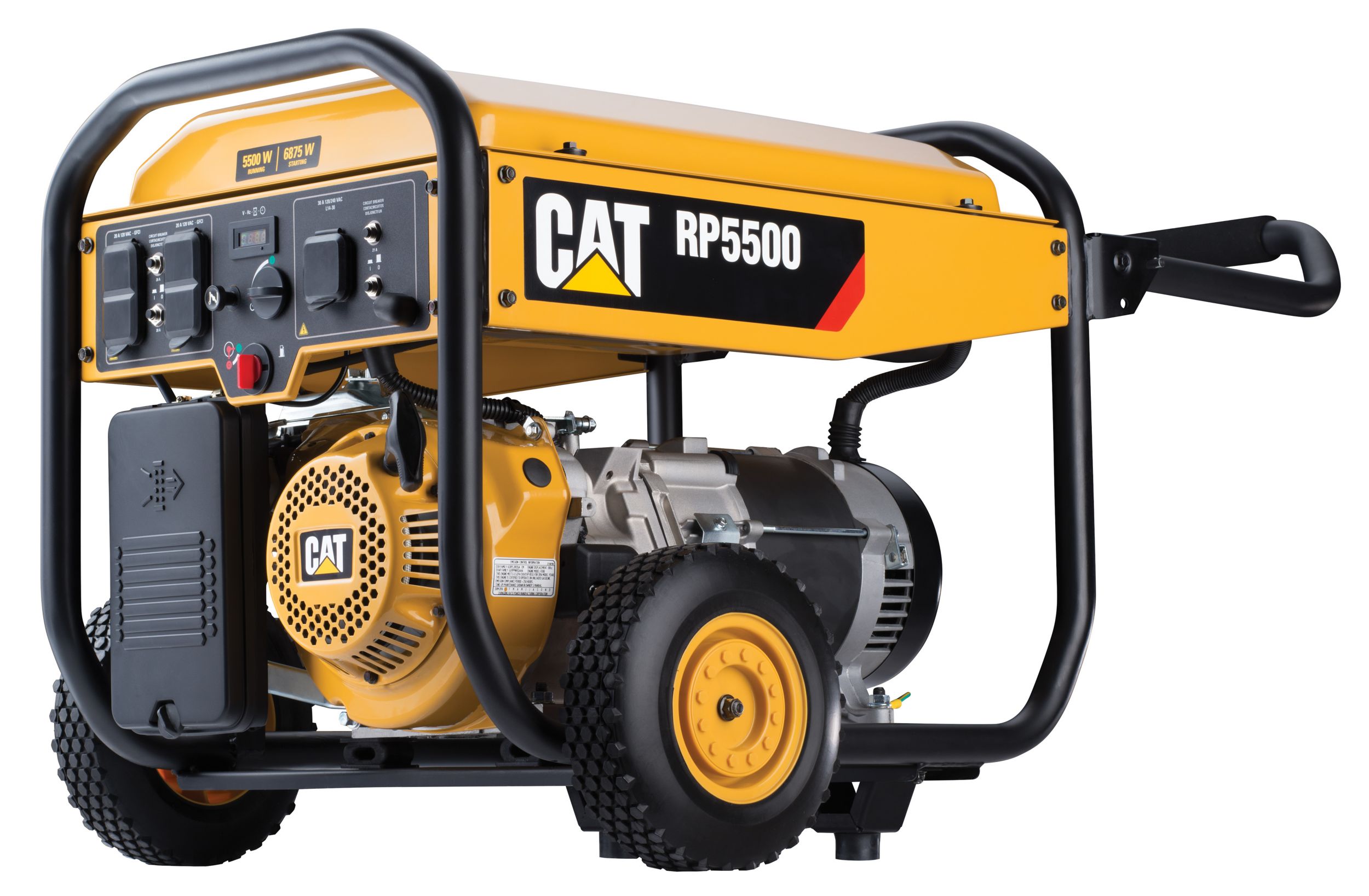 DESCRIPTION
The Cat® RP5500 is flexible enough for small jobs, home power outages, or a campsite.
Flexible and powerful
The perfect multi-use generator
This handy generator brings all of the power you need to take care of both play and home needs. Versatile enough to run your motorhome's microwave, fridge, fans, and TV or keep your home's fridge, freezer, washing machine, security system, and water heater working.
Safety first
We've designed our portable generators with your safety in mind. Snap-fit rubber outlet covers keep vital connections between your valuable devices and the generator protected against moisture, dust and debris . We've also installed ground fault circuit interrupters (GFCI) that shut off the power if it detects an issue in order to keep you safe.
4 in 1 digital display
All the vital information you need to operate your portable generator in a single display: voltage in use, frequency (Hz), current runtime in hours and total hours ran.
Specs
Long Name:
RP5500 Portable Generator
Running Power
5500 W / 5500 W
Starting Power
6875 W / 6875 W
AC Output
120V / 240V @ 60Hz
Total Harmonic Distortion (THD)
—
Receptacles
2x 5-20R GFCI Duplex, 1x L14-30R (Twist Lock)
Run Time at 50%
15 h / 15 h
Fuel Tank Nominal Capacity
7.9 gal (US) / 30 l
Fuel Type
Unleaded Gasoline > 87 octane
Engine Displacement
300 cm³ / 300 cm³
Lubrication Method
Splash
Recommended Oil
SAE 30 or 10W-30
Oil Capacity
1.1 qt (US) / 1.1 l
Region Certifications
CSA
Shutdown Method
Automatic Low Oil Level
Illuminated Control Panel
Yes
Handle Style
Padded, Double Hinged
Warranty
Standard 2-year limited, extended to 3-year limited when registered within 30 days
Extended Length
45.2 in / 1148 mm
Unit Weight
163 lb / 74 kg
Carton Height
23.2 in / 590 mm
Carton Width
22.6 in / 575 mm
Carton Length
34.4 in / 875 mm
Shipping Weight
189 lb / 85 kg
SEE HOW RP5500 COMPARES AGAINST FREQUENTLY COMPARED PRODUCTS.
RP Series
RP5500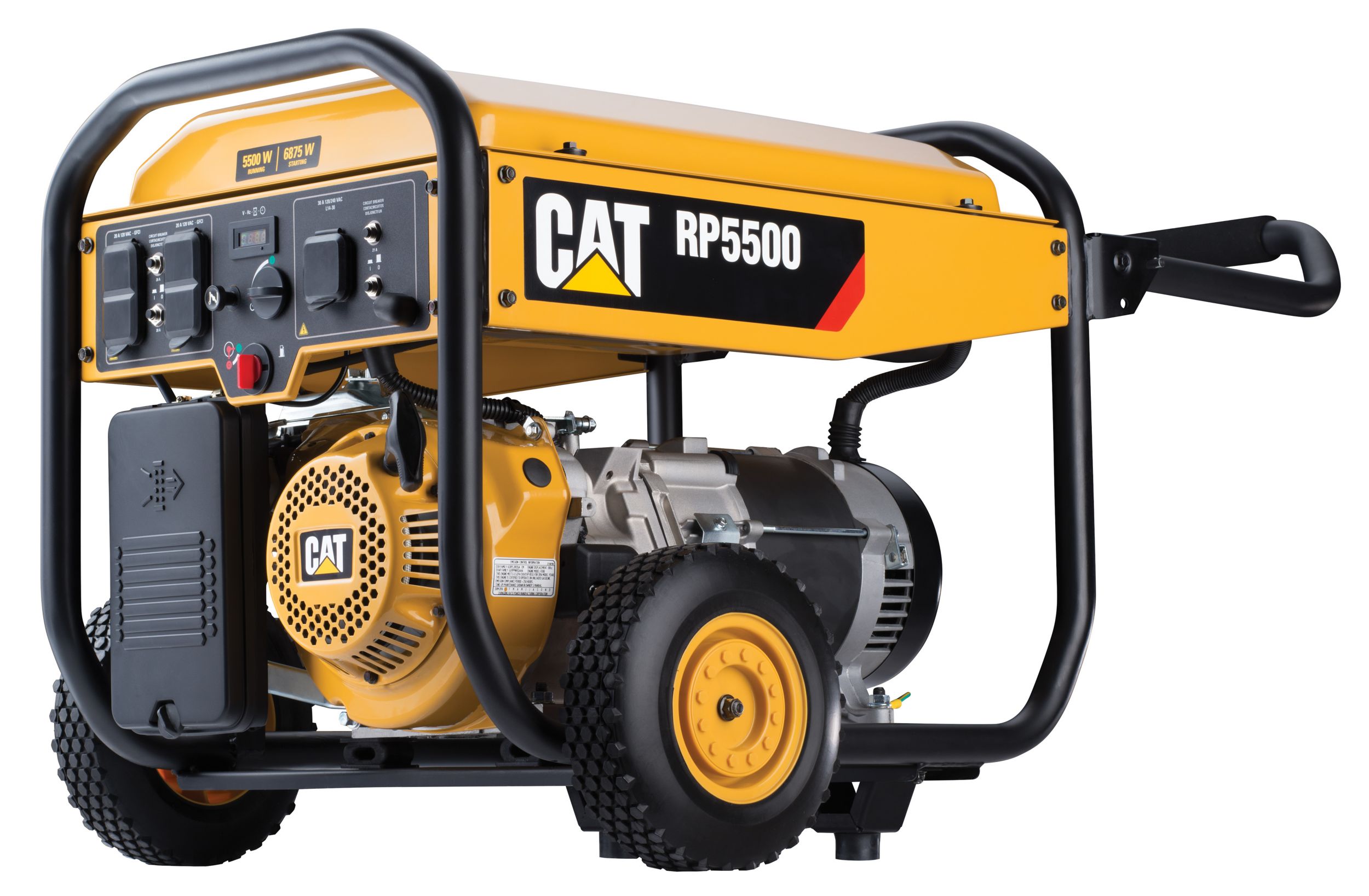 Brand

Cat

Status

Current

Running Power

5500 W / 5500 W

Starting Power

6875 W / 6875 W

AC Output

120V / 240V @ 60Hz

DC Output

—

Total Harmonic Distortion (THD)

—

Receptacles

2x 5-20R GFCI Duplex, 1x L14-30R (Twist Lock)

Voltage Regulation

AVR

Battery Type

—

Run Time at 50%

15 h / 15 h

Starting Method

Pull

Idle Control

—

Fuel Tank Nominal Capacity

7.9 gal (US) / 30 l

Fuel Tank Material

Metal

Fuel Type

Unleaded Gasoline > 87 octane

Fuel Gauge

Dial Gauge

Engine Displacement

300 cm³ / 300 cm³

Engine Type

OHV

Engine Speed

3600 RPM

Lubrication Method

Splash

Recommended Oil

SAE 30 or 10W-30

Oil Capacity

1.1 qt (US) / 1.1 l

Region Certifications

CSA

Shutdown Method

Automatic Low Oil Level

Illuminated Control Panel

Yes

Handle Style

Padded, Double Hinged

Wheel Type

Never-Flat

Indicator Lights

—

USB

—

Warranty

Standard 2-year limited, extended to 3-year limited when registered within 30 days

Height

24.7 in / 628 mm

Width

27.4 in / 696 mm

Length

32.9 in / 835 mm

Extended Length

45.2 in / 1148 mm

Unit Weight

163 lb / 74 kg

Carton Height

23.2 in / 590 mm

Carton Width

22.6 in / 575 mm

Carton Length

34.4 in / 875 mm

Shipping Weight

189 lb / 85 kg

UPC

815683020043
RP Series
RP5500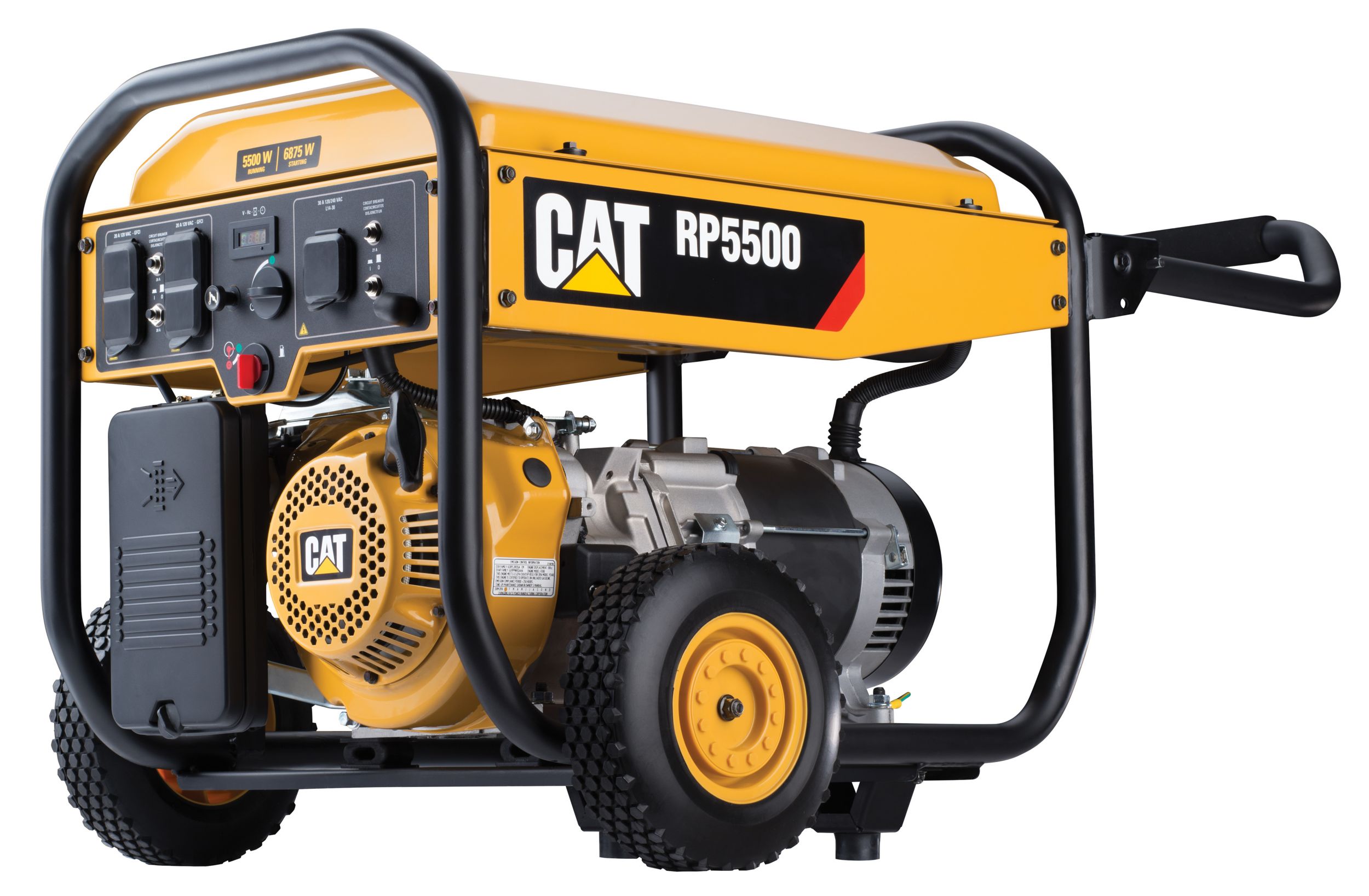 Brand

Caterpillar

Status

Current

Running Power

5500 W / 5500 W

Starting Power

6875 W / 6875 W

AC Output

120V / 240V @ 60Hz

DC Output

—

Total Harmonic Distortion (THD)

—

Receptacles

2x 5-20R GFCI Duplex, 1x L14-30R (Twist Lock)

Voltage Regulation

AVR

Battery Type

—

Run Time at 50%

15 h / 15 h

Starting Method

Pull

Idle Control

—

Fuel Tank Nominal Capacity

7.9 gal (US) / 30 l

Fuel Tank Material

Metal

Fuel Type

Unleaded Gasoline > 87 octane

Fuel Gauge

Dial Gauge

Engine Displacement

300 cm³ / 300 cm³

Engine Type

OHV

Engine Speed

3600 RPM

Lubrication Method

Splash

Recommended Oil

SAE 30 or 10W-30

Oil Capacity

1.1 qt (US) / 1.1 l

Region Certifications

EPA

Shutdown Method

Automatic Low Oil Level

Illuminated Control Panel

Yes

Handle Style

Padded, Double Hinged

Wheel Type

Never-Flat

Indicator Lights

—

USB

—

Warranty

Standard 2-year limited, extended to 3-year limited when registered within 30 days

Height

24.7 in / 628 mm

Width

27.4 in / 696 mm

Length

32.9 in / 835 mm

Extended Length

45.2 in / 1148 mm

Unit Weight

163 lb / 74 kg

Carton Height

23.2 in / 590 mm

Carton Width

22.6 in / 575 mm

Carton Length

34.4 in / 875 mm

Shipping Weight

189 lb / 85 kg

UPC

815683020050
RP Series
RP5500 CARB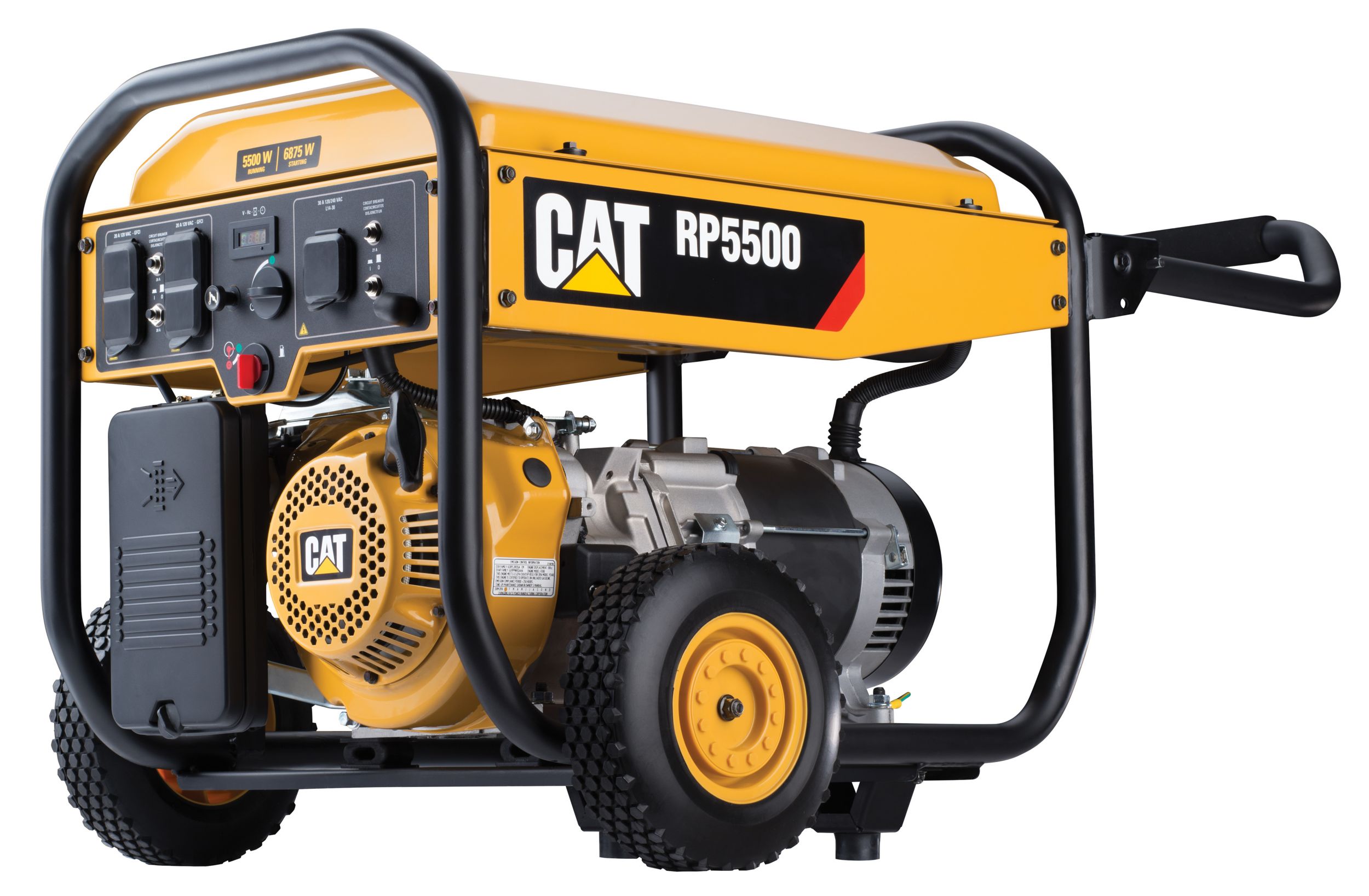 Brand

Cat

Status

Current

Running Power

5500 W / 5500 W

Starting Power

6875 W / 6875 W

AC Output

120V / 240V @ 60Hz

DC Output

—

Total Harmonic Distortion (THD)

—

Receptacles

2x 5-20R GFCI Duplex, 1x L14-30R (Twist Lock)

Voltage Regulation

AVR

Battery Type

—

Run Time at 50%

15 h / 15 h

Starting Method

Pull

Idle Control

—

Fuel Tank Nominal Capacity

7.9 gal (US) / 30 l

Fuel Tank Material

Metal

Fuel Type

Unleaded Gasoline > 87 octane

Fuel Gauge

Dial Gauge

Engine Displacement

300 cm³ / 300 cm³

Engine Type

OHV

Engine Speed

3600 RPM

Lubrication Method

Splash

Recommended Oil

SAE 30 or 10W-30

Oil Capacity

1.1 qt (US) / 1.1 l

Region Certifications

CARB

Shutdown Method

Automatic Low Oil Level

Illuminated Control Panel

Yes

Handle Style

Padded, Double Hinged

Wheel Type

Never-Flat

Indicator Lights

—

USB

—

Warranty

Standard 2-year limited, extended to 3-year limited when registered within 30 days

Height

24.7 in / 628 mm

Width

27.4 in / 696 mm

Length

32.9 in / 835 mm

Extended Length

45.2 in / 1148 mm

Unit Weight

164.5 lb / 75 kg

Carton Height

23.2 in / 590 mm

Carton Width

22.6 in / 575 mm

Carton Length

34.4 in / 875 mm

Shipping Weight

190 lb / 86 kg

UPC

815683020036