SE60 V Asphalt Screed
SE60 V Screed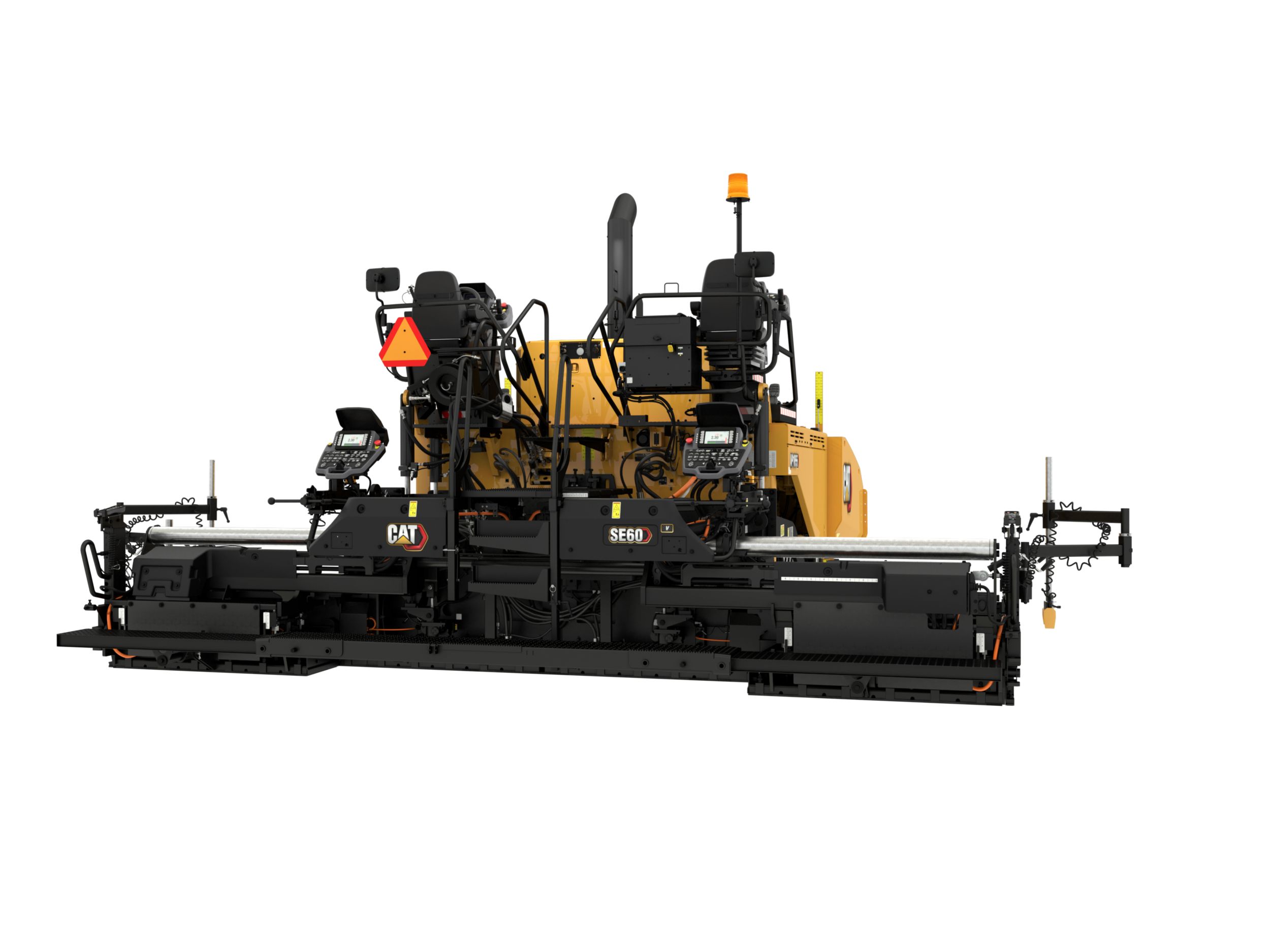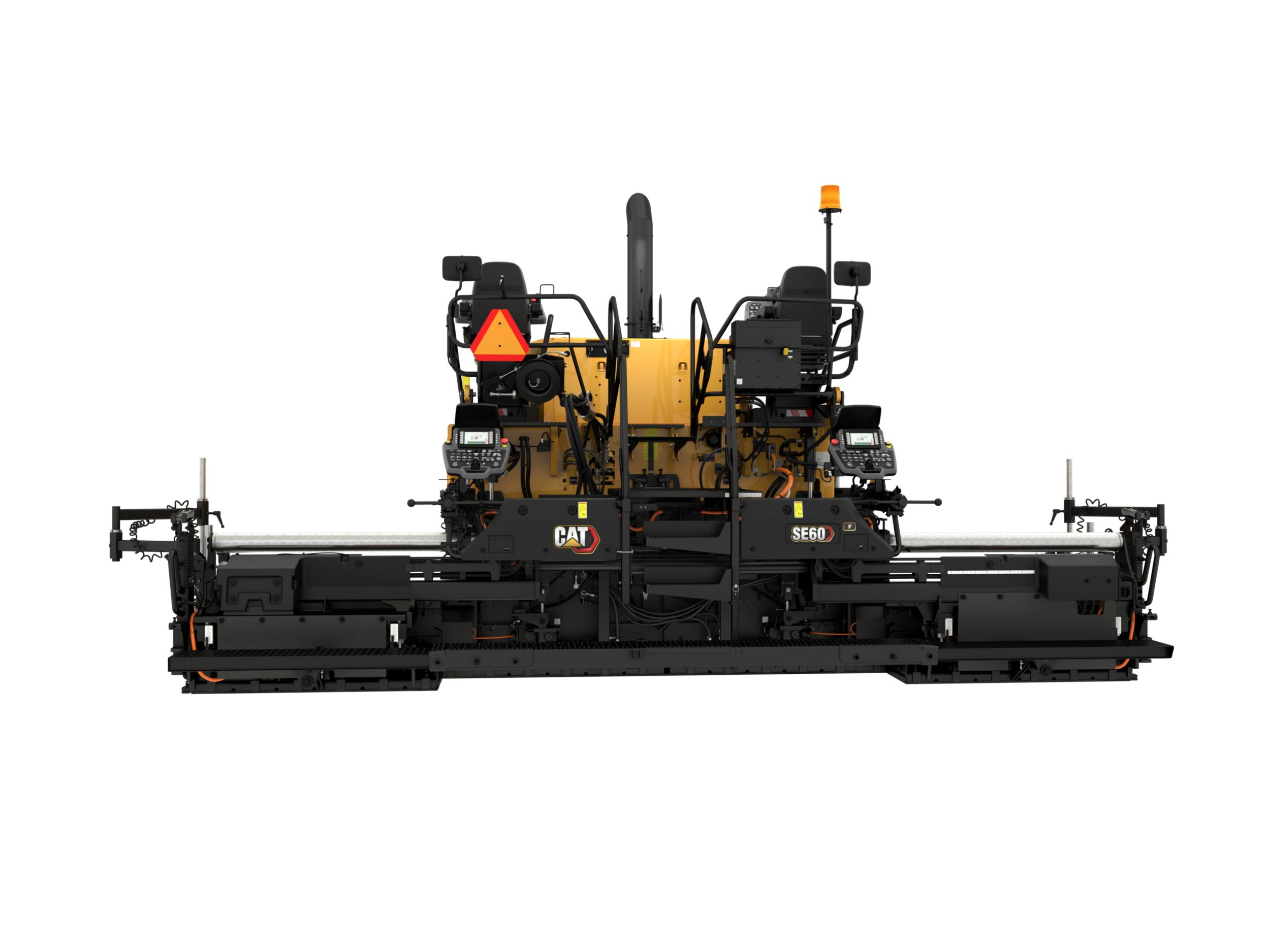 DESCRIPTION
The Cat® SE60 V Asphalt Screed with rear-mounted extenders provides stability, easy set-up, and a versatile paving range, making it the perfect match for highways, interstates, airports, and many other high-production paving applications.
Cat® SDX Screed Plates
The optional Cat® SDX Screed Plate Technology helps improve road quality with better consistency and higher reliability. This revolutionary design provides dynamic flow through the screed plates to reduce air voids and increase density.
The screed plate design consists of an angular surface on the front of the plates with a tapering smooth surface near the back. A kneading action occurs as the plates manipulate the mix as it passes through the angular grooves.
The innovative design enhances the structural integrity of the asphalt, lessens compactor shoving, strengthens unconfined edges, and promotes better surface temperature uniformity.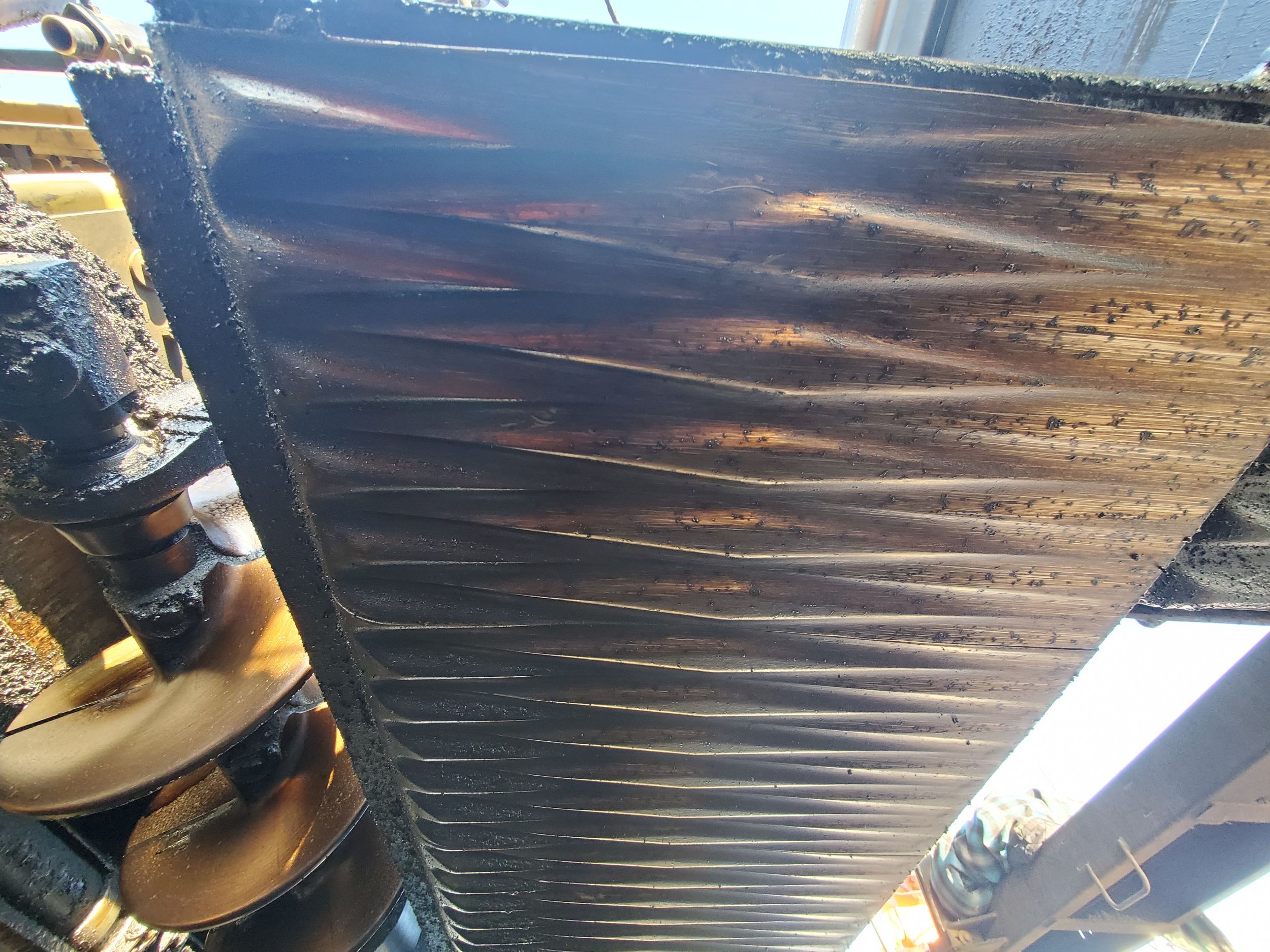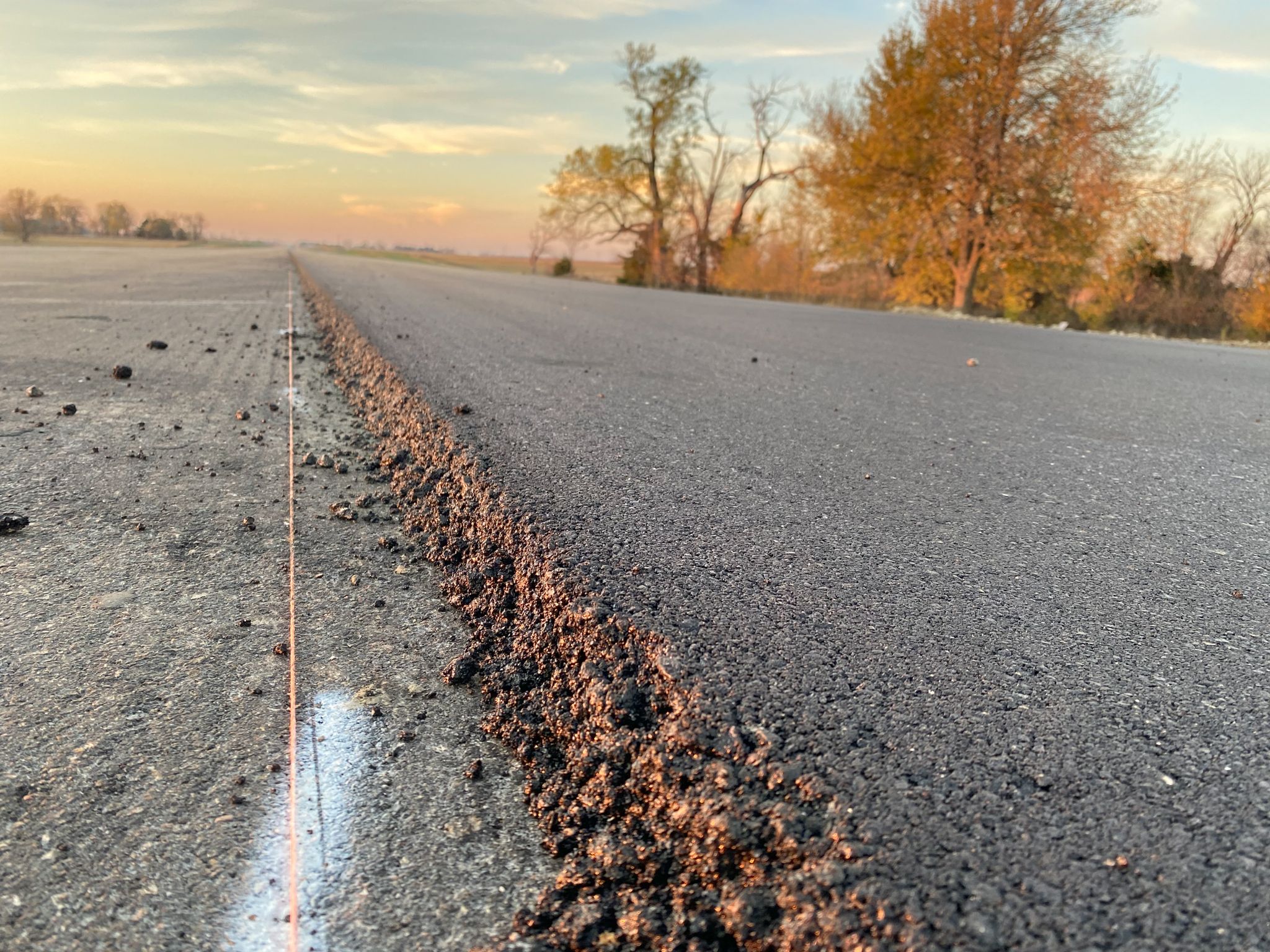 Application Versatility
Common applications include large parking lots, highways, intersates, airports and many other high production pay for performance applications
The standard paving range of 3 m - 6 m (9' 10" - 19' 6") provides excellent performance when changing paving widths for both urban and highway paving applications
Simple, bolt-on extensions offer a maximum paving width of 7.45 m (24' 5")
Simple Operation
Operating displays can be tailored to specific language requirements with multiple options available
Exclusive 2-speed, proportional extender control provides smooth adjustment when transitioning paving widths
Screed operating consoles are equipped with ratio adjustment for the augers and conveyors, providing the ability to modify material flow
Power controls for extender slope and height enables operators to quickly manage mat angles and surface textures
Trailing edge screed plate adjusters help maintain an even plane across the width of the screed in order to enhance paving quality and extend screed plate life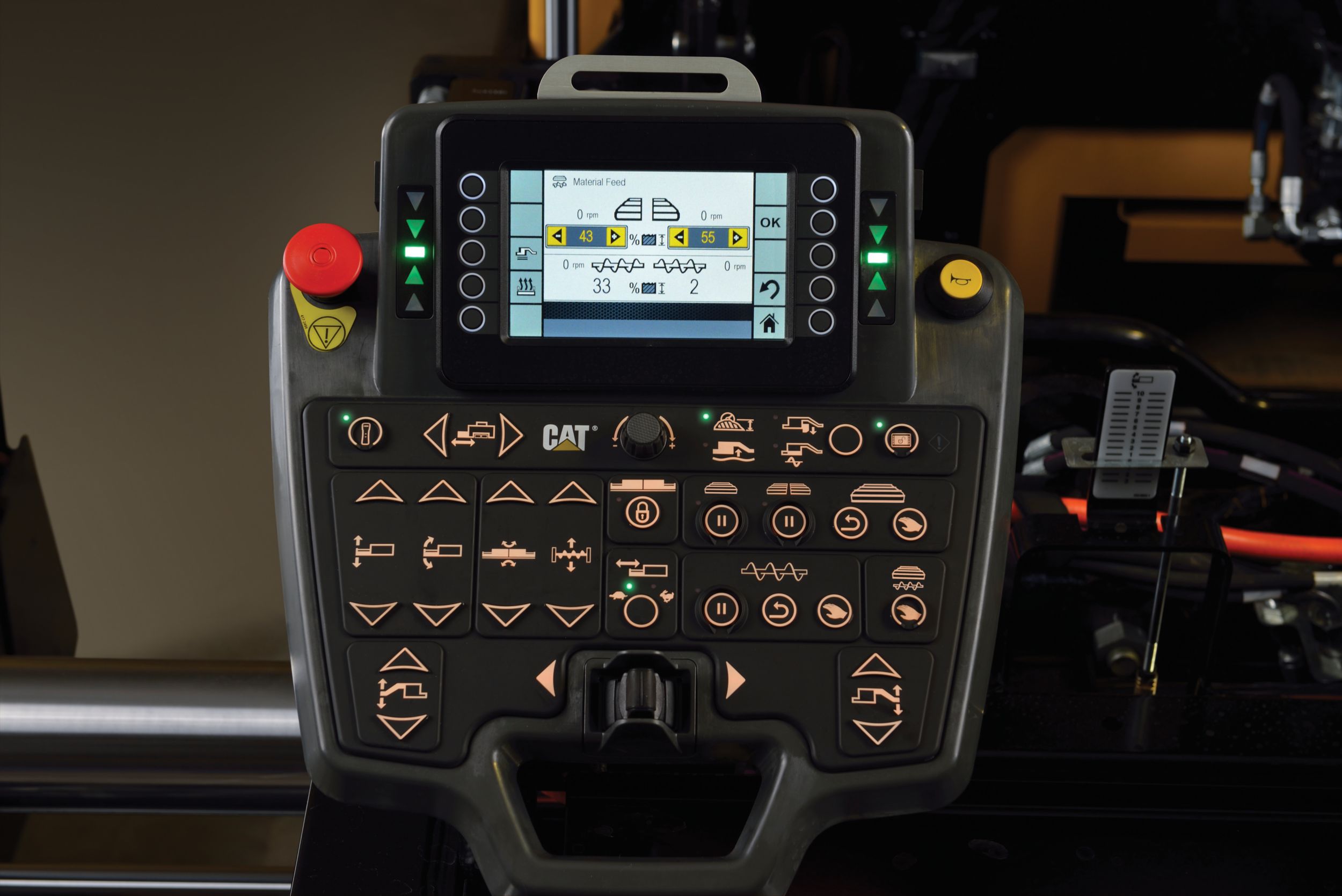 Smooth Material Flow
Screed plate depths of 407 mm (16") on both the main and extenders provide stability and good mat textures
The heated end gate option helps prevent material from sticking for better edge profiles and joint matching capability
Pave Start Assistant
Pave Start Assistant saves set-up profiles for repeatable use on future job sites, simply activate the profile for quick, single person setup
Set-up preferences include: tow-point height, screed heat temperature, paving speed, paving width, paving depth, crown, extender slope and height, screed assist, and screed locking features
Setup features are located in the left screed display and can also be viewed through the tractor displays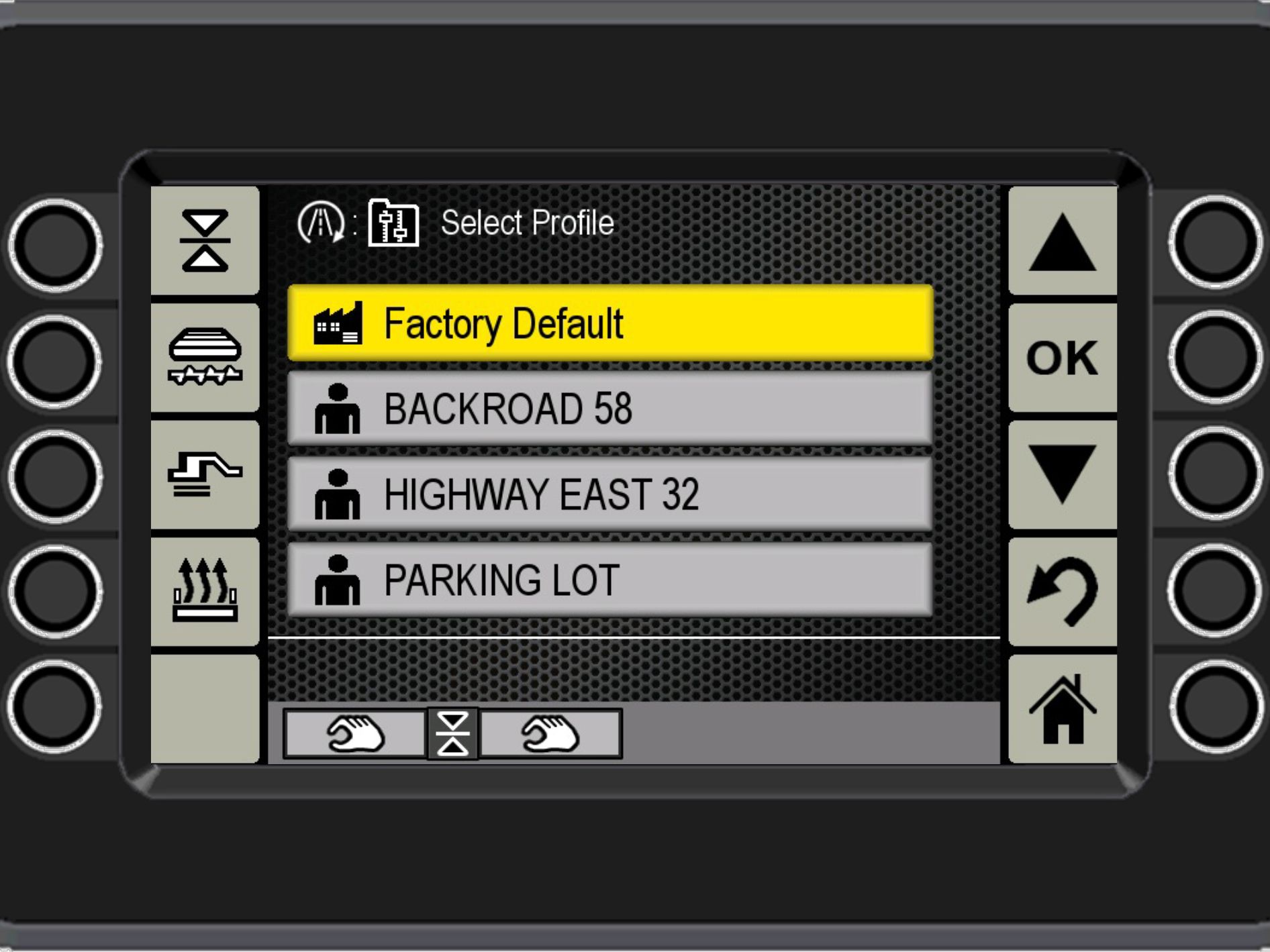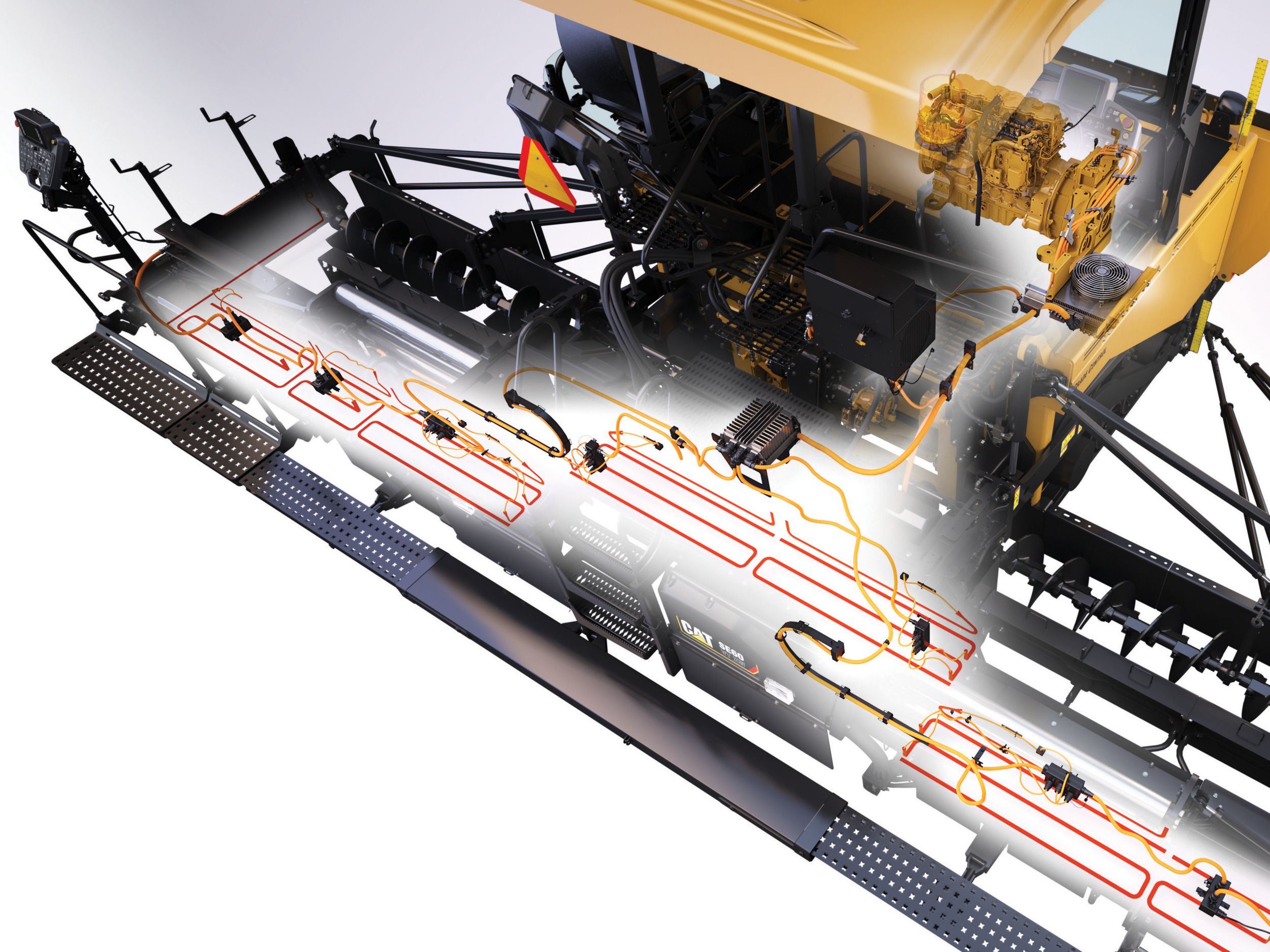 Quick Heat, Even Distribution
The tractor-integrated generator delivers 15 minute heat-up to 130º C (266º F) for quick starts
Electric heating system with zone monitoring helps ensure even heat distribution and smooth asphalt textures while also allowing heating to continue in the event of a temperature sensor failure
Pendent Control (Option)
Manual overrides and pause function capability for each auger and each conveyor are available to match changes in material flow requirements
Power slope and height functions assist with profile
Automatic Grade Control activation provides flexibility when working on the outer edge of the screed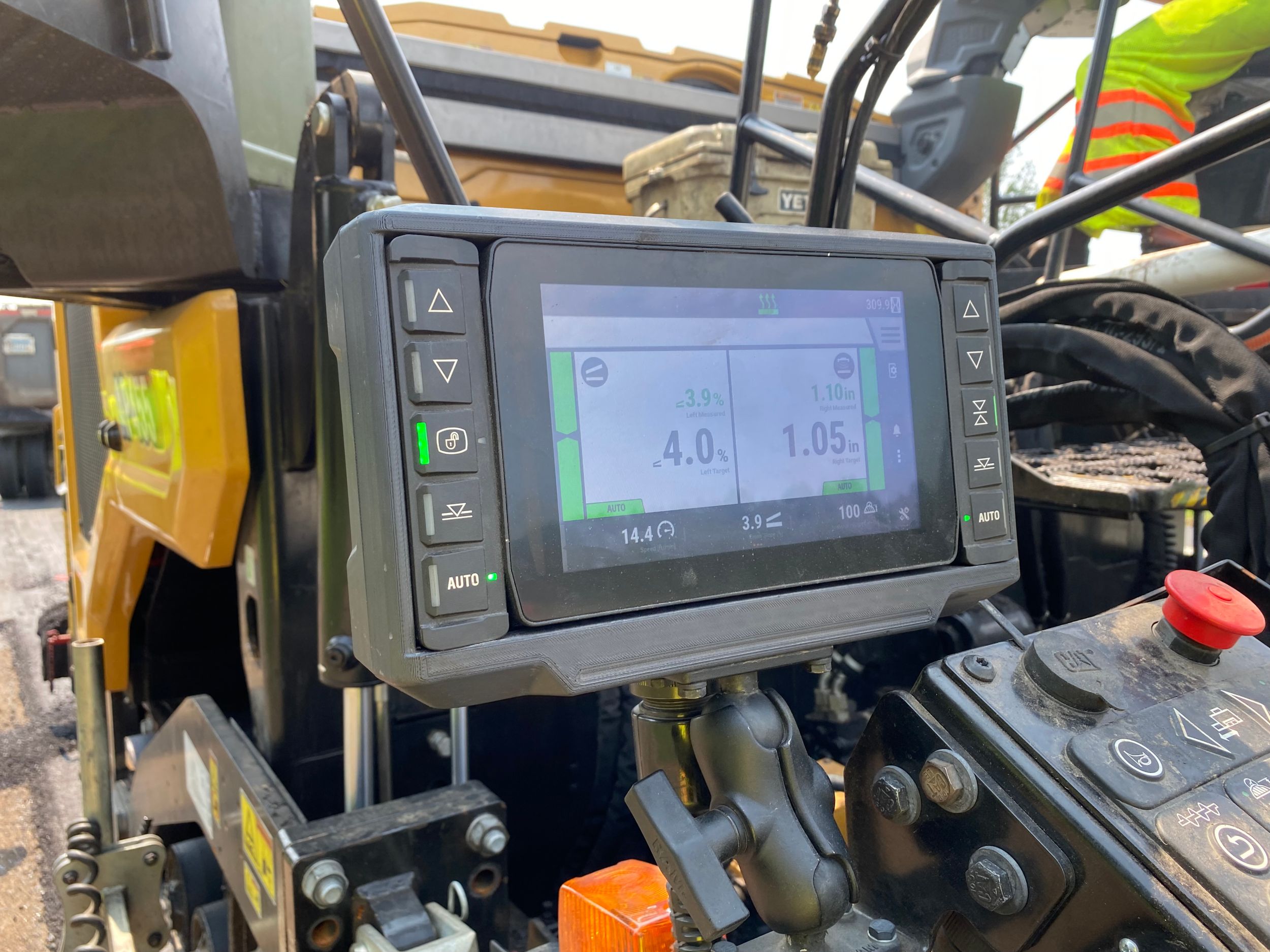 Cat® Grade Control (Option)
Factory-integrated leveling system that helps remove irregularities from the surface and control mat thickness for increased production, lower operating costs, and higher profitability
User-friendly system with text-based displays, split screen-mode, and on-the-go sensor selection
Precise control driven by 10-point auto-calibration, true averaging with 5 transducers in each sonic sensor, and cross coupling feature that maintains slope requirements more consistently when changing elevation
Service and Repair Kits
Paver and screed service and repair kits include all the parts necessary to complete specific repairs
Cat genuine parts are manufactured to precise specifications and designed for optimal performance and maximum uptime
Repair kits are identified by a single part number to make ordering easy
Select kits are available to be packaged as a kit by the dealer for over-the- counter purchases or through the dealer service shop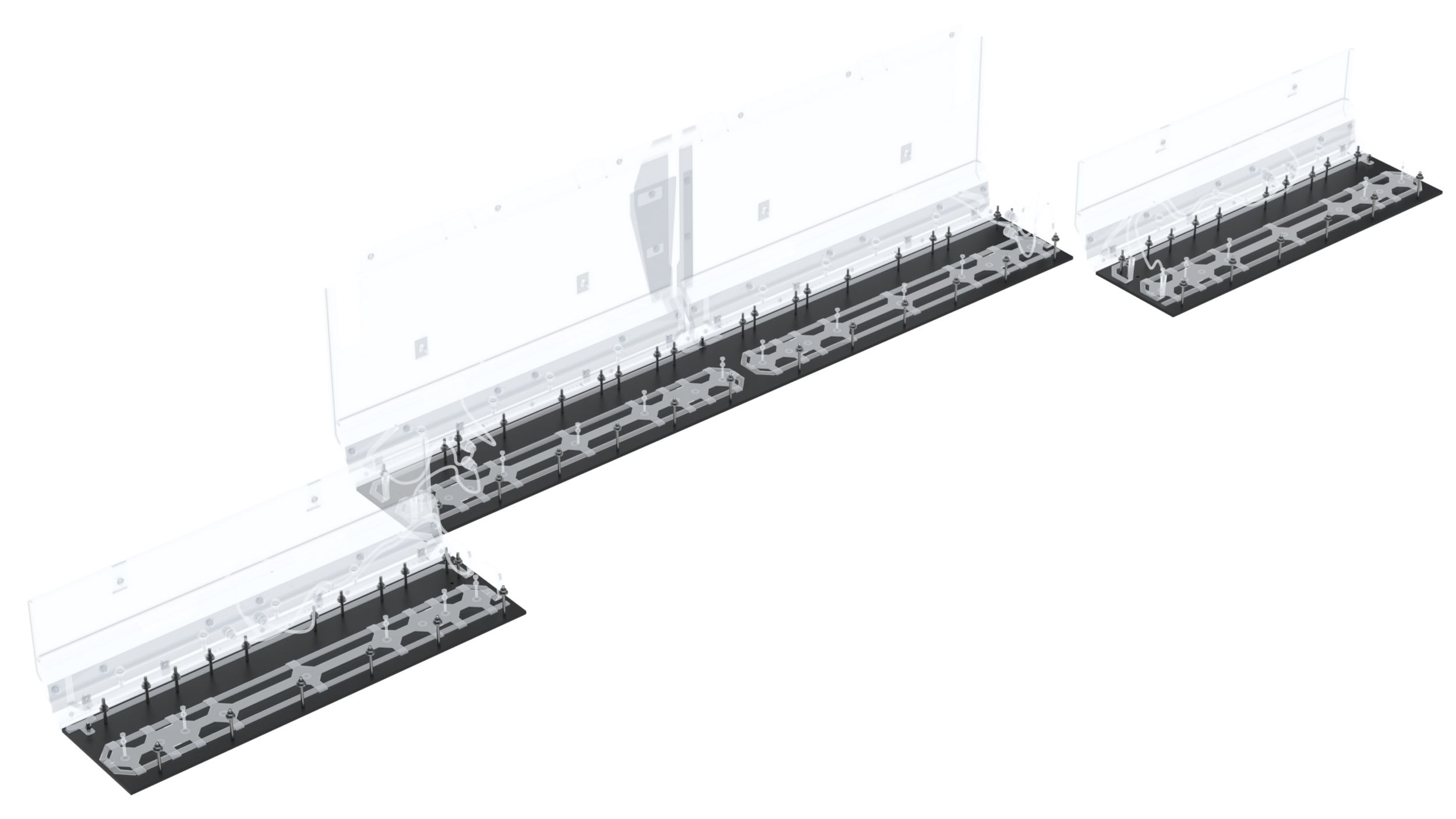 Specs
Name:
SE60 V Asphalt Screed
Standard Weight
7826 lb / 3550 kg
Standard Paving Range
3.0 - 6.0 m (9' 10" - 19' 6"')
Maximum Paving Width
24.5 ft / 7.45 m
Screed Plate Width - Front to Back
16 in / 407 mm
Extender Height Range
+50 mm to -20 mm
Extender Slope Range
-3% to +10%
Maximum Paving Depth
12 in / 305 mm
Length - Front to Back, Endgates Attached
94 in / 2394 mm
Vibratory Speed Range
0 - 3000 rpm
Length - Front to Back, Endgates Removed
68 in / 1730 mm
Heating Time - Maximum Width
25 minutes
Heating Time - Standard Width
15 minutes
SEE HOW SE60 V Asphalt Screed COMPARES AGAINST FREQUENTLY COMPARED PRODUCTS.
Screeds
SE60 V Asphalt Screed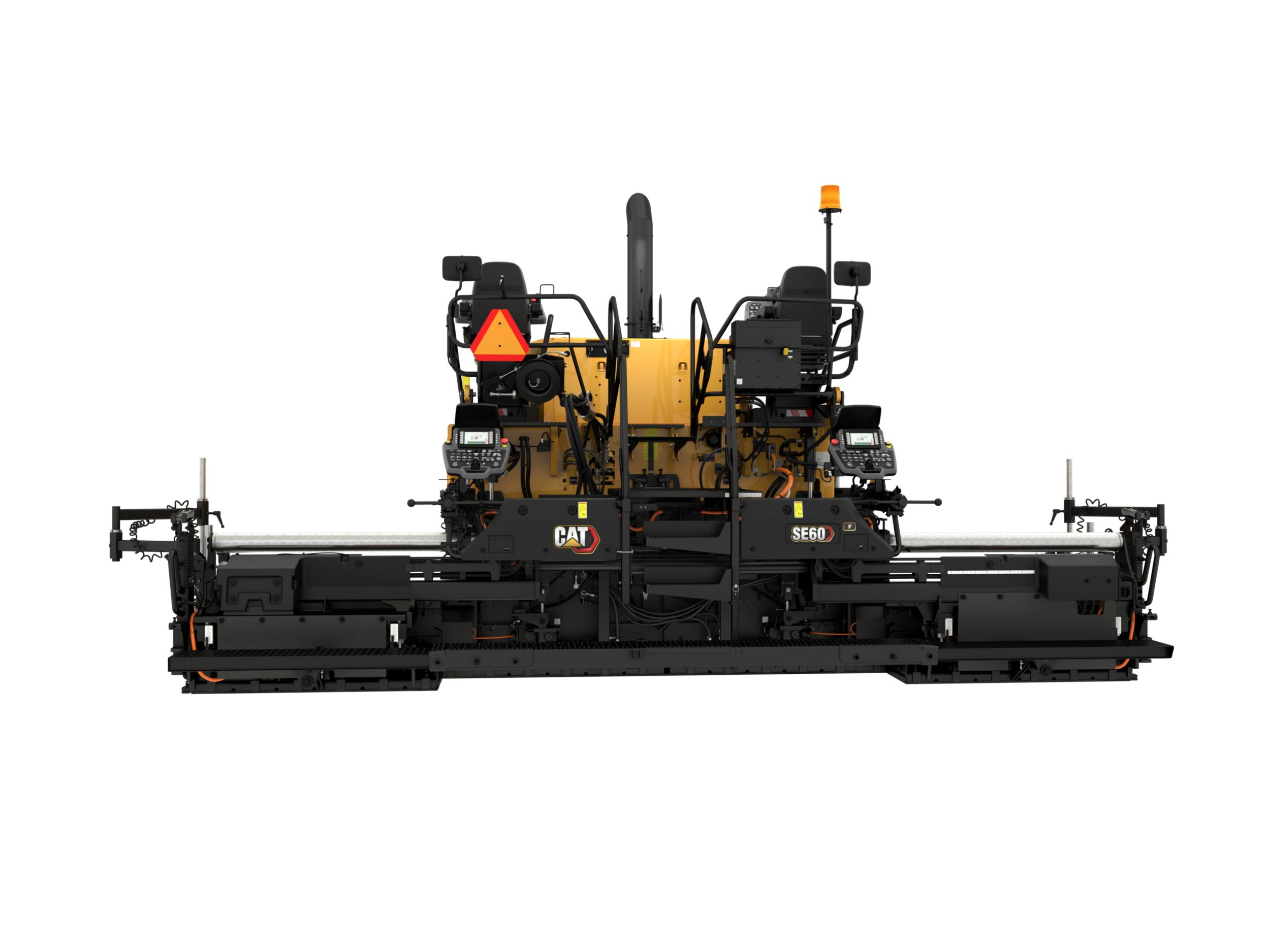 Brand

Caterpillar

Status

Current

Standard Weight

7826 lb / 3550 kg

Standard Paving Range

3.0 - 6.0 m (9' 10" - 19' 6"')

Maximum Paving Width

24.5 ft / 7.45 m

Crown Range

-4% to +10%

Extender Height Range

+50 mm to -20 mm

Extender Slope Range

-3% to +10%

Maximum Paving Depth

12 in / 305 mm

Length - Front to Back, Endgates Attached

94 in / 2394 mm

Vibratory Speed Range

0 - 3000 rpm

Length - Front to Back, Endgates Removed

68 in / 1730 mm

Heating Time - Maximum Width

25 minutes

Heating Time - Standard Width

15 minutes
Screeds
SE60 FM Vibratory Screed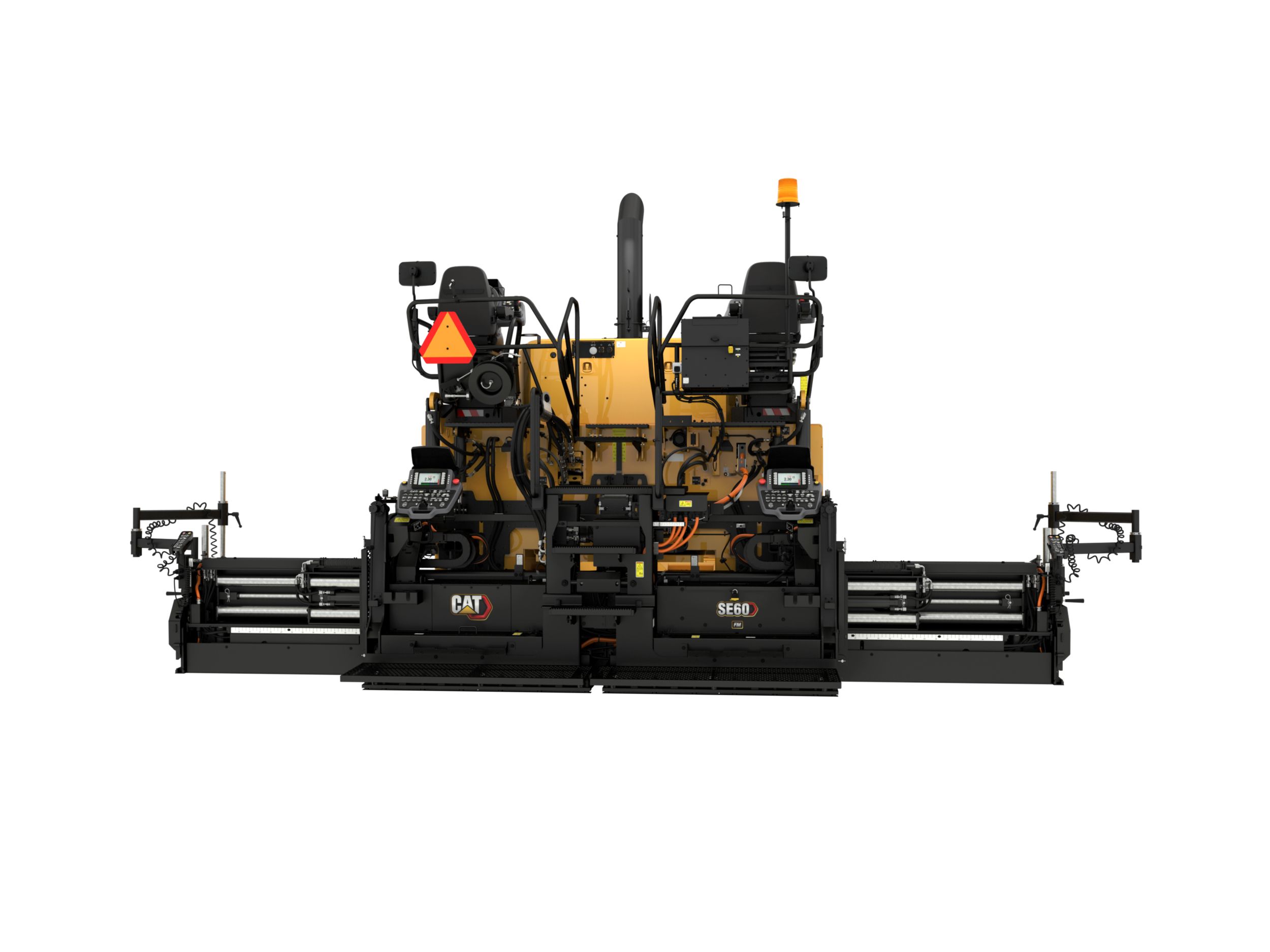 Brand

Cat

Status

Current

Standard Weight

7800 lb / 3538 kg

Standard Paving Range

3.05 - 594 m (10' - 19' 6")

Maximum Paving Width

25.5 ft / 7.77 m

Crown Range

-2.5% to 5%

Extender Height Range

-41 mm to +6.5 mm

Extender Slope Range

0% to 9%

Maximum Paving Depth

10 in / 250 mm

Length - Front to Back, Endgates Attached

86 in / 2194 mm

Vibratory Speed Range

0 to 3000 vpm

Length - Front to Back, Endgates Removed

59 in / 1509 mm

Heating Time - Maximum Width

25 minutes

Heating Time - Standard Width

15 minutes
Screeds
SE60 V XW Vibratory Screed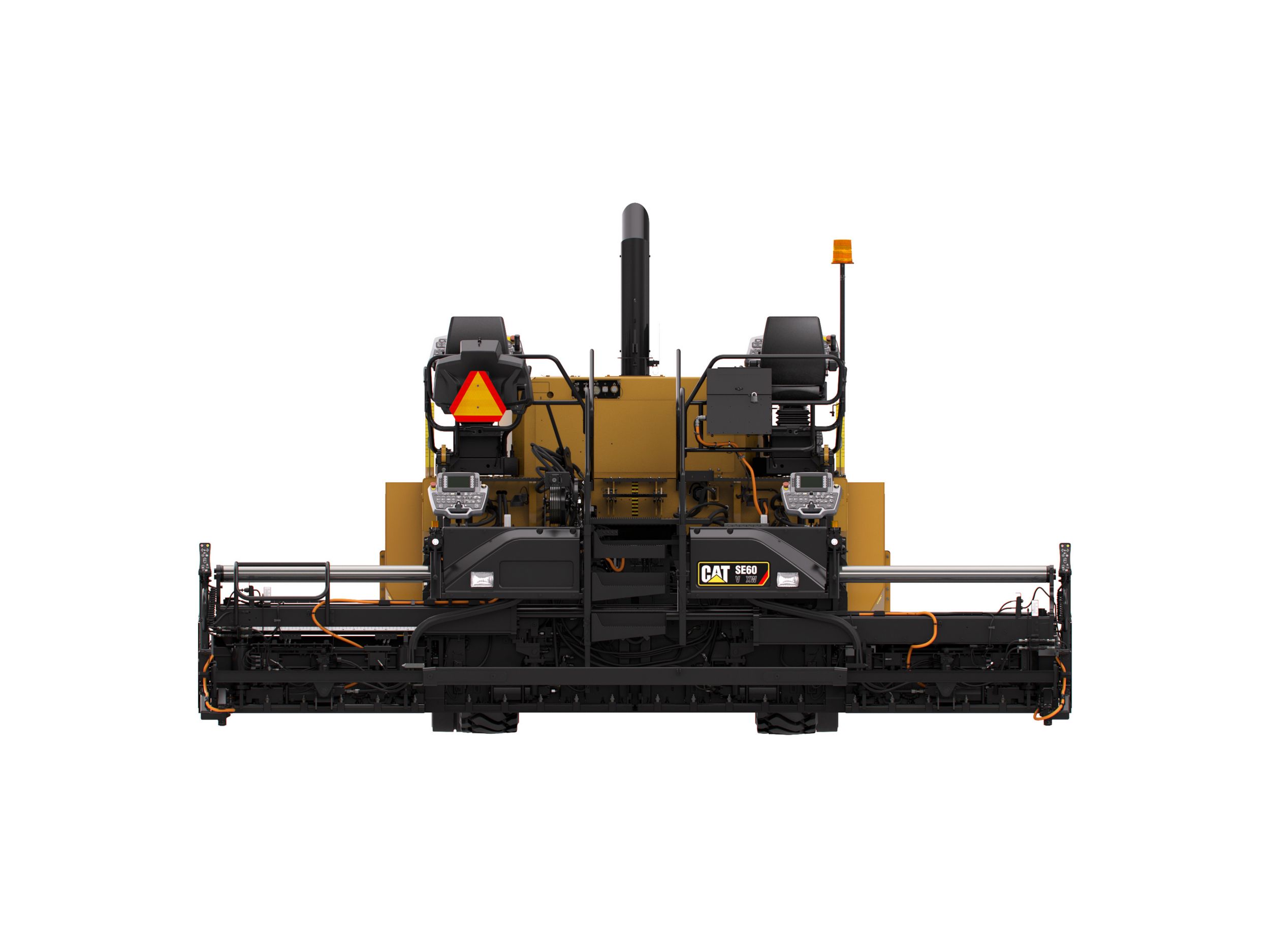 Brand

Caterpillar

Status

Current

Standard Weight

8973 lb / 4070 kg

Standard Paving Range

3.0 to 6.0 m (9' 10"- 19' 6")

Maximum Paving Width

33 ft / 10 m

Crown Range

-4% to +10%

Extender Height Range

-20 mm to +50 mm

Extender Slope Range

-3% to +10%

Maximum Paving Depth

12 in / 305 mm

Length - Front to Back, Endgates Attached

98 in / 2499 mm

Vibratory Speed Range

0 - 3000 rpm

Length - Front to Back, Endgates Removed

76 in / 1940 mm

Heating Time - Maximum Width

25 minutes

Heating Time - Standard Width

15 minutes