System K 2.0 m Milling Drum (25 mm spacing)
System K 2.0 m Milling Drum (25 mm spacing)
Cat® System K milling drums are designed with advanced features for surface removal or complete removal of road surfaces.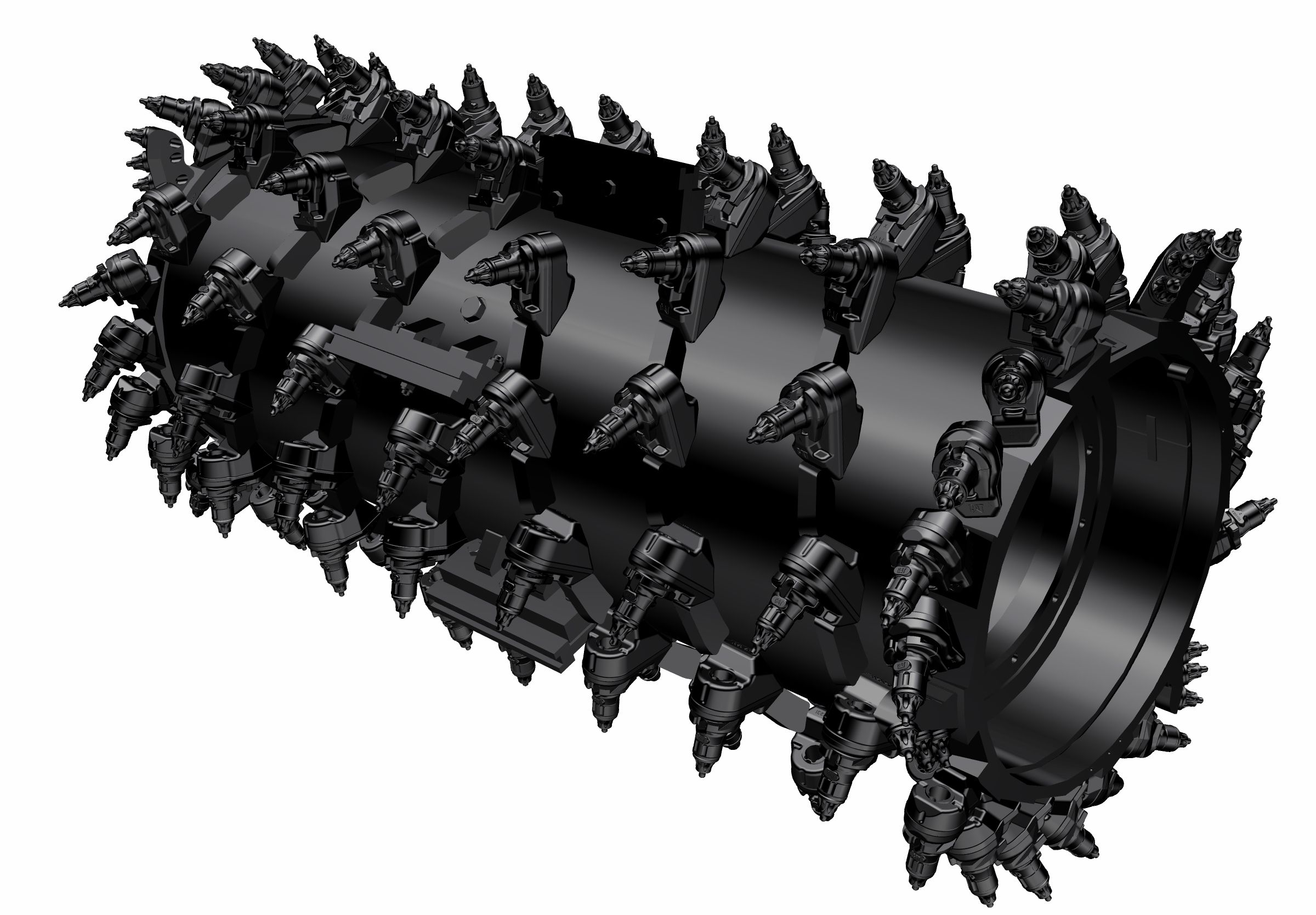 DESCRIPTION
The System K course milling rotor with 25 mm bit spacing is designed for surface removal or complete removal of road surfaces with a rougher finish at depths up to 330 mm (13 in). A durable, high-performance design with efficient material flow and an excellent cutting pattern maximizes milling production.
Toolholder Design
The toolholder features multiple bit removal methods and a unique friction ring design to secure it to the rotor, yielding faster replacement and reduced downtime for rotor maintenance.
A taper and friction ring design secures the toolholders to the rotor without a retaining pin, bolt or setscrew, speeding up replacement time by up to 50% and eliminating the need for fasteners or torqueing
20 mm wear collar is 66% longer than System G toolholders
An anti-rotating toolholder design ensures proper position to prevent wear on the blocks and holders
Water can penetrate through the toolholder radial access hole to aid tooth rotation for uniform bit wear
Toolholders are available to accommodate bits with 20 mm, 22 mm and 25 mm shank size bits for various applications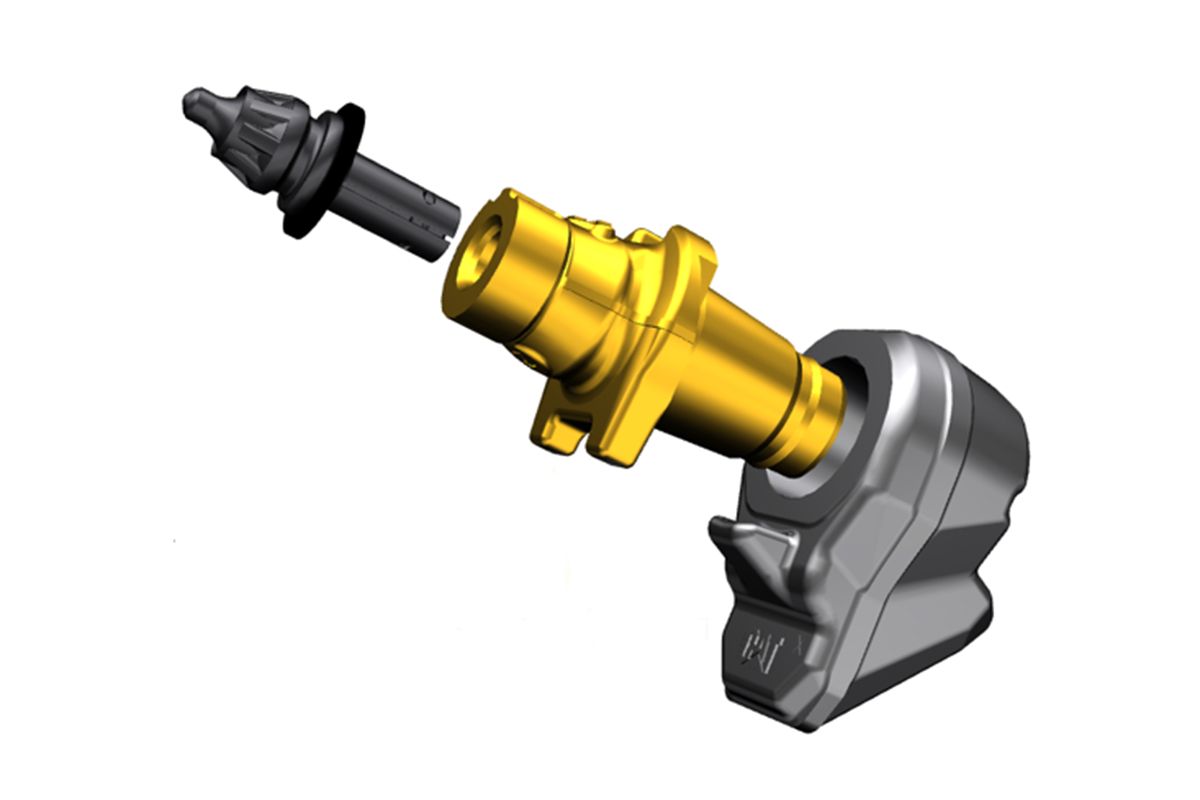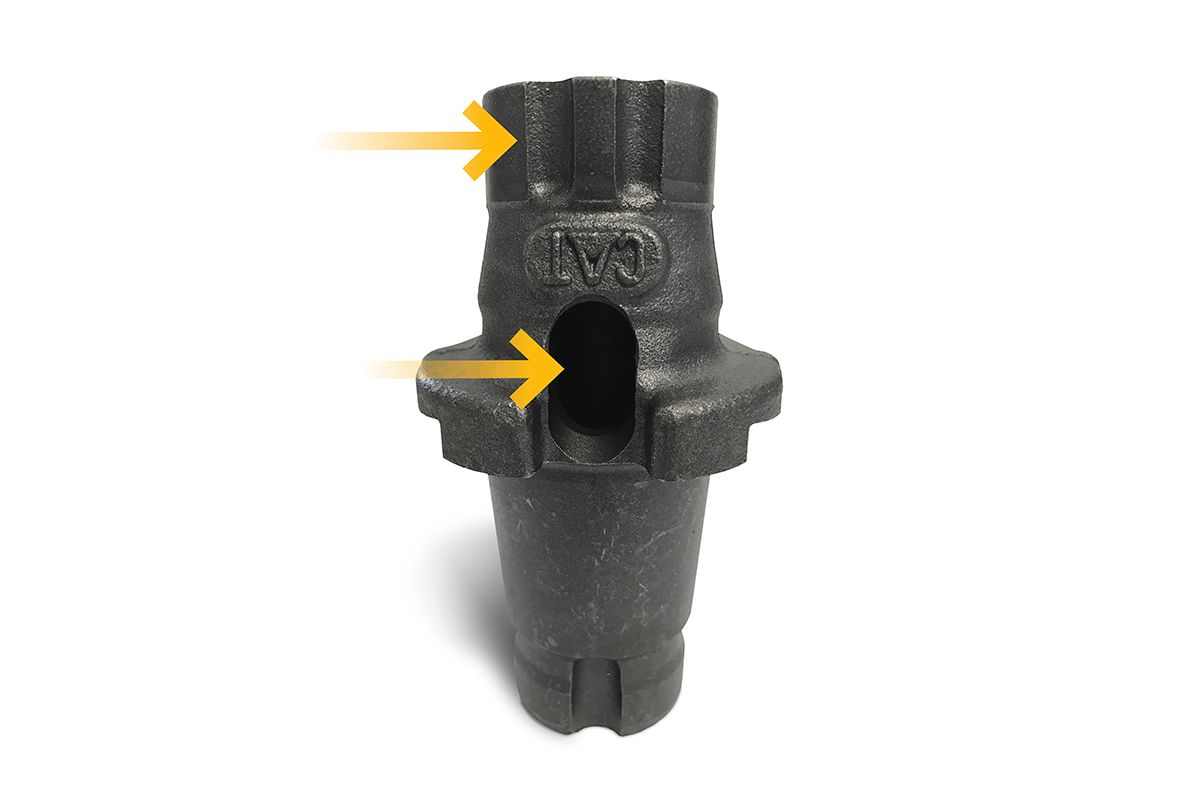 Easy Bit Removal
Multiple methods for easy bit removal:
Radial access hole
Chisel points
Rear access through the block
Efficient Material Flow
An optimized spiral angle increases speed of material flow from the outside to the center for efficient material extraction
Blocks are specifically designed for each side of the rotor and arranged for optimized cutting effort and efficient material flow
Kicker paddles are dimensioned and tested to ensure maximum ejection of material from the center of the cutting chamber to the conveyor
The rotor design reduces component wear by quickly removing material from the cutting chamber, reducing drag, improving overall machine efficiency and lowering fuel consumption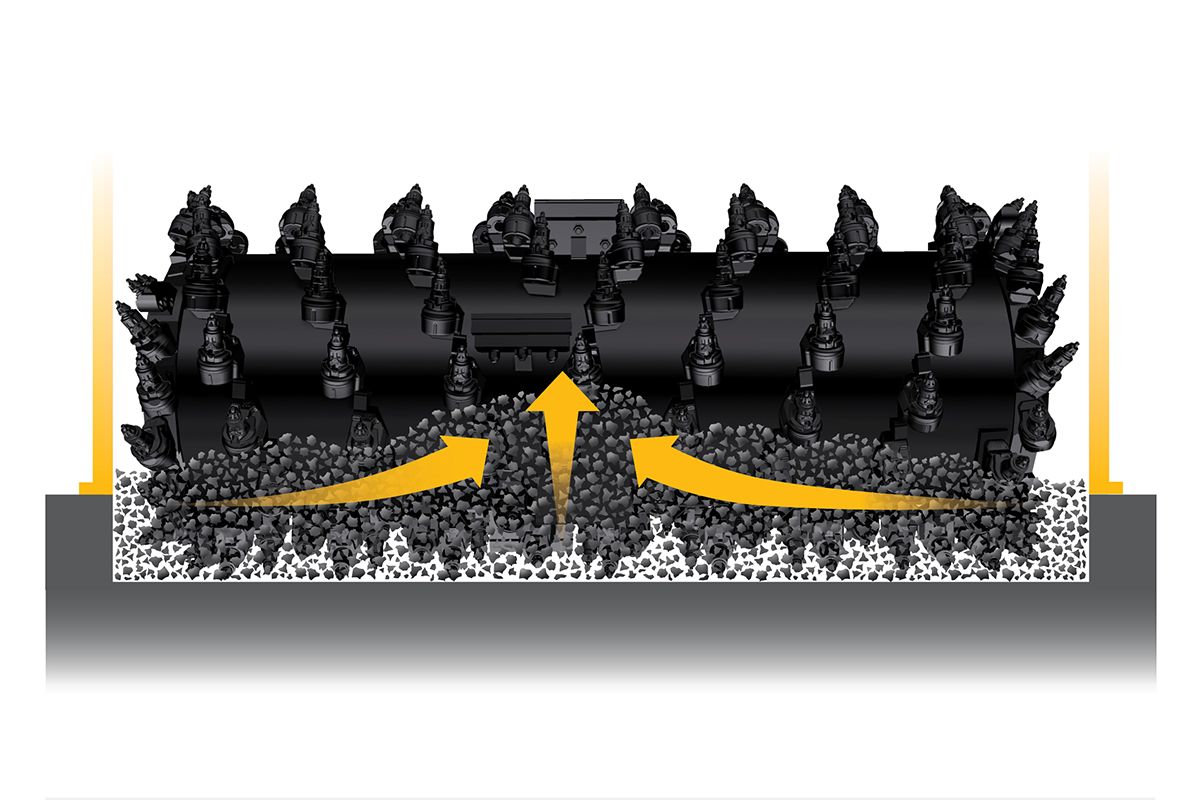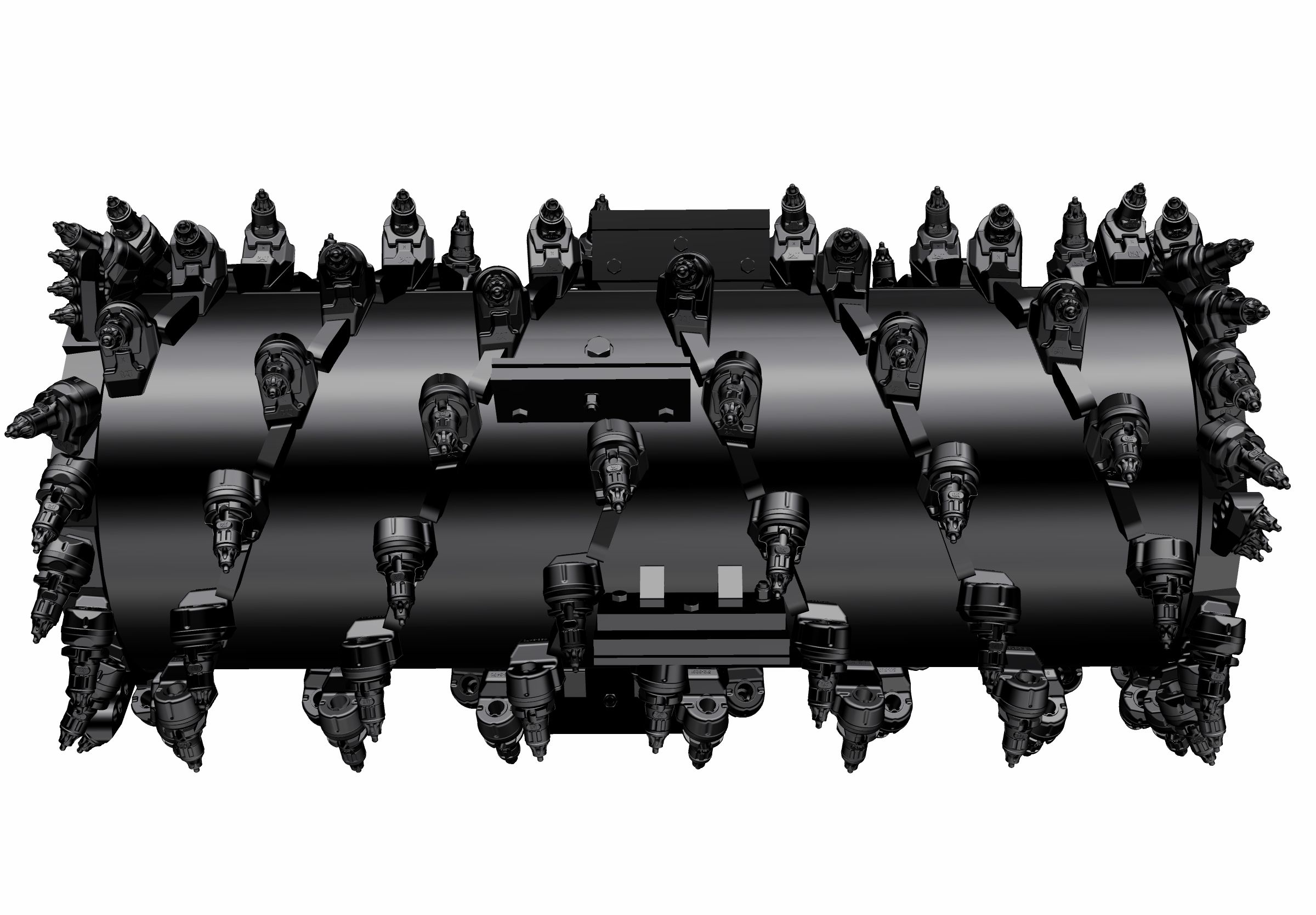 Durable Design
Built to withstand demanding applications and extend rotor life
Large heat-treated surface areas on the toolholder protect the base block from undesired wear
Components are manufactured with abrasion-resistant, high-strength alloys to withstand the toughest applications
High-strength components stand up to the demands of high-power applications
Toolholder and base block designs are optimized to minimize stresses and provide lasting durability
Reversible Kicker Paddles
Kicker paddles are reversible for extended life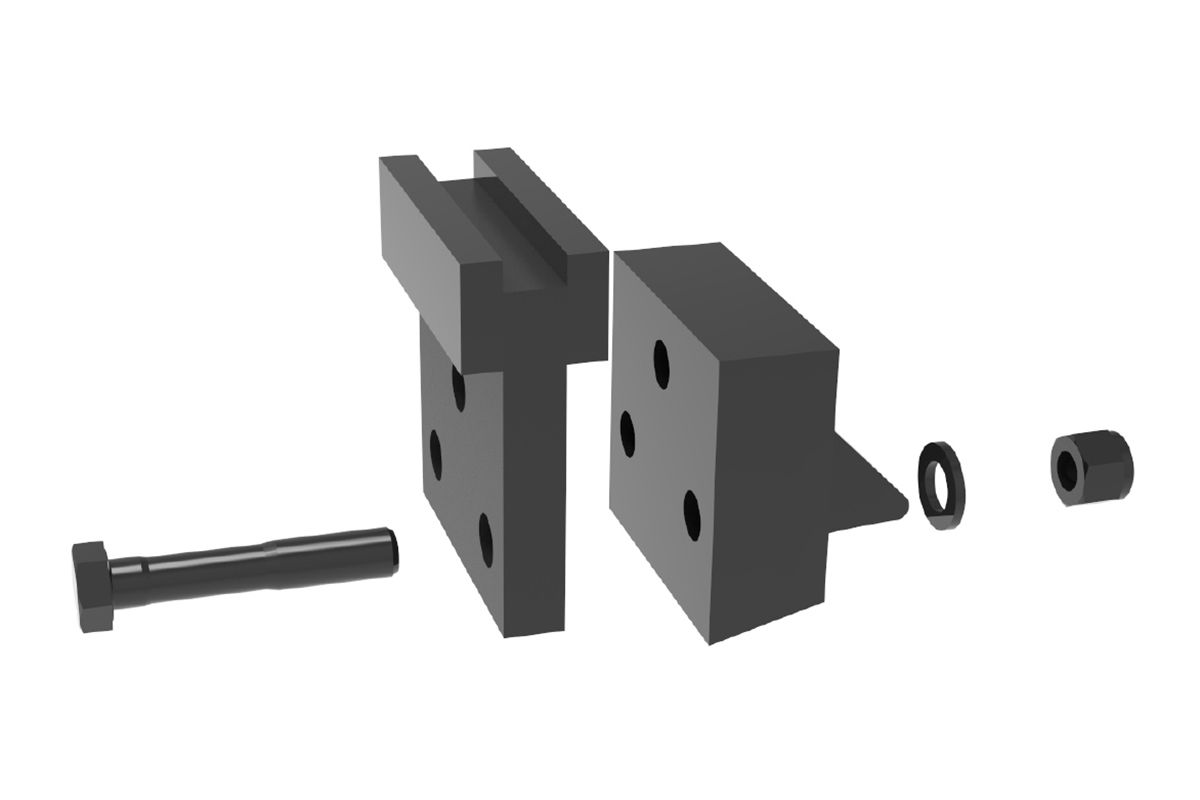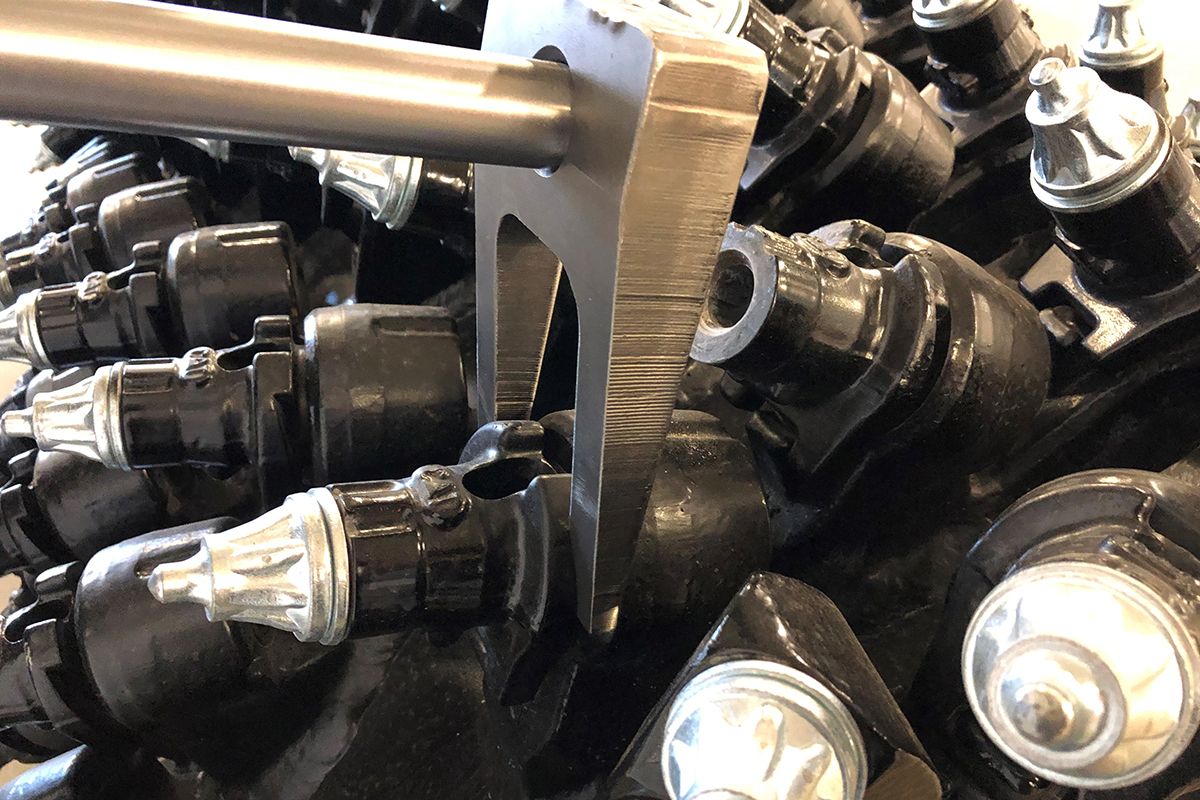 Maintenance
Maintaining bits and toolholders is key to achieving maximum productivity, and System K rotors are designed to simplify maintenance and get you back to work faster.
Dual-retention toolholders eliminate the need for fasteners, reducing replacement time by up to 50%
Bit removal can be done through multiple methods
A variety of removal tools specifically for System K rotors help you replace bits and toolholders quickly
Your Cat dealer offers convenient parts availability and service options, with an industry-leading supply chain and worldwide distribution to keep your rotor cutting smoothly and efficiently.
Specs
Long Name:
System K 2.0 m Milling Drum (25 mm spacing)
Name:
System K 2.0 m Milling Drum (25 mm spacing)
Milling Width
79 in / 2010 mm
Tool Spacing
0.98 in / 25 mm
Drum Diameter at Tips
42.2 in / 1073 mm
Milling Depth (max)
13 in / 330 mm
PN# of Rotor Gp with Coolant and Tools (Factory Installed)
582-7725
PN# of Rotor Gp with Bits (Field installed)
582-7727