TH255C
TH255C Telehandler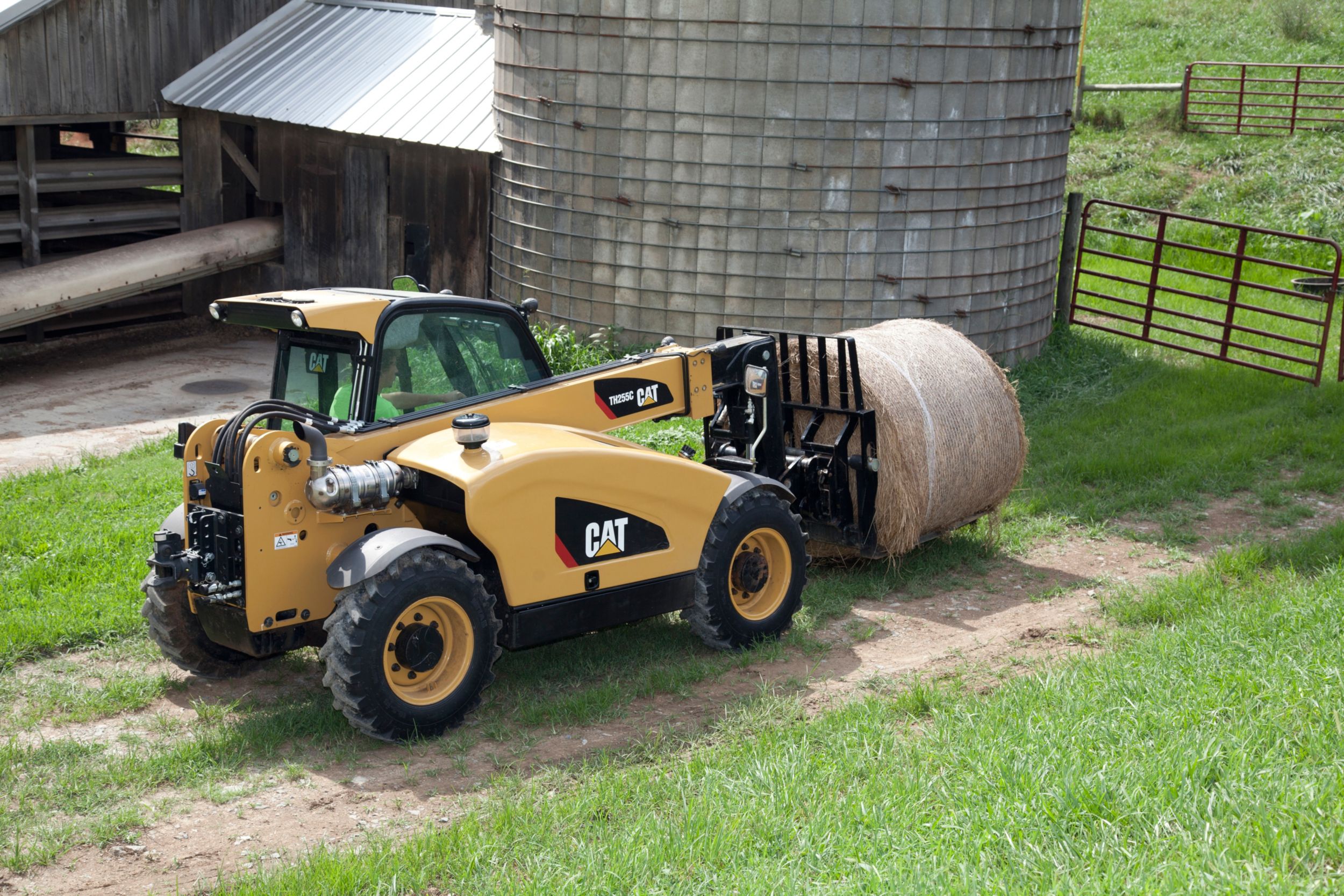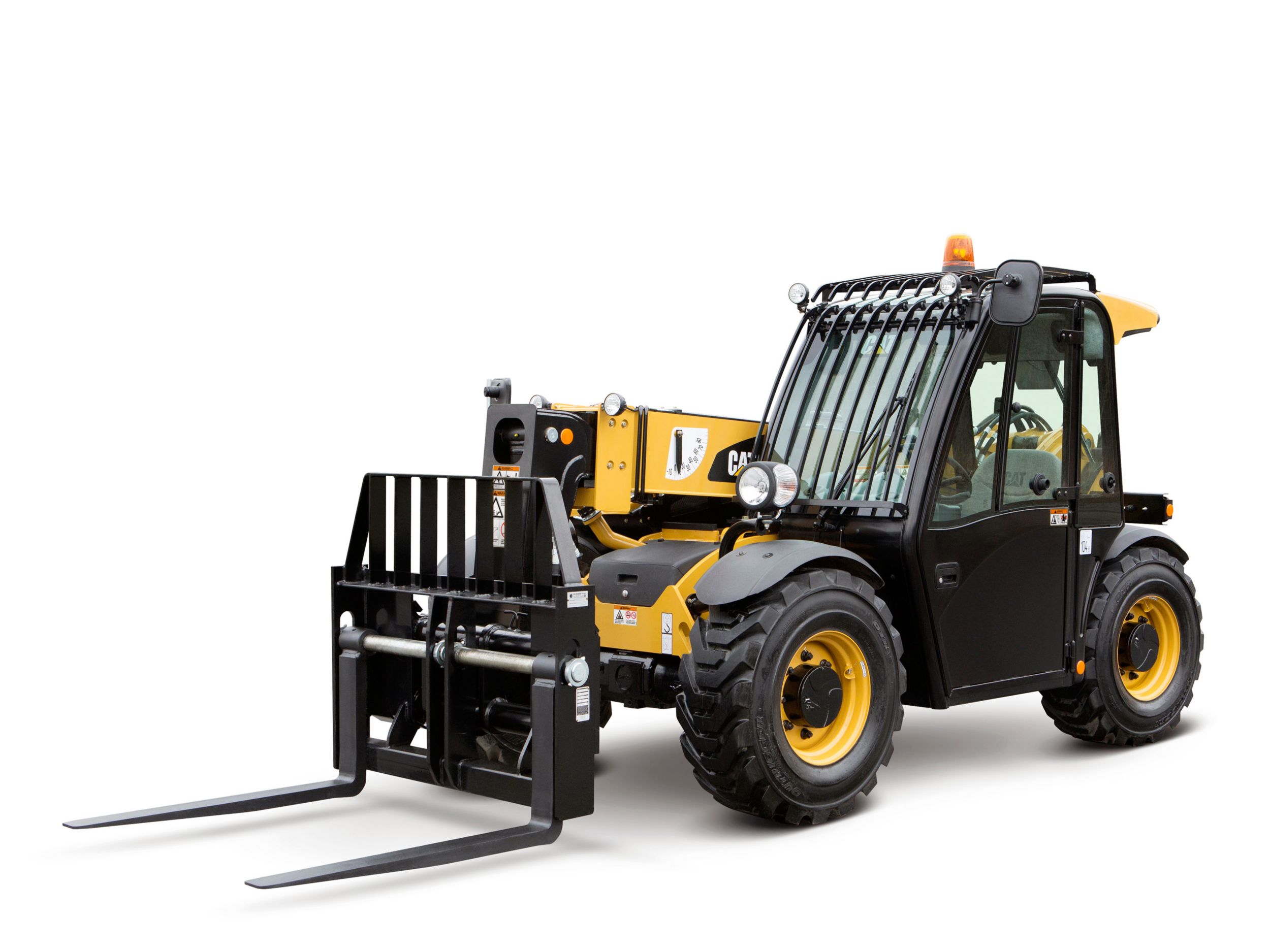 DESCRIPTION
The TH255C is precision engineered to handle any task, offering stability, maneuverability, speed and power in any application.
Compact Dimensions
The TH255C is purpose built to be able to gain entrance to narrow spaces and navigate space constrained sites. The super compact telehandler is perfect for working in small spaces and low buildings.
Power Train
Designed for a range of construction and agricultural applications, the Cat® TH255C features an efficient 55 kW (74 hp) engine coupled to a hydrostatic transmission.
Versatility
In order to help you get the most out of your machine, the Cat TH255C is exceptionally versatile and can use a range of attachments, including those fitting a universal quick coupler.
Standard Equipment
Optional Equipment
Specs
Docs
Specs
Long Name:
TH255C Telehandler
Gross Power
74 HP / 55 kW
Displacement
177 in³ / 2.9 l
Maximum Torque - 1,800 rpm
193 lb/ft / 260 N·m
Operating Weight - With Carriage and Forks
11000 lb / 4999 kg
Rated Load Capacity
5500 lb / 2500 kg
Maximum Lift Height
18.37 ft / 5600 mm
Optional
14.00 × 17.5; 10.5 × 18; 33 × 12-20 non-marking
Service Refill Capacities
Fuel Tank
24 gal (US) / 91 l
Hydraulic System
24 gal (US) / 91 l
Bucket Dump
2.5 s / 2.5 s
Drawbar Pull - Loaded
8700 lb / 38.7 kN
Parking Brakes
Wet disc spring-applied hydraulic release
Service Brakes
Inboard wet disc brakes on front axle
Feature
Light on dash indicates when brake is on.
Types (1)
Planetary on front and rear axles.
Types (2)
High bias limited slip differential on front axle.
Types (1)
Indicators for machine hours, fuel-level, steer mode, steering pressure, battery charge, coolant temperature, parking brake and engine pre-heat.
Types (3)
Panel and switches are illuminated for night operation.
Types (2)
Reverse motion alarm.
Hydraulic System - Implement
Maximum Auxiliary Flow
19 gal/min / 72.3 l/min
Note
Auxiliary Hydraulic Circuit used for all attachments equipped with cylinders or other hydraulic components. Consists of valves, controls, and hydraulic lines.
Maximum System Pressure
3500 psi / 241 bar
Operating Specifications - Standard Coupler
Capacity at Maximum Height
4400 lb / 1996 kg
Maximum Forward Reach
10.83 ft / 3300 mm
Turning Radius - Over Tires - 14 × 17.5 Tires
125 in / 3100 mm
Operating Specifications - Universal Quick Coupler
Capacity at Maximum Height
3000 lb / 1360 kg
Maximum Lift Height
18.37 ft / 5600 mm
Operating Specifications - Standard Coupler
Top Travel Speed - 12 × 16.5 Tires
15 mile/h / 24 km/h
Operating Specifications - Universal Quick Coupler
Maximum Forward Reach
10.83 ft / 3300 mm
Turning Radius - Over Tires - 14 × 17.5 Tires
125 in / 3100 mm
Top Travel Speed - 12 × 16.5 Tires
15 mile/h / 24 km/h
Operating Specifications - Standard Coupler
Capacity at Maximum Reach
1850 lb / 839 kg
Operating Specifications - Universal Quick Coupler
Top Travel Speed - 14 × 17.5 Tires
17 mile/h / 27 km/h
Operating Specifications - Standard Coupler
Rated Load Capacity
5500 lb / 2500 kg
Operating Specifications - Universal Quick Coupler
Rated Load Capacity
5500 lb / 2500 kg
Turning Radius - Over Tires - 12 × 16.5 Tires
127 in / 3200 mm
Operating Specifications - Standard Coupler
Maximum Lift Height
18.37 ft / 5600 mm
Operating Specifications - Universal Quick Coupler
Capacity at Maximum Reach
1700 lb / 771 kg
Operating Specifications - Standard Coupler
Turning Radius - Over Tires - 12 × 16.5 Tires
127 in / 3200 mm
Note
*Emits equivalent to U.S. EPA Tier 4 Interim
Operating Specifications - Standard Coupler
Top Travel Speed - 14 × 17.5 Tires
17 mile/h / 27 km/h