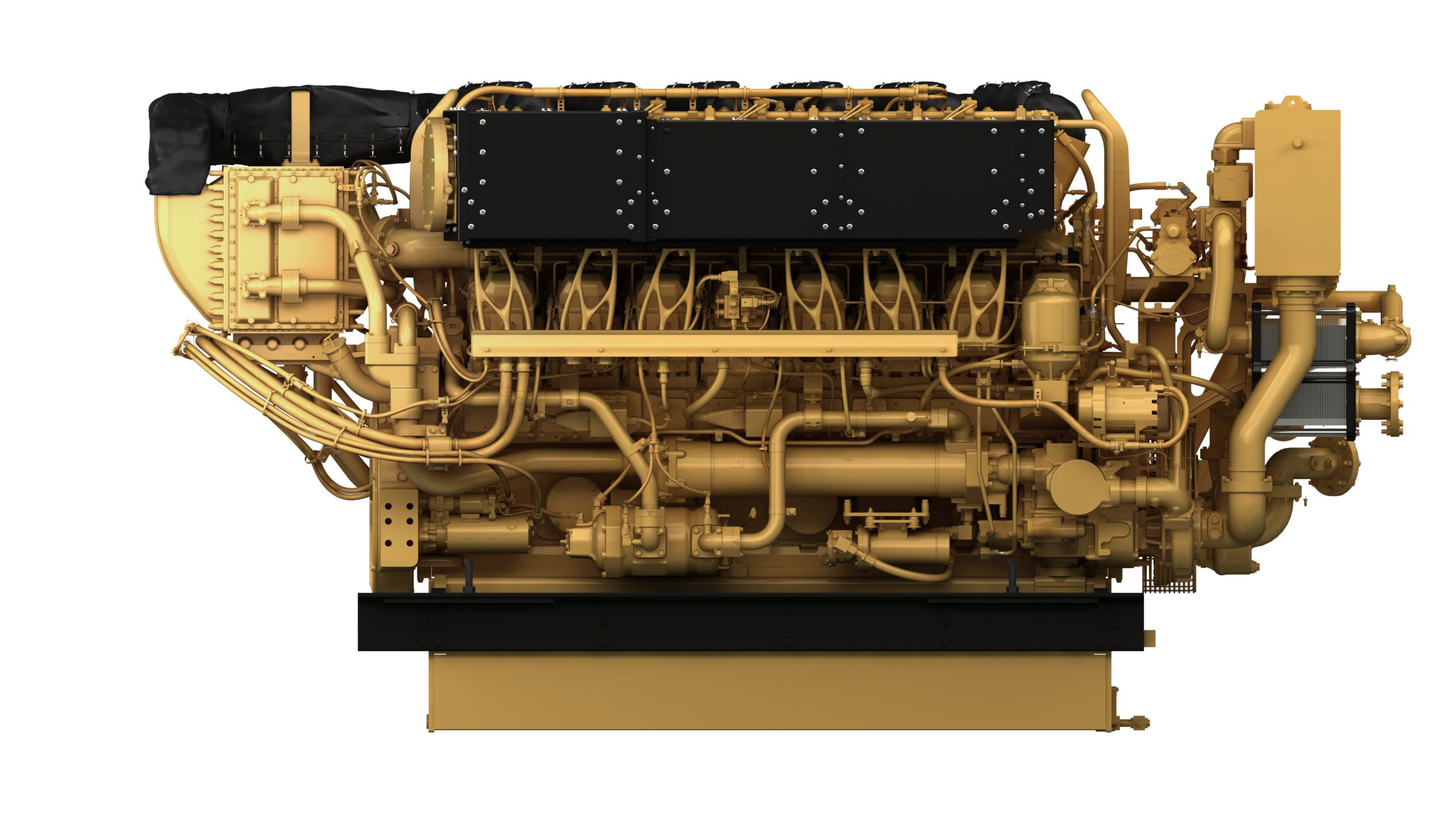 DESCRIPTION
Building on the durability and reliability of the 3500 engine platform, Caterpillar Marine is pleased to offer an uprated version of the Cat 3516E Marine Propulsion Engine. The high-performance engine delivers 19% more rated power, lower ambient heat rejection, and improved acceleration time. With a focus on serviceability and digitalization, this product provides easier connectivity and installation. It is designed for small engine rooms with its reduction in weight & size and is an ideal solution for Tug, Governmental, and Yachting.
Air System
Advanced combustion and sequential air system for optimal engine performance, acceleration and efficiency
Density and Packaging
Optimized Power Density (Rated Power vs Weight) and Streamlined Engine Packaging (L x W x H)
Fuel Injection
• Enhanced control of fuel injection optimized through crank timing and the latest A5 ECM technology

• Optimal fuel injector nozzle geometry and electronic injection control for improved fuel delivery
Tug and Hyprid configurations
Improved low speed torque capability designed for tug and hybrid configurations
Reliability
Strengthened cylinder heads and valves for increased durability and peak cylinder pressure capability
Worldwide Support
Global dealer network for service in any location.
Standard Equipment
Optional Equipment
Specs
Docs
Standard Equipment
STANDARD EQUIPMENT

IMO II Emissions
Corrosion resistant aftercooler core
Sequential Water-Cooled Turbochargers
Water Cooled Exhaust Manifold
Vibration Damper and Guard
Duplex Fuel Filtration
Self-Cleaning, Centrifugal Oil Filtration
Serviceable Hard Heat Shields
Dual A5 Engine Control Modules
Meets SOLAS Regulations

STANDARD EQUIPEMENT

LECP2 Instrument Control Panel
Optional Equipment
OPTIONAL ATTACHEMENTS

Rear Mounted Plate-type Heat Exchanger
SCAC & Jacket Water Expansion Tank
Marine Classification Society Compliance
Power Take-off
Certified Marine Alarm & Protection System
LECP3 Instrument Control Panel
Sea Water Auxiliary Pump
Mounting Rails
CW or CCW Rotation
Specs
Power Range
3755-4023 bhp (2800-3000 bkW)
Aspiration
Sequential Turbocharged / Aftercooled
Displacement
4766 in³ / 78.1 l
Rotation from Flywheel End
Counterclockwise or clockwise from flywheel end
Configuration
VEE 16, 4-Stroke Cycle Diesel
Dry Weight
24526 lb / 11125 kg
SEE HOW 3516E COMPARES AGAINST FREQUENTLY COMPARED PRODUCTS.
Commercial Propulsion Engines
3516E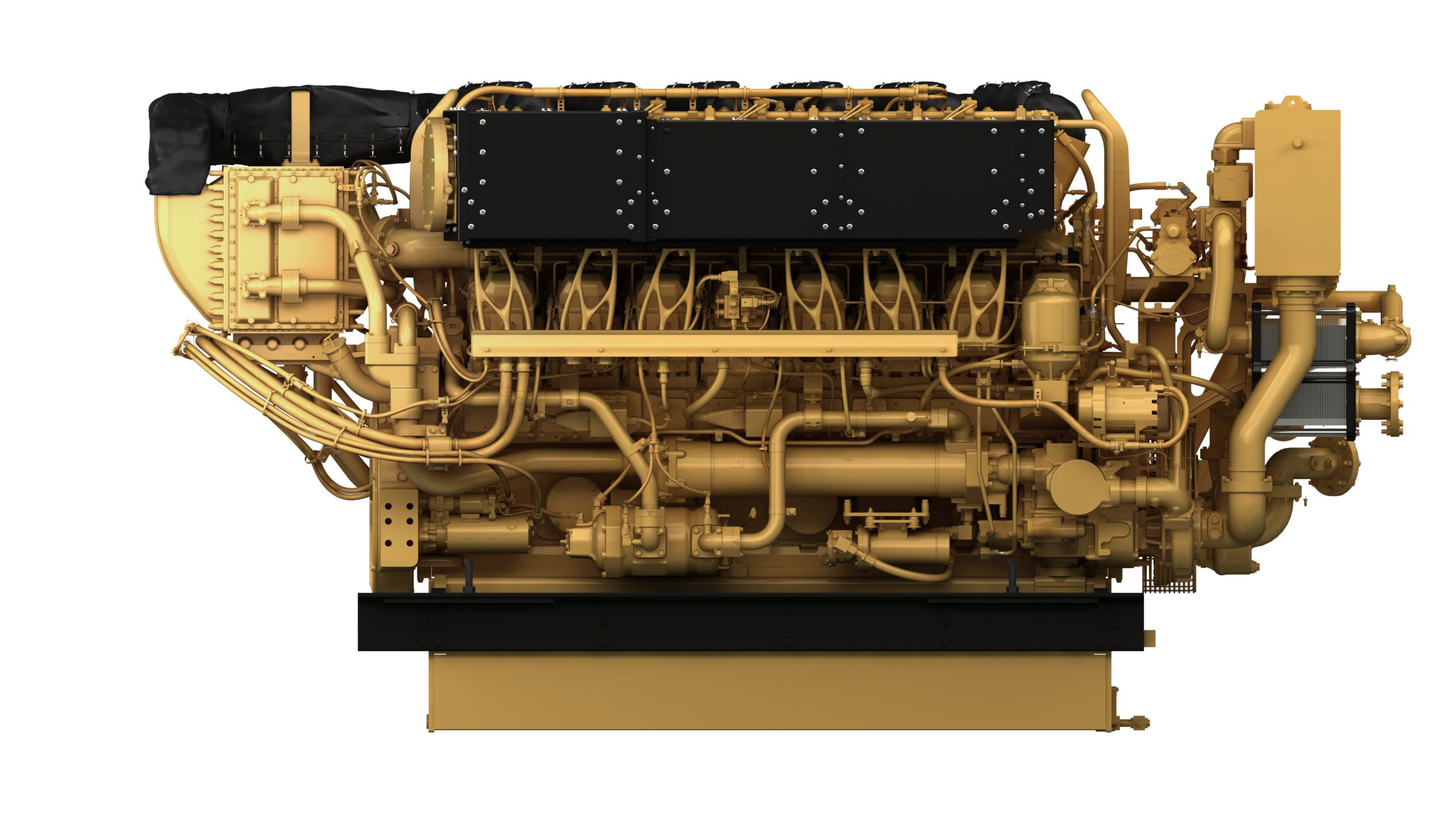 Brand

Cat

Status

Current

Power Range

3755-4023 bhp (2800-3000 bkW)

Speed Range

1800 rpm

Emissions

IMO II

Aspiration

Sequential Turbocharged / Aftercooled

Bore

6.69 in / 170 mm

Stroke

8.46 in / 215 mm

Displacement

4766 in³ / 78.1 l

Rotation from Flywheel End

Counterclockwise or clockwise from flywheel end

Configuration

VEE 16, 4-Stroke Cycle Diesel

Length

163 in / 4133 mm

Height

89 in / 2253 mm

Width

71 in / 1800 mm

Dry Weight

24526 lb / 11125 kg
Commercial Propulsion Engines
3516C Tier 3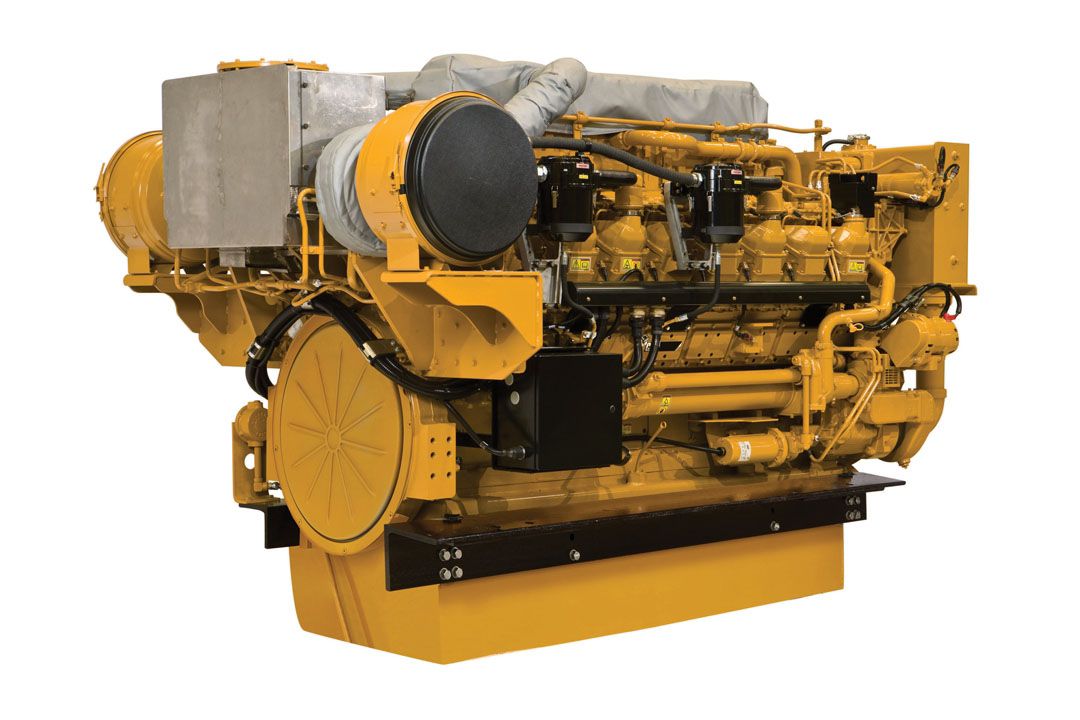 Brand

Caterpillar

Status

Current

Power Range

2131-2675 bhp (1590-1995 bkW)

Speed Range

1600 rpm

Emissions

EPA Tier 3, IMO II

Aspiration

TTA

Bore

6.69 in / 170 mm

Stroke

8.46 in / 215 mm

Displacement

4765 in³ / 78 l

Rotation from Flywheel End

Counterclockwise

Configuration

Vee 16, 4-Stroke-Cycle Diesel

Length

125.7 in / 3192 mm

Height

87.6 in / 2225 mm

Width

89.9 in / 2284 mm

Dry Weight

21164 lb / 9600 kg
Commercial Propulsion Engines
3516E Tier 4 / IMO III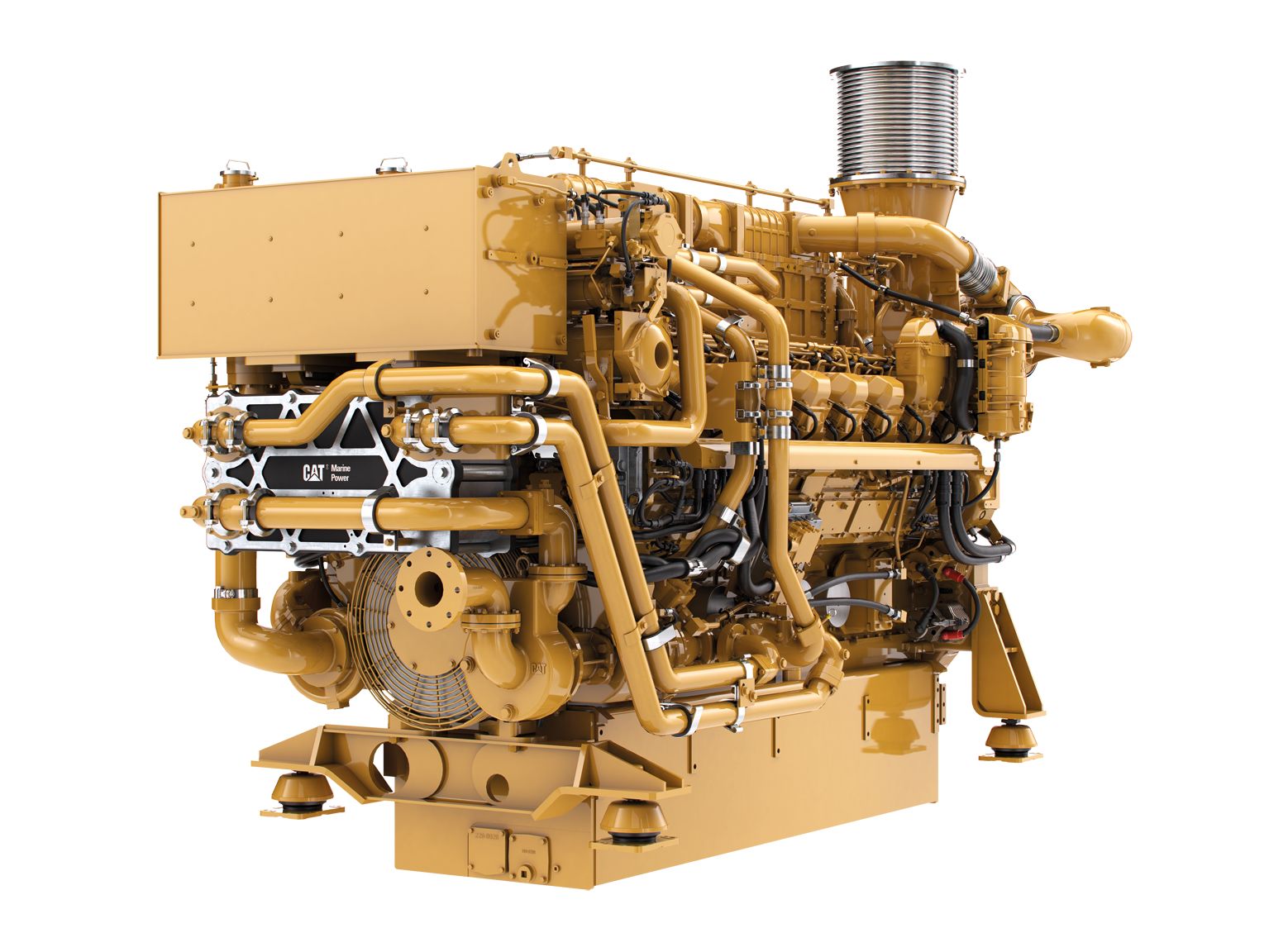 Brand

Caterpillar

Status

Current

Power Range

2501-3386 bhp (1865-2525 bkW)

Speed Range

1600-1800 rpm

Emissions

U.S. EPA Tier 4 Final, IMO III

Aspiration

TTA

Bore

6.69 in / 170 mm

Stroke

8.46 in / 215 mm

Displacement

4765 in³ / 78 l

Rotation from Flywheel End

Counterclockwise

Configuration

Vee 16, 4-Stroke-Cycle Diesel

Length

125.7 in / 3192 mm

Height

87.6 in / 2225 mm

Width

89.9 in / 2284 mm

Dry Weight

21164 lb / 9600 kg