6020B
6020B Hydraulic Shovel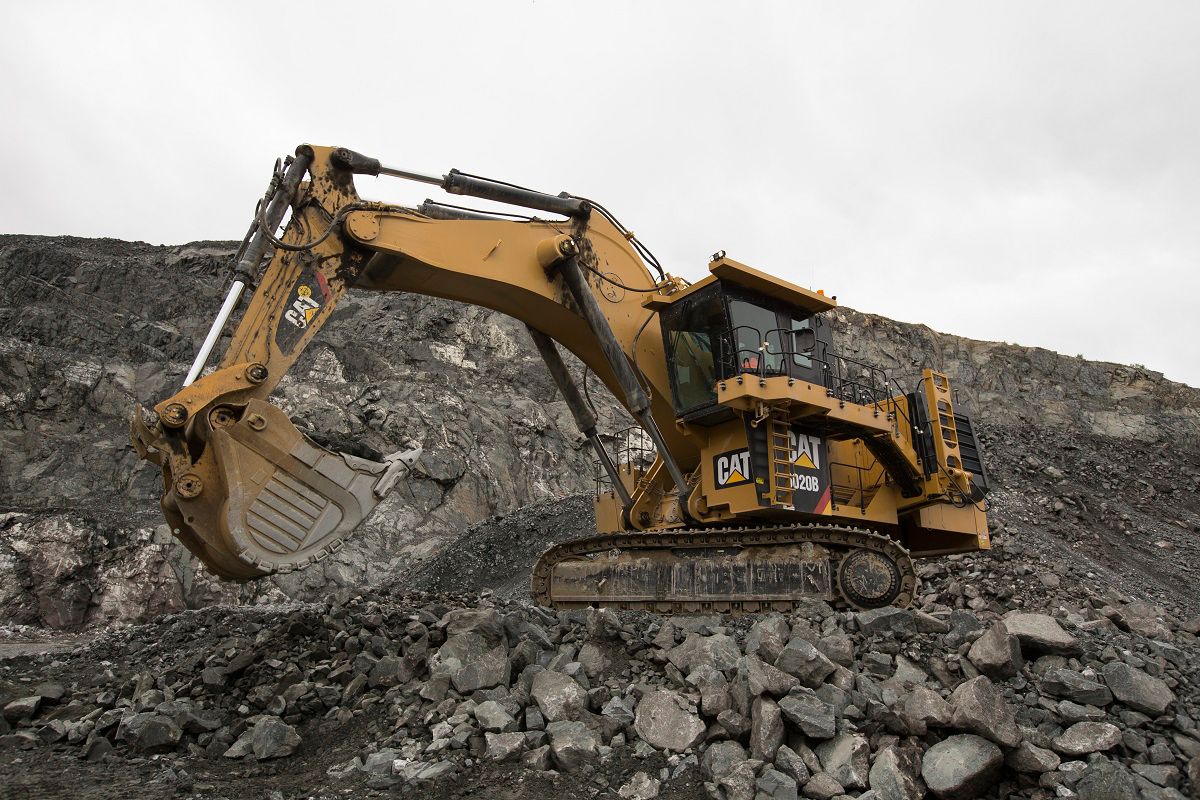 DESCRIPTION
When we invited our customers to help us design the first of our "Next Generation" Cat® hydraulic shovels, they gave us three top priorities: Make it safe, keep it simple and make it reliable. We responded by developing the Cat 6020B, which delivers the simplicity and versatility you desire, with valuable modern design features that set it apart from the competition.

The 6020B offers class-leading visibility and a cab designed for comfort, safety and efficiency. A walk-through and exchangeable power module contributes to easier serviceability. The 6020B is 25% more fuel efficient than other shovels in its class, delivering efficiency and cost advantages. And the proven C32 engine meets emission standards without the need for DEF, saving time and cost during maintenance.
Cat® 6020B: Simple & Safe Field Assembly
SAFETY
Operator Protective Guard (Top Guard) certified cab with safety glass windshield.
Excellent visibility thanks to cab position that provides clear view to the digging and loading areas, in-floor window that provides a view to the tracks, LED lighting, and optional camera monitoring system.
Multiple emergency shut-off switches, including a pull switch accessible from the ground.
Safer access and egress with wide anti-slip walkways, retractable 45-degree stairway and three means of egress for fast emergency exit.
Safer service with lockable battery isolation and starter lockout switch, plus safe access to power module components from machine platform and counterweight.
OPERATOR CAB
Quiet and fully pressurized cab with ergonomic operator seat and controls, superior insulation, extensive in-cab air distribution via powerful HVAC unit and multiple, optimally positioned vents.
Easily accessible ergonomic joysticks with Electronic-Hydraulic Servo Control, which delivers dynamic and precise response and ensures no hydraulic lines are present in the cab.
Greater controllability with ergonomic joystick controls and five circuit hydraulics that allow for two-cylinder motions, two travel motions, and swing to be controlled simultaneously.
Enhanced training capability, with patented 3-seat design, elevated observer's work station and easily dual in-cab emergency stop buttons.
10-inch high-definition color touchscreen display that includes troubleshooting aids and machine documentation.
RELIABILITY & DURABILITY
Better wear of undercarriage components thanks to floating push tube, which delivers even idler slide wear and extended component life; low wear drive system via induction hardened and high quantity of sprocket teeth; and optional rough terrain undercarriage protection kit.
Cat exclusive Positive Pin Retention 2 (PPR2) Track design, which resists pin walking and link cracking for reliable sealing and maximum track life.
Structures designed and fabricated to withstand the toughest digging conditions, with high-strength steel; full penetration, profiled and ground welds at critical junctures; and booms and sticks that are stress-relieved after welding.
Efficient Independent Oil Cooling system, which protects and extends the life of hydraulic components.
PRODUCTIVITY & PERFORMANCE
Up to 25% greater efficiency through Hydraulic Optimization, which dynamically assigns individual pumps or groups of pumps to deliver the exact flow and pressure that each hydraulic function requires.
Durable Cat C32 engine, which offers unsurpassed performance, high power output and proven reliability, and has been proven to withstand the challenging conditions found at mine sites across the globe.
Engine optimized for low fuel consumption at 1,800 rpm and lower speeds, plus significant gains in fuel consumption through collaboration of engine and machine integration.
Maximum uptime, without work interruption for regeneration, engine derate, or cold weather treatment of secondary fluid.
BUCKETS & GET
Buckets and ground engaging tools (GET) designed to maximize durability and productivity and ideally matched to your shovel and application.
Integrated to work as part of a machine system — helping you achieve high productivity and the lowest cost per ton.
Variety of sizes and wear packages for the ideal match to your shovel and application.
Four tip shapes of hammerless GET designed specifically for the 6020B, with no special tools required for removal and installation.
Wear packages that protect your investment, including special liner material and lip shrouds, wing shrouds and heel shrouds.
CONNECTIVITY & TECHNOLOGY
Greater connectivity with improved Product Link™ Elite system, which increases the availability of data provided by the 6020B and allows it to collect and transmit information into locally hosted or cloud-hosted applications such as Cat MineStar™ Solutions Health Office, Health Equipment Insights, or Equipment Care Advisor.
Earliest possible detection of faults, with Board Control System that uses sensors throughout the machine to monitor operating data, record faults, and notify the operator audibly and visually.
Factory-ready for Cat MineStar™ Solutions, with a range of capabilities that meet the needs of your fleet.
SERVICEABILITY
Modular design that facilitates quick field assembly — as few as 14 days in typical condition.
Exchangeable power module that can be quickly swapped out for a spare, then transported for repair in a safe, convenient and clean environment.
Exceptional component accessibility and weather protection via first-in-class and spacious walk-through power module.
Superior swing system component accessibility via boom-mounted hydraulic valve block, and ground-level accessible service fluid fill points and jump start receptacle.
Simplified undercarriage serviceability, with automatic track tensioning system, which requires no manual adjustment; externally serviceable break; and PPR2 Tracks that are easily serviced with a master joint.
SUSTAINABILITY
Highly regulated C32 engine certified to meet U.S. EPA Tier 4 Final/EU Stage V emissions standards without the need for DEF — saving time and cost during maintenance.
Sound-suppressed power module to keep spectator sound levels low.
Preservation of raw materials, energy conservation and reduced emissions through the Cat Reman and Cat Rebuild programs, which return end-of-life components to like-new condition.
Optional Equipment
Specs
Docs
Specs
Long Name:
6020B Hydraulic Shovel
Engine Output - SAE J1995
1040 HP / 776 kW
Bucket Payload
23.8 ton (US) / 21.6 t
Operating Weight
253.8 ton (US) / 230.2 t
Note
Specifications shown above apply to a Backhoe configuration. A frontless configuration is also available.
Batteries (12V each) - In Series/Parallel Installation
630 Ah – 24V
Components (3)
9 LED high-brightness working flood lights: – 7 for working area
– 2 for rear end
Batteries (12V each)
6 × 210 Ah
Components (1)
Emergency stop buttons inside cab, accessible from all seating locations, and engine module
Components (2)
Additional ground-level emergency stop
Battery Isolation Relays
manual lockable disconnect switch and automatic disconnect relay
Features (2)
Variable electronically controlled flow of oil through cooler and fan speed
Oil Flow of Cooling Pumps
211 gal/min / 800 l/min
Diameter - Fan
4.92 ft / 1500 mm
Features (1)
Cooling system fully independent of all main circuits, i.e. controlled cooling capacity available whenever engine is running
Features (3)
Superior cooling efficiency to ensure optimum oil temperature
Components (5)
Full sized trainer seat with safety belt and work table
Internal Dimensions of Cab - Width
5.33 ft / 1625 mm
Components (7)
Operator Protective Guard (rock guard; approved according to ISO 10262:1998 [Top Guard]) compliant
Components (9)
Roller blinds
Components (11)
Additional emergency ladder in close proximity to emergency escape window
Internal Dimensions of Cab - Length
7.32 ft / 2230 mm
Components (8)
Windshield with parallel intermittent wiper/washer
Components (2)
Pneumatically cushioned and multi-adjustable operator seat with lumbar support, safety belt, head- and armrests
New BCS Features (1)
Robust instrument panel including large (254 mm/10 in) color touch screen
New BCS Features (3)
Graphical data logging
New BCS Features (4)
Fault memory capabilities
Operator's Eye Level (approximate)
18.04 ft / 5.5 m
New BCS Features (2)
On-screen troubleshooting assistance
Components (10)
Machine access via retractable access stairway, stairway angle approximately 45°, hydraulically operated
New BCS Features (5)
USB, Lan (TCP/IP) and CAN BUS interfaces for data export
Components (3)
Safety switch in operator's seat for automatic motion shutdown
Internal Dimensions of Cab - Height
6.79 ft / 2070 mm
Components (1)
Large cab floor window with removable grating for easy cleaning
Components (4)
Joystick integrated in adjustable seat armrest
New Board Control System (BCS) Features:
Electronic monitoring, data logging and diagnostic system for vital signs & service data of engines, hydraulic & lube system
Components (6)
Auxiliary fold-away seat with safety belt for 3rd person
Swing Ring
Triple-race roller bearing with sealed internal gearing
Maximum Swing Speed
4.9 r/min / 4.9 r/min
Swing Drive
2 compact planetary transmissions with axial piston motors
Parking Brake
Wet multiple-disc brake, spring-loaded/hydraulically released
Features (2)
All slew ring raceways and grease tub for internal gearing supplied by automatic, central lubrication system
Features (1)
Open swing circuit with auto slow down when joysticks in neutral
Track Pads - Each Side
45
Components (1)
Forged double-grouser track pads
Components (6)
Audible travel alarm
Bottom Rollers - Each Side
8
Travel Speed - 1st Stage - Maximum
0.68 mile/h / 1.1 km/h
Components (4)
Fully hydraulic self-adjusting track tensioning system with accumulator
Components (5)
Automatic hydraulic retarder valve to prevent overspeed on downhill travel
Parking Brakes
Wet multiple disc brake, spring loaded/hydraulically released
Travel Speed - 2nd Stage - Maximum
1.49 mile/h / 2.4 km/h
Gradeability - Travel Drives
Approximately 54%
Components (3)
All running surfaces of sprockets, idlers, rollers and track chain links hardened
Maximum Tractive Force
265860 lbf / 1183 kN
Travel Drives - Each Side
1 planetary transmission with 2 two-stage axial piston motors
Components (2)
Chain links connected by hardened pins and bushings
Support Rollers - Each Side
3
Automatic Lubrication System
Type (3)
System condition and failures displayed by Board Control System
Capacity - Grease Barrel
54 gal (US) / 205 l
Type (1)
Single-circuit progressive system with hydraulically driven heavy-duty pump and electronic time control
Type (2)
Grease supplied to swing roller bearing, all pivot points of attachment, and swing gearbox bearing
Type (5)
Float valve for boom down function
Type (2)
High-tensile steel with solid steel castings at pivot areas
Type (3)
Boom and stick stress-relieved after welding
Type (1)
Boom and stick torsion-resistant with welded box design
Type (4)
Catwalks with rails at boom
Buckets Equipped With
– Special liner material covering main wear areas inside and outside
– Lip shrouds
– Wing shrouds
– Heel shrouds
Operating Weights - Backhoe
Standard Track Pads
2.62 ft / 800 mm
Operating Weight
507500 lb / 230200 kg
Ground Pressure
31.9 psi / 22 N/cm²
Hydraulic System with Electronic Pump Management
Maximum Swing Oil Flow
216 gal/min / 783 l/min
Maximum Pressure - Attachment
4495 psi / 310 bar
Filters (4)
Pressure filters (6 μm) for servo circuit
Electronic Pump Management Contains (3)
Automatic return of main pumps to zero flow
Features (2)
Cooling of pump transmission gear oil
Maximum Pressure - Travel
4495 psi / 310 bar
Maximum Pressure - Swing - Acceleration
4495 psi / 310 bar
Filters (3)
Full-flow filters (10 μm) for cooling return circuit
Electronic Pump Management Contains (2)
Dedicated circuit pump allocation
Maximum Total Oil Flow
621 gal/min / 2350 l/min
Filters (2)
Full-flow filters (10 μm) for complete return circuit
Main Pumps
6 × variable swash plate pumps
Filters (1)
Full-flow high-pressure filters (100 μm) for main pumps, installed directly behind each pump
Electronic Pump Management Contains (4)
Automatic rpm reduction of engine speed during working breaks
Filters (5)
Transmission oil filter (40 μm)
Electronic Pump Management Contains (5)
Reduced oil flow of main pumps at high hydraulic oil temperature and at high engine temperature
Electronic Pump Management Contains (1)
Electronic load limit control
Features (1)
Pressure cut-off function for all main pumps
Equipped With (3)
Indicator light for hydraulic tank full
Equipped With (1)
Quick couplings for: – Diesel fuel
– Engine coolant
– Pump transmission gear oil
– Engine oil (oil pan)
– Hydraulic oil
Features
Centralized service area accessible from ground level.
Equipped With (2)
Cat jump-start socket
Maximum Tearout Force
146125 lb / 650 kN
Hydraulic System with Electronic Pump Management
Total Volume of Hydraulic Oil
925 gal (US) / 3500 l
Maximum Digging Reach
52.17 ft / 15.9 m
Maximum Digging Depth
26.57 ft / 8.1 m
Hydraulic System with Electronic Pump Management
Hydraulic Tank Capacity
740 gal (US) / 2800 l
Operating Weight
254 ton (US) / 230 t
Components (6)
1 beacon lamp on cab roof
Maximum Breakout Force
164050 lb / 730 kN
Hydraulic System with Electronic Pump Management
Maximum Pressure - Swing - Deceleration
5080 psi / 350 bar
Components (5)
7 LED service lights
Bucket Payload
24 Sh Ton / 22 t
Standard Bucket Capacity - Backhoe (Heaped 1:1)
15.7 yd³ / 12 m³
Maximum Digging Height
45.6 ft / 13.9 m
Components (4)
2 LED high-brightness access flood lights
Engine - Equivalent to U.S. EPA Tier 2
Gross Power - SAE J1995
1040 HP / 776 kW
Diesel Engine - Lesser Regulated
Gross Power - SAE J1995
1040 HP / 776 kW
Diesel Engine - Tier 4 Final
Components (1)
Cat NOx reduction system
Components (7)
Two-stage fuel filter
Diesel Engine - Lesser Regulated
Net Power - ISO 9249
1037 HP / 774 kW
Diesel Engine - Tier 4 Final
Components (3)
MEUI™-C fuel system
Diesel Engine - Equivalent to Tier 2
Components (3)
Heavy-duty air filters
Diesel Engine - Lesser Regulated
Net Power - SAE J1349
1032 HP / 770 kW
Diesel Engine - Equivalent to Tier 2
Components (4)
Two-stage fuel filter
Diesel Engine - Highly Regulated
Gross Power - SAE J1995
1033 HP / 771 kW
Diesel Engine - Equivalent to Tier 2
Fuel Tank Capacity
951 gal (US) / 3600 l
Diesel Engine - Tier 4 Final
Diesel Engine - Equivalent to Tier 2
Components (2)
Micro processed engine management
Engine - U.S. EPA Tier 4 Final
Net Power - SAE J1349
1019 HP / 761 kW
Diesel Engine - Tier 4 Final
Components (4)
Hydraulically driven radiator fan with variable electronically controlled fan speed
Diesel Engine - Equivalent to Tier 2
Displacement
1959 in³ / 32 l
Diesel Engine - Tier 4 Final
Diesel Engine - Equivalent to Tier 2
Maximum Altitude without Deration
3622 m (11,884 ft) – above sea level (a.s.l.)
Diesel Engine - Tier 4 Final
Displacement
1959 in³ / 32 l
Diesel Engine - Equivalent to Tier 2
Components (1)
Hydraulically driven radiator fan with variable electronically controlled fan speed
Diesel Engine - Highly Regulated
Net Power - ISO 9249
1024 HP / 764 kW
Diesel Engine - Equivalent to Tier 2
Aspiration
Turbocharged and air-to-air aftercooled
Diesel Engine - Tier 4 Final
Fuel Tank Capacity
951 gal (US) / 3600 l
Components (5)
Micro processed engine management
Diesel Engine - Equivalent to Tier 2
Components (5)
Additional high-capacity water separator including electric priming pump
Engine - U.S. EPA Tier 4 Final
Gross Power - SAE J1995
1033 HP / 771 kW
Engine - Equivalent to U.S. EPA Tier 2
Engine Model
Cat C32 ACERT
Diesel Engine - Tier 4 Final
Rated Speed
1,800 min-1 (1,800 rpm)
Aspiration
Turbocharged and air-to-air aftercooled
Diesel Engine - Highly Regulated
Net Power - SAE J1349
1019 HP / 761 kW
Emissions
Meets Tier 4 Final and Stage V emissions standards
Diesel Engine - Lesser Regulated
Emissions
Meets China Nonroad Stage III emissions standards, equivalent to Tier 2
Engine - U.S. EPA Tier 4 Final
Engine Model
Cat® C32 ACERT™
Diesel Engine - Tier 4 Final
Components (2)
Dual Diesel Oxidation Catalysts (DOCs)
Components (8)
Additional high-capacity water separator including electric priming pump
Diesel Engine - Equivalent to Tier 2
Rated Speed
1800 min-1 (1,800 rpm)
Make and Model
Cat C32 ACERT
Diesel Engine - Tier 4 Final
Components (9)
Large fuel tank allows for 24 hour machine operation
Diesel Engine - Equivalent to Tier 2
Components (6)
Large fuel tank allows for 24 hour machine operation
Diesel Engine - Tier 4 Final
Components (6)
Heavy-duty air filters
Maximum Altitude without Deration
2925 m (9,600 ft) – above sea level (a.s.l.)
Engine - Equivalent to U.S. EPA Tier 2
Net Power - SAE J1349
1032 HP / 770 kW
Diesel Engine - Tier 4 Final
Make and Model
Cat C32 ACERT
Standard Bucket Capacity
15.7 yd³ / 12 m³