6030
6030 Hydraulic Shovel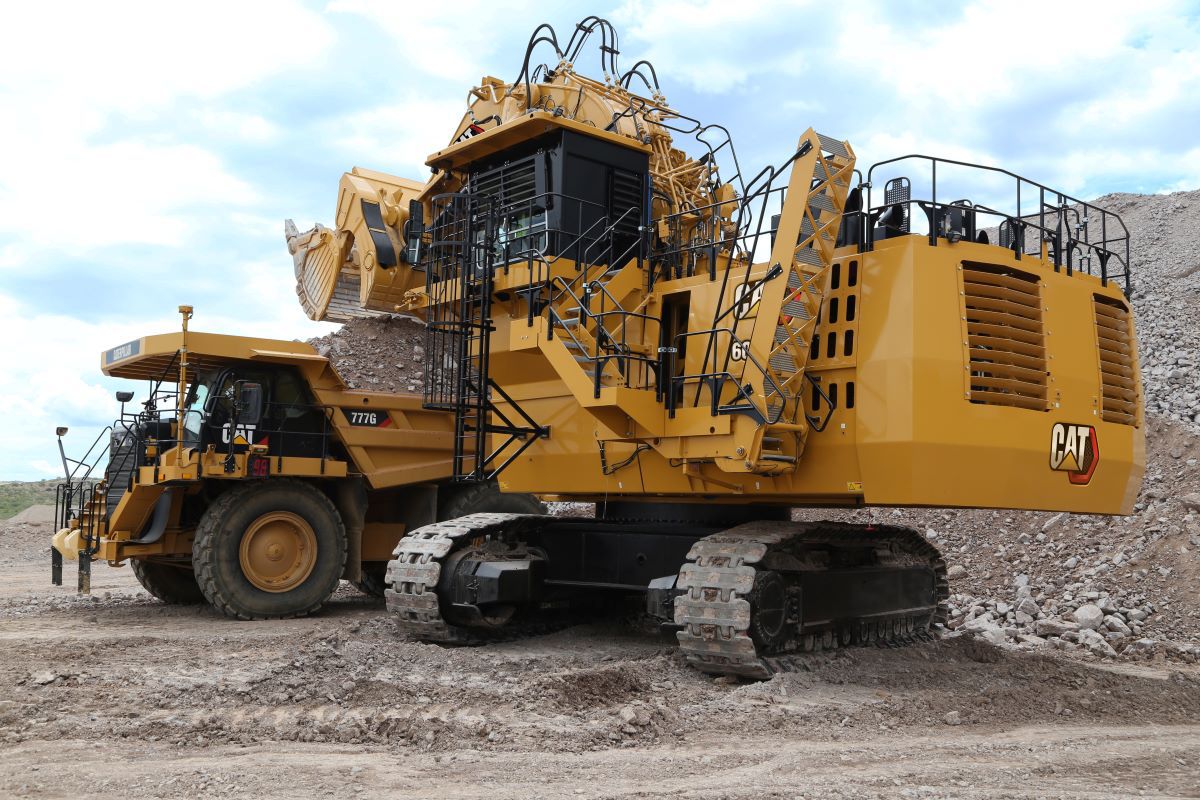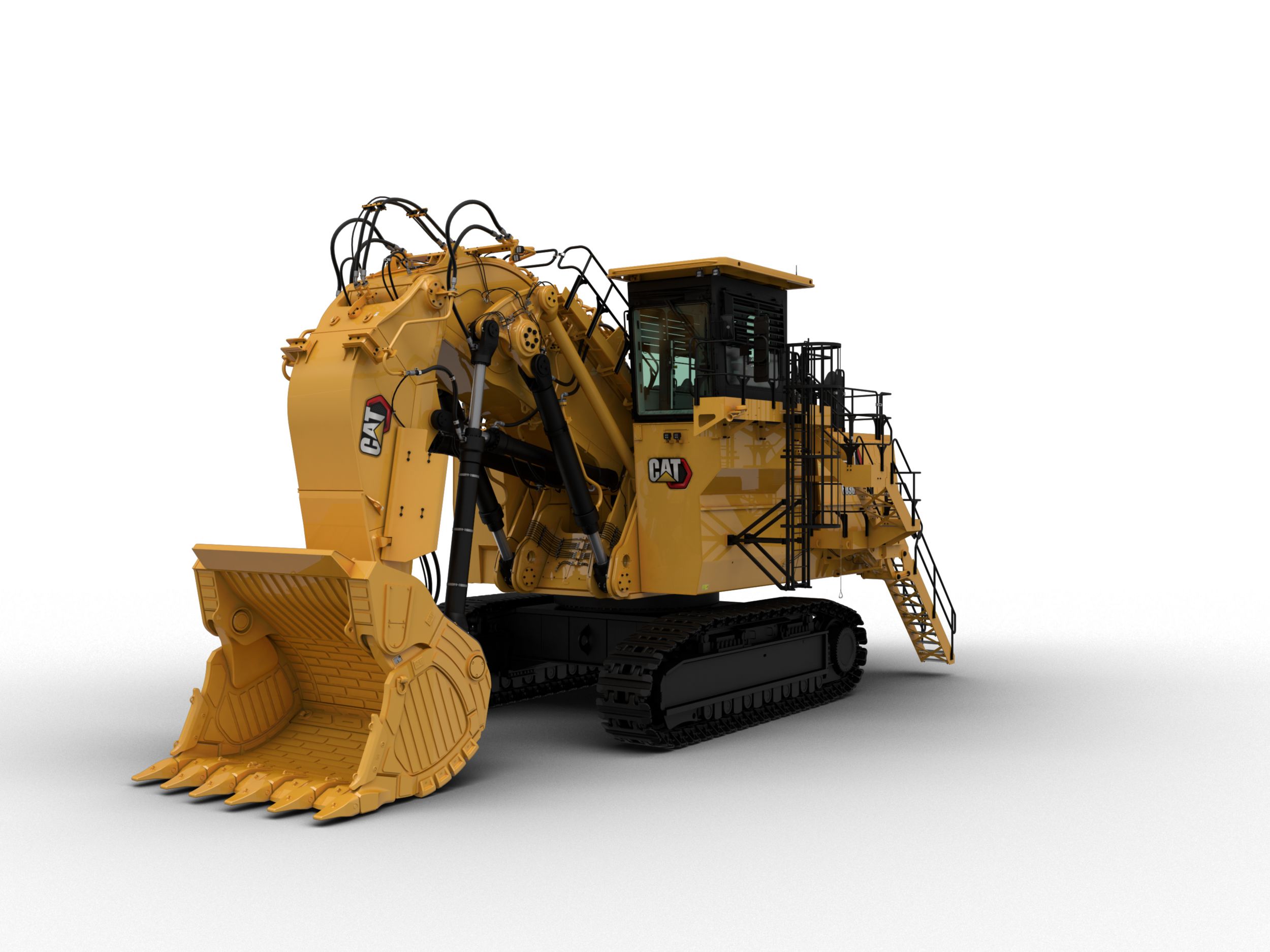 DESCRIPTION
The Cat® 6030 Hydraulic Mining Shovel is owned by more customers than any other product in the Cat portfolio — and for good reason. It provides the most powerful engine output in its class, along with the mobility and flexibility you need from a 300-tonne machine, to deliver the productivity you expect, with the reliability you demand.

The 6030 offers a standard bucket capacity of 17 m3 (22.2 yd3) in backhoe configuration, and 16.5 m3 (21.5 yd3) in face shovel (FS) configuration with the unique Cat TriPower™ system. The 6030 is ideal to load Cat 777 to 793 mining trucks.

But we're always looking for ways to make the 6030 better. The only shovel in its size class offered with dual engines, it's available with a Tier 4 Final engine solution that eliminates the need for Diesel Exhaust Fluid (DEF), saving time and cost during maintenance.
SAFETY
Safety glass in all windows and armored windshield protect operators.
Five emergency shut-off switches, with one easily accessible in the cab to shut down the electrical system in case of emergencies.
Safer access and egress with anti-slip walkways, 45-degree hydraulically operated access stairway and emergency egress ladder located in direct proximity to the cab.
Safer service with lockable starter and battery isolation switch cabinet, improved routing and separation of hydraulic lines and electric cables, pressure relief caps and protective covers on all hot surfaces.
Excellent visibility, enhanced by optional two-camera system and standard LED high-brightness working and service lights.
OPERATOR CAB
Easy access to intuitive, informative onboard electronics, plus large, color touchscreen that puts vital machine and diagnostic data at the operator's fingertips.
Maintained ambient temperature with optional dual HVAC system.
Easily accessible ergonomic joysticks with Electronic-Hydraulic Servo Control, which delivers dynamic and precise response and ensures no hydraulic lines are present in the cab.
Clean arrangement and less noise, with no hydraulic lines present in the cab or the cab module,
Pneumatically cushioned, multi-adjustable, heated seat, plus auxiliary trainer seat with retractable seat belt.
RELIABILITY & DURABILITY
Integrated carbody and crawler frames with Cat® HD undercarriage, which extends service life and offers improved durability and lower owning and operating costs.
Heavy duty fixed-axle rollers and idlers for improved performance, increased wear life, reduced internal friction and overheating, and lifetime lubrication and duo cone seals for reduced maintenance.
Heavy duty track group, which handles high field loads, and reduced pitch extension wear, which increases track chain life by 20% to 40%.
Structures designed and fabricated to withstand the toughest digging conditions, with high-strength steel, heavy castings at attachment pivot points and booms and sticks that are stress-relieved after welding.
PRODUCTIVITY & PERFORMANCE
Durable Cat C27 engines, which offer unsurpassed performance, high power output and proven reliability, and have been proven to withstand the challenging conditions found at mine sites across the globe.
Greater productivity, less energy and fuel consumption and reduced wear thanks to intelligent pump managing system, which continuously evaluates actual engine and hydraulic operating values against set values and adjusts pump output accordingly.
Reduced cycle times thanks to the use of float valves rather than engaging pumps to lower the boom, which facilitates faster boom movements and allows other operating functions such as bucket curl and stick in/out to occur simultaneously.
Easier and faster face shovel operation with unique TriPower design, which generates superior mechanical leverage and control.
Increased productivity and greater uptime with the twin engine concept, which enables up to 65% of full production with a single engine.
BUCKETS & GET
Buckets and ground engaging tools (GET) designed to maximize durability and productivity and ideally matched to your shovel and application.
Integrated to work as part of a machine system — helping you achieve high productivity and the lowest cost per ton.
Variety of sizes and wear packages for the ideal match to your shovel and application.
Deliver optimal payload when combined with Cat GET and wear components.
Wear packages that protect your investment, including special liner material and lip shrouds, wing shrouds and heel shrouds.
CONNECTIVITY & TECHNOLOGY
Greater connectivity with improved Product Link™ Elite system, which increases the availability of data provided by the 6030 and allows it to collect and transmit information into locally hosted or cloud-hosted applications such as Cat MineStar™ Solutions Health Office, Health Equipment Insights, or Equipment Care Advisor.
Enhanced diagnostic capabilities and troubleshooting functions with factory-installed Monitoring and Diagnostic System.
Earliest possible detection of faults, with Board Control System that uses sensors throughout the machine to monitor operating data, record faults, and notify the operator audibly and visually.
SERVICEABILITY
Better organized hoses and components, plus integration of Cat hoses and couplings, which offer industry-leading reliability and performance and ability to source locally using all Cat materials.
Service station that provides easy access to functions such as coolant, hydraulic oil, slew gear box oil, grease, and diesel and engine oil.
Reduced maintenance downtime thanks to exchange intervals for engine oil and engine filters that have been increased from 500 to 1,000 hours.
Clear arrangement of components on the superstructure, which allows easy access and serviceability for coolant expansion tanks, air intake filters, oil tank breather, HVAC units, grease tank, exhaust, and starter and battery isolator.
Access to Cat Electronic Technician (ET), which enables easy diagnosis of potential engine problems and can help prevent future issues.
SUSTAINABILITY
Highly regulated C27 engines that meet U.S. EPA Tier 4 Final and EU Stage V emission requirements and eliminate the need for DEF, saving time and cost during maintenance.
Less heat and improved efficiency with the closed-loop swing circuit.
Reduced waste and lower owning and operating costs thanks to increased commonality of systems and components, plus a reduction in unique part numbers.
Preservation of raw materials, energy conservation and reduced emissions through the Cat Reman program, which returns end-of-life components to like-new condition.
Optional Equipment
Specs
Docs
Specs
Long Name:
6030 Hydraulic Shovel
Engine Output - SAE J1995
1649 HP / 1230 kW
Bucket Payload
33 ton (US) / 30 t
Operating Weight
324 ton (US) / 294 t
Note
Specifications shown above apply to the highly regulated Face Shovel configuration. Backhoe and Frontless configurations are also available for all regions.
Diesel Engine - Highly Regulated
Gross Power - SAE J1995
1649 HP / 1230 kW
Net Power - ISO 9249
1625 HP / 1212 kW
Net Power - SAE J1349
1541 HP / 1149 kW
Emissions
Meets U.S. EPA Tier 4 Final and EU Stage V emission standards
Diesel Engine - Lesser Regulated
Gross Power - SAE J1995
1531 HP / 1142 kW
Net Power - SAE J1349
1425 HP / 1063 kW
Net Power - ISO 9249
1511 HP / 1127 kW
Emissions
Meets China Nonroad Stage III emission standards, equivalent to U.S. EPA Tier 2
Number of Cylinders - Each Engine
12
Displacement
1648 in³ / 27 l
Aspiration
Turbocharged and air-to-air aftercooled
Components (1)
Hydraulically driven radiator fan with electronically controlled fan speed
Components (2)
Micro processed engine management
Components (3)
Heavy-duty air filters
Components (4)
Two-stage fuel filter, including water separator
Components (5)
Additional high-capacity water separator
Emissions
Meets U.S. EPA Tier 4 Final and EU Stage V emission standards
Fuel Tank Capacity
1342 gal (US) / 5080 l
Electrical System - Diesel Drive
Batteries in Series/Parallel Installation
4 x 210 Ah at 12V each; 420 Ah with 24V in total
Batteries
4 maintenance-free batteries
Electrical System - Diesel Drive
Components (1)
Battery isolation relays
Components (2)
Emergency stop switches accessible from ground level and in engine module
Components (3)
14 LED high-brightness working flood lights
Components (4)
11 LED service lights
6030 FS - Standard Track Pads
3.25 ft / 1000 mm
6030 FS - Operating Weight
657640 lb / 298300 kg
6030 FS - Ground Pressure
32.2 psi / 22.2 N/cm²
6030 - Standard Track Pads
3.25 ft / 1000 mm
6030 - Operating Weight
660060 lb / 299400 kg
6030 - Ground Pressure
32.3 psi / 22.3 N/cm²
Note
Other track pads available on request. Operating weights include: base machine, front attachment, standard track pads, standard rock bucket, and 100% fuel and lubricants.
Hydraulic System with Pump Managing System
Hydraulic Tank Capacity - Approximately
707 gal (US) / 2675 l
Total Volume of Hydraulic Oil - Approximately
925 gal (US) / 3500 l
Main Pumps
4 x variable swash plate pumps
Main Pumps - Maximum Oil Flow - Diesel Version
4 x 552 L/min (4 x 146 gal/min)
Maximum Pressure - Attachment
4495 psi / 310 bar
Maximum Pressure - Travel
5220 psi / 360 bar
Swing Pumps
2 x reversible swash plate double pumps
Swing Pumps - Maximum Oil Flow - Diesel Version
4 x 197 L/min (4 x 52 gal/min)
Maximum Pressure - Swing Pumps
5076 psi / 350 bar
Oil Flow of Cooling Pumps - Diesel Version
2 x 467 L/min (2 x 123 gal/min)
Diameter - Fan
48 in / 1220 mm
Swing Drive
2 compact planetary transmissions with axial piston motors
Parking Brakes
Wet multiple-disc brake, spring-loaded/hydraulically released
Maximum Swing Speed - Diesel Version
4.6 r/min / 4.6 r/min
Swing Ring
Triple-race roller bearing with sealed internal gearing
Maximum Swing Speed - AC Version
5 r/min / 5 r/min
Travel Speed - 1st Stage - Maximum
0.87 mile/h / 1.4 km/h
Travel Speed - 2nd Stage - Maximum
1.68 mile/h / 2.7 km/h
Maximum Tractive Force
360144 ft·lbf / 1602 kN
Gradeability - Travel Drives - Approximate
47 % / 47 %
Track Pads - Each Side
44
Bottom Rollers - Each Side
7
Support Rollers - Each Side
2 plus a skid plate in between
Travel Drives - Each Side
1 planetary transmission with 2 two-stage axial piston motors
Parking Brakes
Wet multiple disc brake, spring loaded/hydraulically released
Components (1)
All running surfaces of sprockets, idlers, rollers and pad links, as well as teeth contact areas of sprocket and pad links, are hardened
Components (2)
Cast double-grouser combined pad-links with bushings connected by hardened full floating pins
Components (3)
Fully hydraulic self-adjusting track tensioning system with membrane accumulator
Components (4)
Automatic hydraulic retarder valve to prevent over-speed on downhill travel
Components (5)
Acoustic travel alarm
Operator's Eye Level - Approximately
21.33 ft / 6.5 m
Internal Dimensions of Cab - Length
7.22 ft / 2200 mm
Internal Dimensions of Cab - Width
5.25 ft / 1600 mm
Internal Dimensions of Cab - Height
7.05 ft / 2150 mm
Components (1)
Under roof mounted heating ventilating and air conditioning system
Components (2)
External sun shields at side and rear windows
Components (3)
Robust instrument panel including large colored BCS screen with transflective technology
Components (4)
Board Control System (BCS) electronic monitoring and data logging system for vital signs and service data of engines, hydraulic system and lubrication system
Components (5)
Hydraulically operated 45 degree access stairway
Components (6)
Emergency egress ladder with ladder cage
Components (7)
Switch in seat cushion to automatically neutralize the hydraulic controls when operator leaves the seat
Components (8)
Pneumatically cushioned and multi-adjustable comfort seat with lumbar support, seat heating, safety belt, head- and armrests
Components (9)
Roller blinds at all windows
Components (10)
Windshield with parallel intermittent wiper/washer
Components (11)
All-round safety glass, armored windshield and sliding side window
Components (12)
Operator Protective Guards (ISO 10262:1998 Level II
Components (13)
Joystick controls integrated in independently adjustable seat consoles
Components (14)
Fold-away auxiliary seat with safety belt
Automatic Lubrication System
Capacity - Grease Container
119 gal (US) / 450 l
Type (1)
Dual-circuit system with hydraulically driven heavy-duty pump and electronic time relay control to adjust the pause/lube times
Type (2)
Connected to the lubrication system are the swing roller bearing with internal gearing and all pivot points of attachment, bucket and cylinders
Type (3)
Lubricated pinion for greasing of internal gearing of swing ring
Type (4)
System failures displayed by Board Control System
Type (5)
Grease filters between service station and container as well as directly behind grease pump
Shovel attachment with unique TriPower kinematics ensuring the following main features: (1)
Automatic roll-back limiter to prevent material spillage and kinematic assistance to hydraulic forces
Shovel attachment with unique TriPower kinematics ensuring the following main features: (2)
Horizontal automatic constant-angle bucket guidance and vertical automatic constant-angle bucket guidance
Shovel attachment with unique TriPower kinematics ensuring the following main features: (3)
Constant boom momentum throughout the whole lift arc and crowd force assistance
All buckets (FS and BH) are equipped with a wear package consisting of: (1)
Special liner material covering main wear areas inside and outside of bucket and lip shrouds between teeth
All buckets (FS and BH) are equipped with a wear package consisting of: (2)
Wing shrouds on side walls and heel shrouds at bottom edges
Type (1)
Catwalks with rails at booms
Type (2)
Special wear packages for highly abrasive materials on request
Type (3)
Pressure-free lowering of boom (FS and BH) and stick (FS) by means of a float valve
Type (4)
Welding procedures allow for internal counter-welding (double prep weld) wherever possible
Type (5)
Booms and sticks are stress-relieved after welding
Type (6)
Booms and sticks are torsion-resistant, welded box design of high-tensile steel with solid steel castings at pivot areas
Bucket Capacity - Face Shovel (heaped 2:1)
21.6 yd³ / 16.5 m³
Maximum Crowd Force
291700 ft·lbf / 1298 kN
Bucket Capacity - Backhoe (heaped 1:1)
22.2 yd³ / 17 m³
Maximum Tearout Force
212150 ft·lbf / 944 kN