The VM 32 C was introduced in 2000 in 12- and 16-cylinder versions. The generator set is designed to meet not only the demands of the marine market but also those of the stationary electric power generation and oil & gas industry. The modular construction of the engine, the integration of various functions into a single component, the robust design and the utilization of proven in-line engine components form the basis for a wide availability range of this engine. Reliable heavy fuel oil operation, low fuel and lubricating oil consumption together with easy maintenance and long maintenance intervals mean an outstanding economical operation.
Generator Set Specifications
Minimum Rating
5754 kWe (7200 kVA)
Maximum Rating
7672 kWe (9600 kVA)
Generator Set Configurations
Emissions/Fuel Strategy
EPA Tier 2 & IMO II
Engine Specifications
Configuration
12,16 Cylinder
Bore
12.6 in
Swept Volume
2257.88 in3
Stroke
18.11 in
Generator Set Dimensions and Weights (dependent on generator type)
Weight
120.0 t - 140.0 t (264554 lbs - 308647 lbs)
Length
10703 mm - 12149 mm (421.4 in - 478.3 in)
Width
3526 mm ( 138.8 in)
Height
4639 mm (182.6 in)
The Modular Construction Of The Engine, The Integration Of Various Functions Into A Single Component, The Robust Design And The Utilization Of Already Proven, In-line Engine Components, Form The Basis For The Wide Availability Range Of This Engine.
The Consistent Application Of Mak Long-stroke Engine Design And Development, Along With The Incorporation Of As Many In-line Engine Components As Possible, Is Clearly And Impressively Demonstrated In The External Configuration: A Compact, Simple And Clean Design.
By Combining Increased Compression Ratio And The Miller Effect, Nox Emissions Can Be Reduced By Round About 30 % Without Sacrificing Engine Efficiency.
Building Upon The Emission Reduction System Integration Concept, Fct Achieves Synergy Between Flexible Fuel Systems And Advanced Air Systems With Maximum Utilization Of The Current Engine Design.
Standard Equipment
Air Inlet System
Air intake silencer / filter
Control System
Load sharing unit (for multiple engine plant only)
Protection system (external cabinet)
Serial link interface (MODbus / canbus)
Speed governor
Cooling System
Electric cooling water preheater
HT cooling water pump (engine driven)
2-stage charge air cooler
Exhaust System
Exhaust gas expansion joint
Exhaust gas insulated manifolds
Turbocharger at counter-flywheel end
Fuel System
Fuel circulating pump (electric driven / for MDO/MGO only)
Fuel indicator filter
Fuel pressure valve (separate / for MDO/MGO only)
Instrumentation
Control push buttons and lamps
Emergency stop lever
Local control panel
Pressure and temperature indicator
Lube System
Engine with dry sump
Lube oil plate cooler (separate)
Lube oil pump (engine driven)
Lube oil safety filter
Lube oil self-cleaning filter (separate)
Oil sump in base frame
Pre-lubricating oil pump (electric driven / fitted on base frame)
Pressure regulating valve
Mounting System
Engine resiliently mounted on base frame, base frame mounted rigidly
Flexible pipe connections
High flexible coupling
Starting System
Electrical barring device
Starting air valve
General
Engine, flexible coupling and generator mounted on a common base frame
Flywheel cover
Lifting device (rental)
Torsional Vibration Calculation (TVC)
Optional Equipment
Air Inlet System
Air inlet shut-off valve
Air intake transition piece
Expansion joint
Silencer / filter
Control System
Electronic speed governor
Engine alarm system
Remote indicators (start air pressure, engine speed, etc.)
Starter for electric driven pumps
24 DC UPS
Cooling System
CW piping for generator cooling on base frame
CW piping for lubricating oil cooler on base frame
FW/SW plate cooler
HT cooling water pump (electric driven)
LT cooling water pump (electric driven)
Sea water cooling pump (electric driven)
Temperature control valve
Exhaust System
Silencer (with or without spark arrester)
Fuel System
Fuel oil cooler
HFO final preheater
HFO pressure regulating valve
HFO self-cleaning automatic filter
HFO supply and booster pumps (electric driven)
HFO treatment and supply modules
HFO viscosity control device
Mixing tank
Lube System
Lube oil centrifuge
Lube oil pump (electric driven)
Lube oil treatment and combined modules
Temperature control valve
Mounting System
Resilient mounting on base frame
Starting System
Starting air compressor
Starting air receiver
General
Generator customer supply
listofrelationships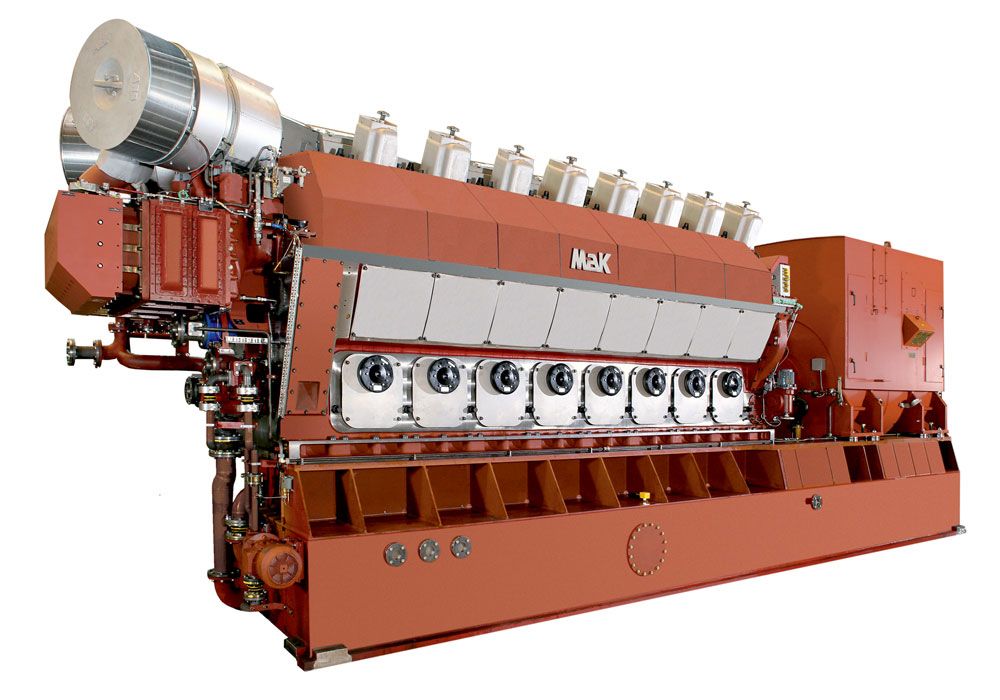 Other Models in this Category
Select Marine Power System Type