3512E Tier 4 / IMO III
3512E Marine Propulsion Engine (U.S. EPA Tier 4 Final)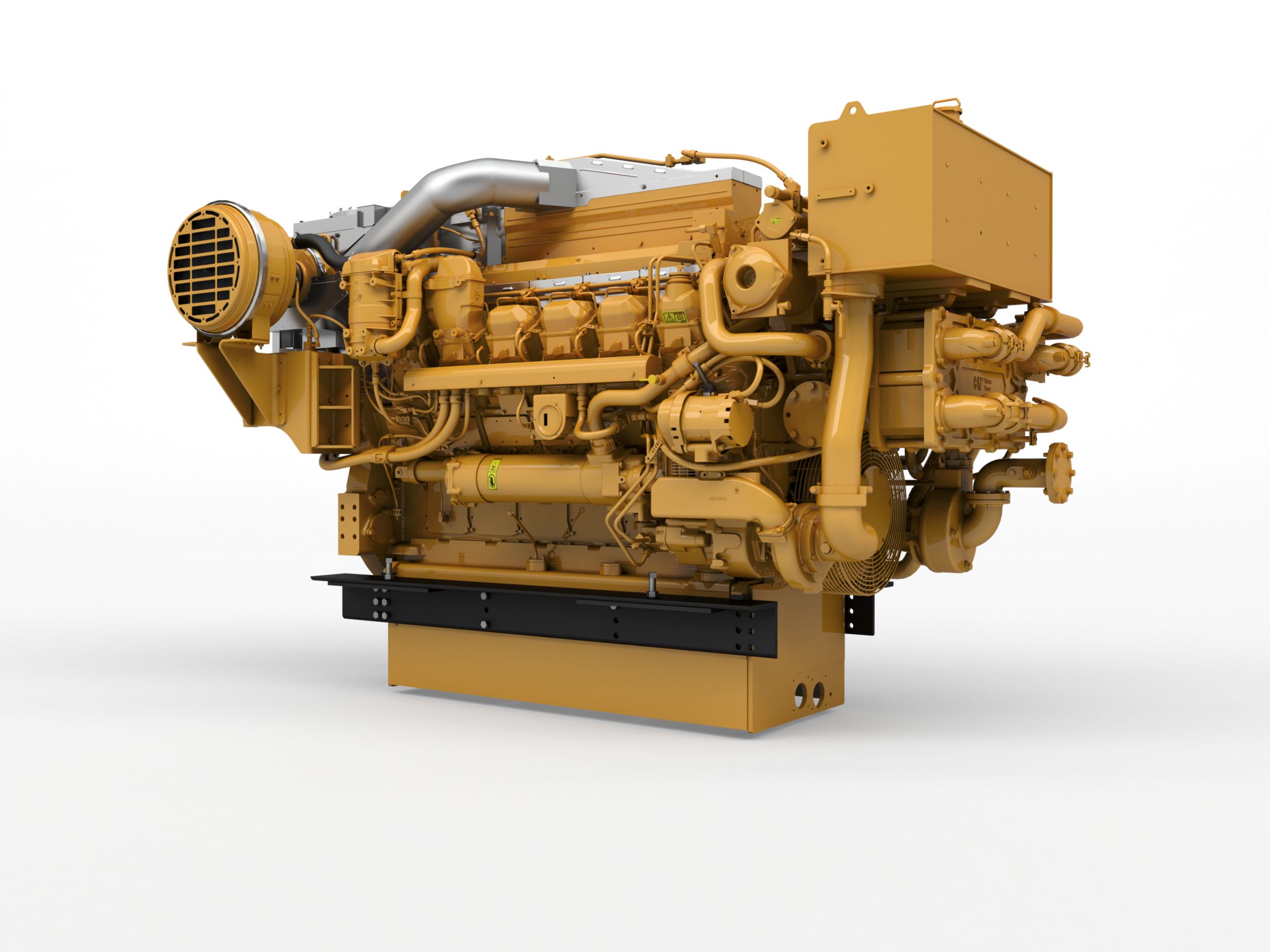 DESCRIPTION
The 3512E marine propulsion engine is now available in a wide range of ratings that meet U.S. EPA Tier 4 Final and IMO III marine emissions regulations. As the commercial marine industry adjusts their operations to meet U.S. EPA Tier 4 Final and IMO III emissions standards, Caterpillar Marine has introduced a solution built to maximize performance while meeting regulations. Caterpillar's combination of a fuel-efficiency-optimized engine and a selective catalytic reduction (SCR) aftertreatment system is a solution that not only reduces NOx emissions, but can also lower a customer's owning and operating costs in the process.
Emissions
Utilizes SCR Technology to enable U.S. EPA Tier 4 Final emission regulations compliance while lowering operational costs, IMO III emissions compliant
Utilizes closed loop air assisted DEF dosing control strategy
Highest efficiency mixing and control to lower operational costs, extends emissions useful life, ensures compliance, flexibility regarding urea quality
Advanced Engine Combustion Design
Advanced engine combustion design process utilizing optimum configurations and cylinder geometry for maximum engine efficiency
Enhanced control of fuel injection
Enhanced control of fuel injection optimized through crank timing and thelatest A5 ECM technology
Enhanced Fuel Delivery
Optimal fuel injector nozzle geometry and electronic injection control for improved fuel delivery
Increased Durability and Higher Engine Duty Cycle Capability
Strengthened cylinder heads and valves for increased durability and peak cylinder pressure capability resulting in higher engine duty cycle capability
Caterpillar Warranty
Industry-leading warranty coverage for factory packaged components
Global Dealer Network
No matter where or when, our extensive global dealer network is ready to provide support.
Standard Equipment
Specs
Docs
Specs
Long Name:
3512E Marine Propulsion Engine (U.S. EPA Tier 4 Final)
Name:
3512E Tier 4 / IMO III
Power Range
1341-2549 bhp (1000-1901 bkW)
Speed Range
1600-1800 rpm
Emissions
U.S. EPA Tier 4 Final, IMO III
Displacement
3574 in³ / 58.6 l
Rotation from Flywheel End
Counterclockwise
Configuration
Vee 12, 4-Stroke-Cycle Diesel
Minimum Dry Weight
18025 lb / 8176 kg
Minimum Length
104.2 in / 2624 mm
Maximum Length
125.4 in / 3184 mm
Minimum Height
91.9 in / 2335 mm
Maximum Height
91.9 in / 2335 mm
Minimum Width
71.2 in / 1808 mm
Maximum Width
81.9 in / 2081 mm
SEE HOW 3512E Tier 4 / IMO III COMPARES AGAINST FREQUENTLY COMPARED PRODUCTS.
Commercial Propulsion Engines
3512E Tier 4 / IMO III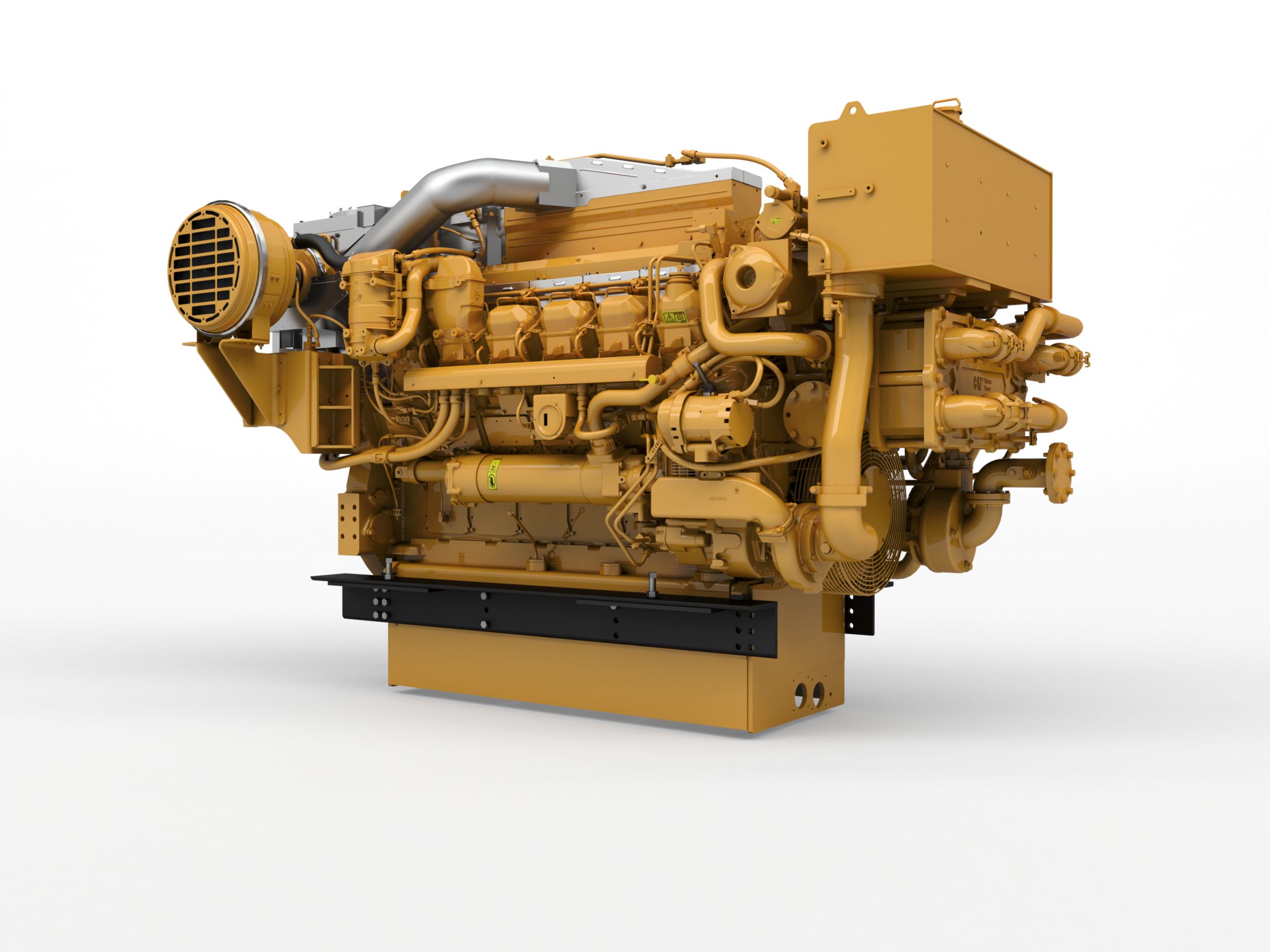 Brand

Caterpillar

Status

Current

Power Range

1341-2549 bhp (1000-1901 bkW)

Speed Range

1600-1800 rpm

Emissions

U.S. EPA Tier 4 Final, IMO III

Aspiration

TTA

Bore

6.69 in / 170 mm

Stroke

8.46 in / 215 mm

Displacement

3574 in³ / 58.6 l

Rotation from Flywheel End

Counterclockwise

Configuration

Vee 12, 4-Stroke-Cycle Diesel

Minimum Dry Weight

18025 lb / 8176 kg

Minimum Length

104.2 in / 2624 mm

Maximum Length

125.4 in / 3184 mm

Minimum Height

91.9 in / 2335 mm

Maximum Height

91.9 in / 2335 mm

Minimum Width

71.2 in / 1808 mm

Maximum Width

81.9 in / 2081 mm
Commercial Propulsion Engines
3512C Tier 3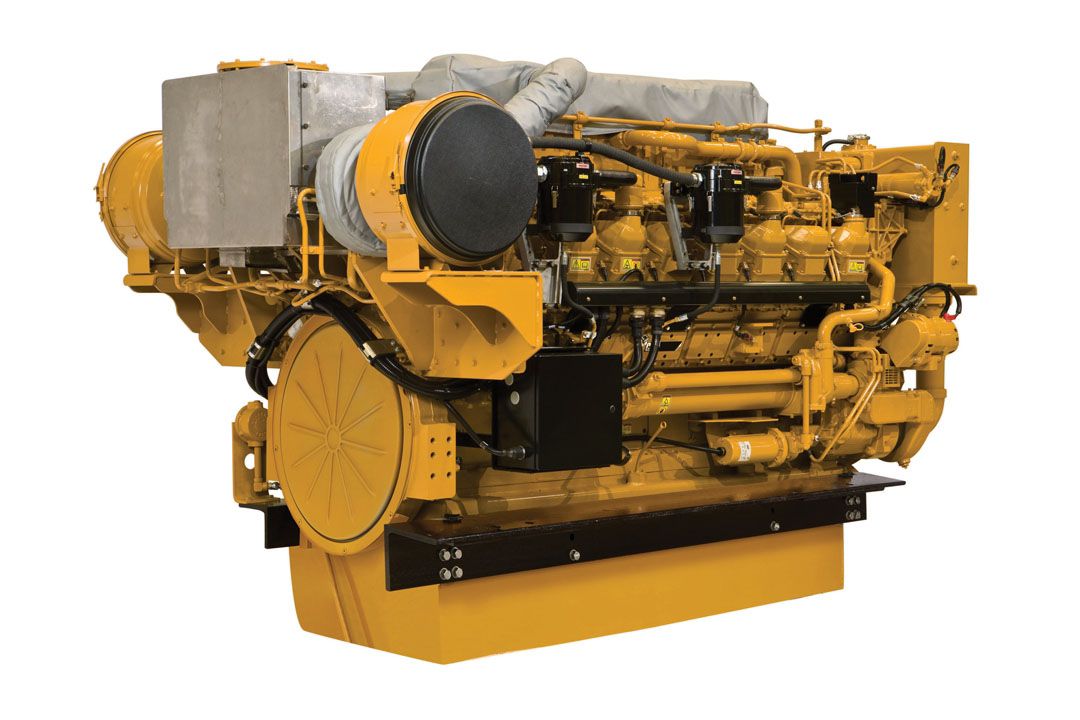 Brand

Caterpillar

Status

Current

Power Range

1340-2366 bhp (1000-1765 bkW)

Speed Range

1600-1800 rpm

Emissions

EPA Tier 3, IMO II

Aspiration

TTA

Bore

6.69 in / 170 mm

Stroke

8.46 in / 215 mm

Displacement

3574 in³ / 58.6 l

Rotation from Flywheel End

Counterclockwise or Clockwise

Configuration

Vee 12, 4-Stroke-Cycle Diesel

Minimum Dry Weight

16508 lb / 7488 kg

Minimum Length

104.2 in / 2465 mm

Maximum Length

104.2 in / 2465 mm

Minimum Height

87.5 in / 2222.6 mm

Maximum Height

87.5 in / 2222.6 mm

Minimum Width

80.2 in / 2037 mm

Maximum Width

80.2 in / 2037 mm
Commercial Propulsion Engines
3516C IMO II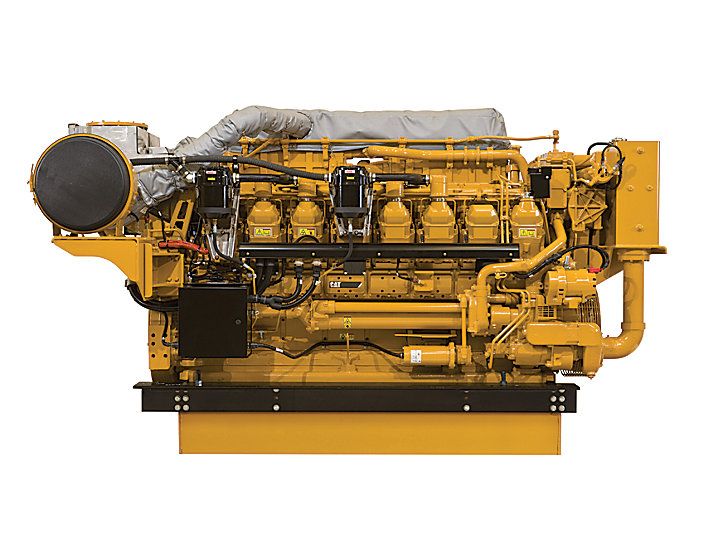 Brand

Caterpillar

Status

Current

Power Range

1650-3386 bhp (1230-2525 bkW)

Speed Range

1200-1800 rpm

Emissions

IMO II

Aspiration

TTA

Bore

8.46 in / 215 mm

Stroke

7.48 in / 170 mm

Displacement

4765 in³ / 78 l

Rotation from Flywheel End

Counterclockwise or clockwise

Configuration

Vee 16, 4-Stroke-Cycle Diesel

Minimum Dry Weight

17550 lb / 7961 kg

Minimum Length

143.1 in / 3637 mm

Maximum Length

148 in / 3761 mm

Minimum Height

77.4 in / 1967 mm

Maximum Height

84.6 in / 2150 mm

Minimum Width

80.2 in / 2037 mm

Maximum Width

84.3 in / 2142 mm