New | 320 GC Hydraulic Excavator
The Cat® 320 GC excavator balances productivity with easy-to-use technology features, a new comfortable cab, reduced fuel consumption by up to 20%, and longer maintenance intervals reducing maintenance costs by up to 15% to bring you a durable, low-cost-per-hour excavator for light- to medium-duty applications.
Working Ranges - Reach Boom - 5.7 m (18'8"); R2.9 (9'6") Stick
Bucket Digging Force (ISO)
28935 lbf
Bucket Digging Force (SAE)
25759 lbf
Stick Digging Force (ISO)
22281 lbf
Stick Digging Force (SAE)
21678 lbf
Maximum Cutting Height
31 ft
Maximum Depth Cut for 2440 mm (8'0") Level Bottom
21.5 ft
Maximum Digging Depth
22 ft
Maximum Loading Height
21.3 ft
Maximum Reach - Ground Level
32.3 ft
Maximum Vertical Wall Digging Depth
18.7 ft
Minimum Loading Height
7.1 ft
Engine
Engine Model
Cat C4.4 ACERT
Net Flywheel Power
121 HP
Bore
4 in
Stroke
5 in
Displacement
269 in³
Gross Power - SAE J1995
122 HP
Net Power - SAE J1349
121 kW
Engine RPM - Operation
1700 r/min
Engine RPM - Travel
2000 r/min
Weights
Note (1)
Standard Undercarriage, Reach Boom, R 2.9 (9'6")Stick, HD 1.0 m3 (1.31yd3 ) bucket and 790mm(31 ") TG shoes, Counterweight (4.2mt / 9,260lb)
Operating Weight - North America
48281 lb
Note (2)
Standard Undercarriage, Reach Boom, R 2.9 (9'6")Stick, HD 1.0 m3 (1.31yd3 ) bucket and 700mm(28 ") TG shoes, Counterweight (4.2mt / 9,260lb)
Operating Weight - Europe
46958 lb
Service Refill Capacities
Fuel Tank Capacity
86.6 gal (US)
Cooling System
6.6 gal (US)
Engine Oil
4 gal (US)
Final Drive - Each
1.3 gal (US)
Hydraulic System - Including Tank
61.8 gal (US)
Hydraulic Tank
30.4 gal (US)
DEF Tank
10.3 gal (US)
Swing Drive - Each
1.3 gal (US)
Swing
Maximum Swing Torque
54440 ft·lbf
Swing Speed
11.6 r/min
Drive
Maximum Drawbar Pull
46131 lbf
Maximum Travel Speed
3.6 mile/h
Maximum Gradeability
35°--70%
Hydraulic System
Main System - Maximum Flow - Total
116 gal/min
Maximum Pressure - Equipment - Normal
5075 psi
Maximum Pressure - Swing
3886 psi
Maximum Pressure - Travel
4974 psi
Dimensions - Reach Boom - 5.7 m (18'8"); R2.9 (9'6") Stick
Counterweight Clearance
3.4 ft
Note
With HD 1.0m3 bucket and 790 mm shoes.
Shipping Height
9.7 ft
Shipping Length
31.3 ft
Track Gauge
7.2 ft
Track Length - Center of Rollers
10.7 ft
Transport Width - 790 mm (31 in) Shoes
10.4 ft
Dimensions - Reach Boom - 5.7 m (18'8"); R2.9 (9'6") Stick
Ground Clearance
1.5 ft
Tail Swing Radius
9.3 ft
Use Up To 20% Less Fuel Than The 320f Excavators.
Match The Excavator To The Job Using Power Modes Including New Smart Mode That Automatically Matches Engine And Hydraulic Power To Digging Conditions.
the Advanced Hydraulic System Provides The Optimum Balance Of Power And Efficiency While Giving You The Control You Need For Precise Digging Requirements.
your Joystick Commands Adjust Pump Flow Based On Valve Priority Putting Hydraulic Pressure And Flow Where It Needs To Go Giving You Improved Fast Light-to-medium Load Cycle Times.
the Electronically Controlled, Turbocharged Engine Meets U.s. Epa Tier 4 Final And Eu Stage Iv Emissions Standards Using A Transparent Aftertreatment System That Requires No Operator Input Or Downtime.
auxiliary Hydraulic Options Give You The Versatility To Use A Wide Range Of Cat Attachments.
don't Let The Temperature Stop You From Working. The Excavator Has A Standard High-ambient Temperature Capability Of 125 º F (52º C) And Cold Start Capability Of 0º F (-18º C). An Optional -25º F (-32º C) Cold Start Package Is Available .
work Up To 9,480 Feet (3000 Meters) Above Sea Level Without De-rating.
track Your Performance Through Standard Product Link That Provides Location, Machine Hours, Fuel Usage, Productivity, Idle Time, Diagnostic Codes And Other Machine Data On Demand Through Visionlink ® Online Interface.
    
work Up To 3000 M (9,840 Ft) Above Sea Level Without De-rating.
    
standard High-ambient Temperature Capability Is 52º C (125º F) With cold Start Capability At –32º C (–25º F). 
    
auto Warm Up Speeds Up Hydraulic Oil Warming In Cold Temperatures And Helps Prolong The Life Of Components.
    
three Levels Of Fuel Filtration Protect The Engine From Dirty Diesel Fuel.
    
grease Sealed Between Track Pins And Bushings Reduces Travel Noise And Prevents Debris From Entering To Increase Undercarriage Life.
    
the Center Track Guiding Guard Helps Keep The Excavator Track Aligned When Traveling And Working On Slopes.
    
the Sloped Track Frame Prevents Mud And Debris Accumulation, Helping Reduce Risk Of Track Damage.
    
the Comfort Cab Has A Wide Seat That Adjusts For Operators Of All sizes. • Control The Excavator Comfortably With Easy-to-reach Controls All located In Front Of You.
    
standard Automatic Climate Control Keeps You At The Right Temperature All Shift Long.
    
advanced Viscous Mounts Reduce Cab Vibration By Up To 50 Percent Over Previous Excavator Models.
    
stow Your Gear With Plenty Of In-cab Storage Beneath And Behind The Seat, Overhead, And In The Consoles. A Cup Holder, Document Holder, Bottle Holder, And Coat Hook Are Also Provided.
    
use The Standard Radio's Usb Ports And Bluetooth® Technology To connect To Personal Devices.
    
start The Engine With A Push Button; Use A Bluetooth Key Fob, Smartphone App, Or The Unique Operator Id Function.
    
program Each Joystick Button, Including Response And Pattern, Using Operator Id; It Will Also Remember Climate Control Fan And radio Settings.
    
navigate Quickly On The Standard High-resolution 203 Mm (8 in) Touchscreen Monitor Or With The Aid Of The Jog Dial Control.
    
not Sure How A Function Works Or How To Maintain The Excavator? Always Have The Operator's Manual At Your Fingertips In The Touchscreen Monitor.
    
expect Up To 15 Percent Less Maintenance Cost Than The 320e. (savings Calculated Over 12,000 Machine Hours.)
    
do All Daily Maintenance At Ground Level.
    
check Engine Oil Level Quickly And Safely With The New Ground-level Engine Oil Dipstick; Fill And Check Engine Oil On Top Of The Machine With A Conveniently Located Second Dipstick.
    
track Your Excavator's Filter Life And Maintenance Intervals Via The In-cab Monitor.
    
do No Required Maintenance On The Cat Clean Emissions Module.
    
change All Fuel Filters At A Synchronized 500 Hours.
    
expect The New Air Intake Filter With Pre-cleaner To Last Up To 1,000 hours – A 100 Percent Increase Over The Previous Filter.
    
the New Hydraulic Oil Filter Provides Improved Filtration performance, Anti-drain Valves To Keep Oil Clean When The Filter Is Replaced, And Longer Life With A 3,000-hour Replacement Interval – 50 Percent Longer Than Previous Filter Designs.
    
the New High-effi Ciency Electric Cooling Fans Only Run When Needed And Reverse To Keep Cores Free From Debris.
    
s·o·ssm Ports Simplify Maintenance And Allow For Quick, Easy Extraction Of Samples For Fluid Analysis.
    
access 100 Percent Of Daily Maintenance Points From Ground Level – No Need For You To Climb On Top Of The Excavator.
    
keep Your Excavator Secure With Operator Id. Use Your Pin Code On the Monitor To Enable The Pushbutton Starting Feature.
    
the Standard Rops Cab Meets Iso 12117-2:2008 Requirements.
    
enjoy Great Visibility Into The Trench, In Each Swing Direction, And Behind You With The Help Of Smaller Cab Posts And Larger Windows.
    
a Rearview Camera Is Standard, And A Right-side-view Camera Is optional.
    
the New Right-hand Service Platform Design Provides Easy, Safe, And Quick Access To Upper Service Platform; The Service Platform Steps Use Anti-skid Punch Plate To Prevent Slipping.
    
the Handrails Comply With Iso 2867:2011 Requirements.
    
the Lower Frame Meets Iso 15818:2017 Lifting And Tie-down Requirements.
Standard Equipment
ENGINE
Cat C4.4 ACERT™ electronically-controlled turbo-charged Tier 4 Final diesel engine
Meets U.S. EPA Tier 4 Final and EU Stage IV emissions standards.
Two selectable power modes
One-touch low idle with automatic engine speed control
Automatic engine idle shutdown
Recommended for use up to 4500 m altitude (14,764 ft) with engine power derate above 3000 m (9,842.5 ft).
52° C (125° F) high-ambient cooling capacity
Cold starting capability for - 32° C (- 25° F)
Double element air filter with integrated pre-cleaner
Electric fuel priming pump
Reversible electric cooling fans
Biodiesel capability up to B20
HYDRAULIC SYSTEM
Boom and stick regeneration circuits
Electronic main control valve
Auto warm up
Automatic two-speed travel
Boom and stick drift reduction valve
Element type main hydraulic filter
3 Buttons Joysticks
Electronic main pump
Electric refueling pump(Europe only)
STANDARD COMFORT CAB
ROPS, standard sound suppression
High-resolution 8 " (203 mm) LCD touchscreen monitor
Automatic Bi-level air conditioner
Jog dial and shortcut keys for monitor control
Keyless push-to-start engine control
Height-adjustable console, 3-steps with tool
Mechanically adjustable seat suspension
Seat belt, retractable (51 mm [2"] width)
Fixed left side console
Bluetooth® integrated radio with USB ports
12V DC outlets
Document storage
Cup and bottle holders
Two-piece front window, openable
Steel hatch, openable
Upper radial wiper with 70/30 w/washer
LED dome and lower interior lights
Roller front sunscreen
Beacon ready
Washable floor mat
Straight travel pedal (US Only)
UNDERCARRIAGE AND STRUCTURES
Tiedown points on base frame (ISO 15818 Compliant)
Standard bottom guards
Standard travel motor guards
Grease lubricated track links
(4200 kg ( 9,260lb) counterweight
Standard swing frame
Standard swing bearing
Base frame with standard track rollers and standard carrier rollers
Final drive with standard travel motor
ELECTRICAL
Machine electronic control module (x2)
1000 CCA maintenance-free batteries (x2)
Centralized electrical disconnect switch
Programmable time-delay LED working lights
LED chassis light, LH boom light for reach-850 lumens
BOOM, STICKS AND LINKAGES
5.7 m (18'8") reach boom
2.9 m (9'6") stick
790 mm (31" ) triple grouser track shoes
Bucket linkage, B1-family with lifting eye
SAFETY & SECURITY
Rearview camera and side RH mirror
Rear and right hand sideview camera (Europe)
Neutral lever (lock out) for all controls
Anti-skid plate and countersunk bolts on service platform
Ground-level accessible secondary engine shutoff switch in cab
RH hand rail and hand hold (ISO 2867 compliant)
Travel alarm (US only)
SERVICE & MAINTENANCE
Sampling ports for Scheduled Oil Sampling (S·O·S℠)
Grouped location for engine oil and fuel filters
Ground level 2nd dipstick for engine oil
Remote flash
CAT CONNECT TECHNOLOGY
Optional Equipment
HYDRAULIC SYSTEM
Hammer return filter circuit
Combined flow/high pressure aux circuit
Simplified combined Circuit (2 Way)
Quick coupler circuit for Cat Pin Grabber
Slider joysticks
Smart boom (Europe only)
ELECTRICAL SYSTEM
LED chassis light, LH & RH boom lights for reach, cab lights- 850 lumens
STANDARD COMFORT CAB
SAFETY & SECURITY
Radiator screen
RH side mirror for use with RH sideview camera or 360° visibility (Europe)
BUCKET
Heavy duty buckets 1.0m3(1.31yd3)
listofrelationships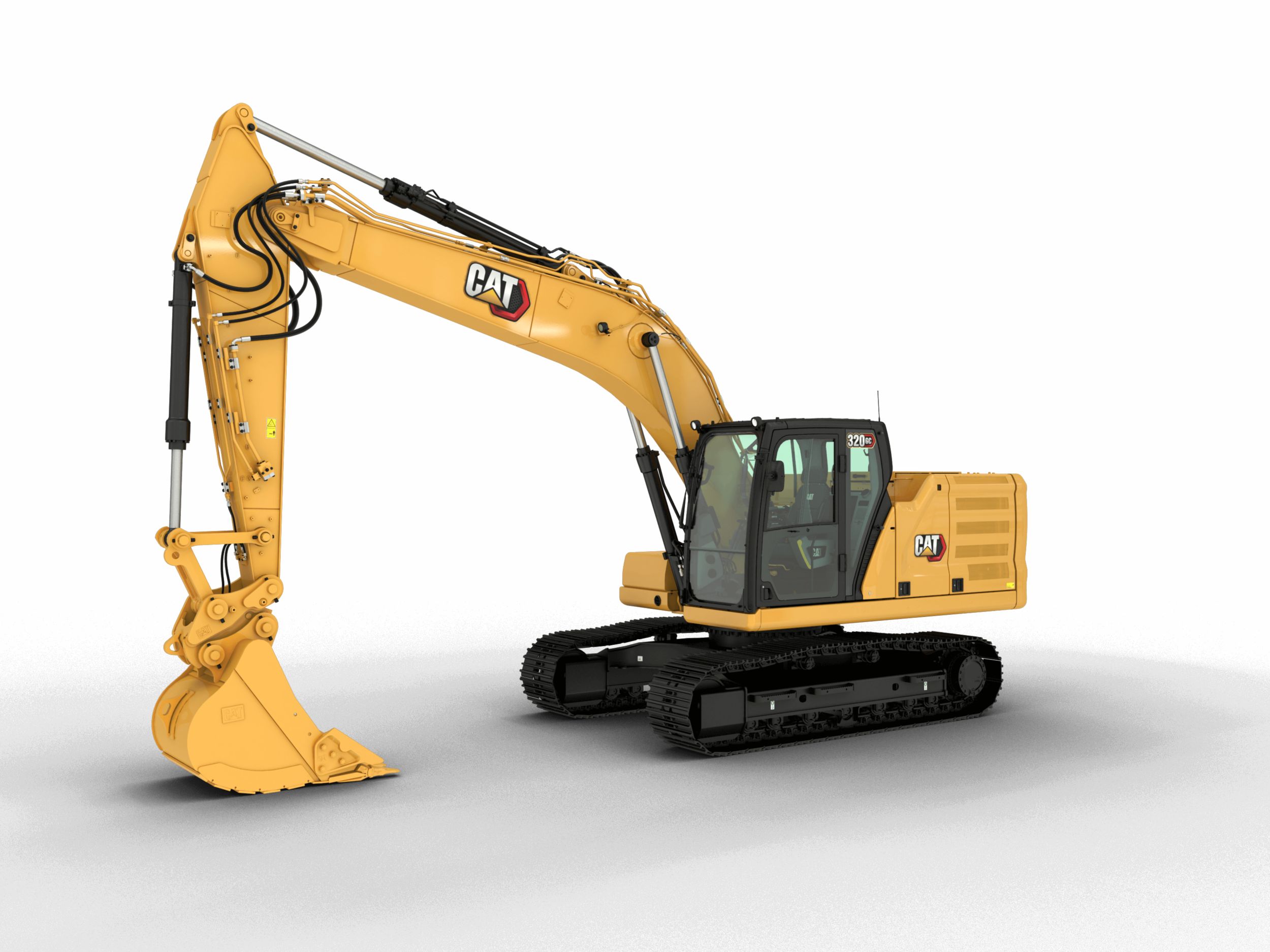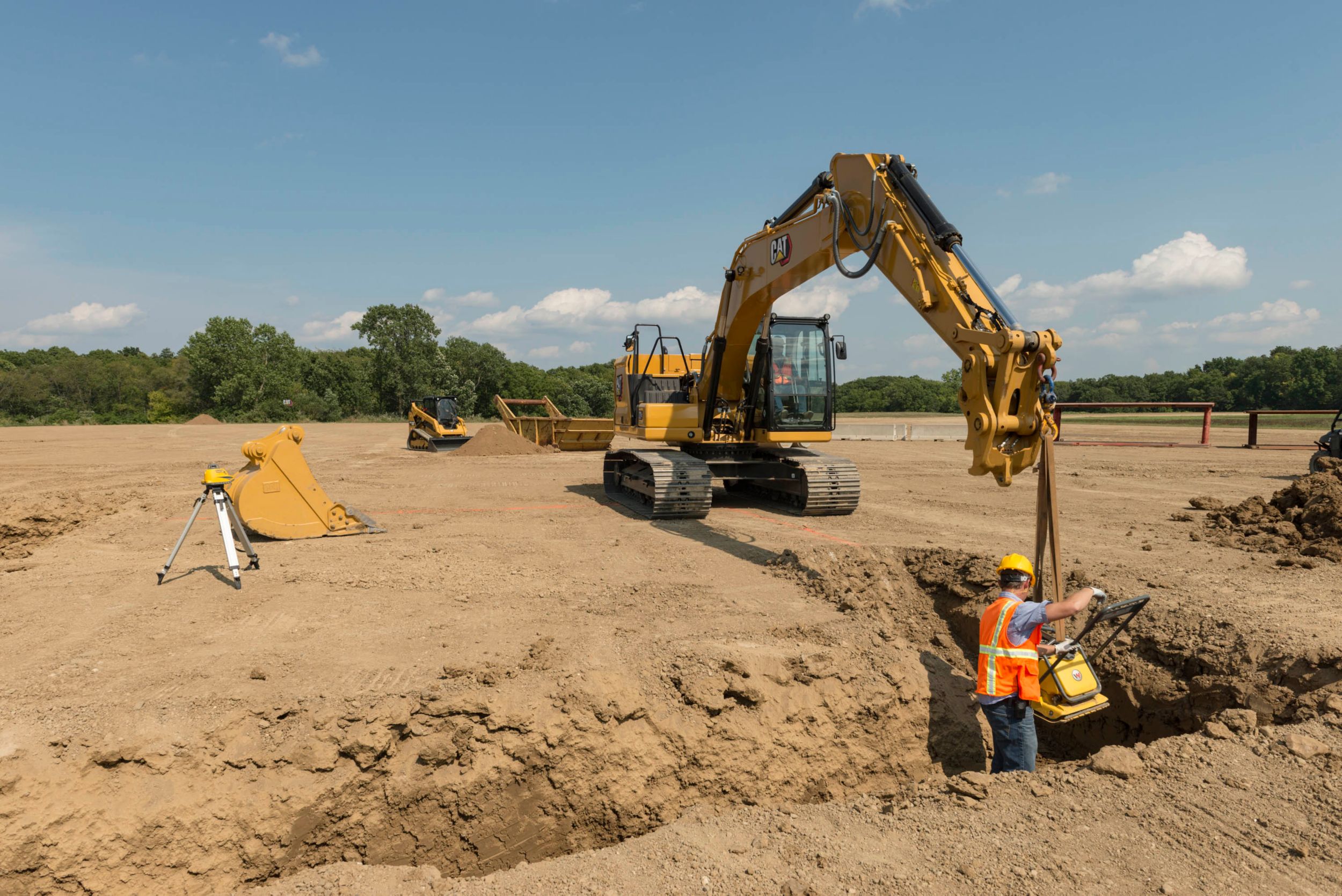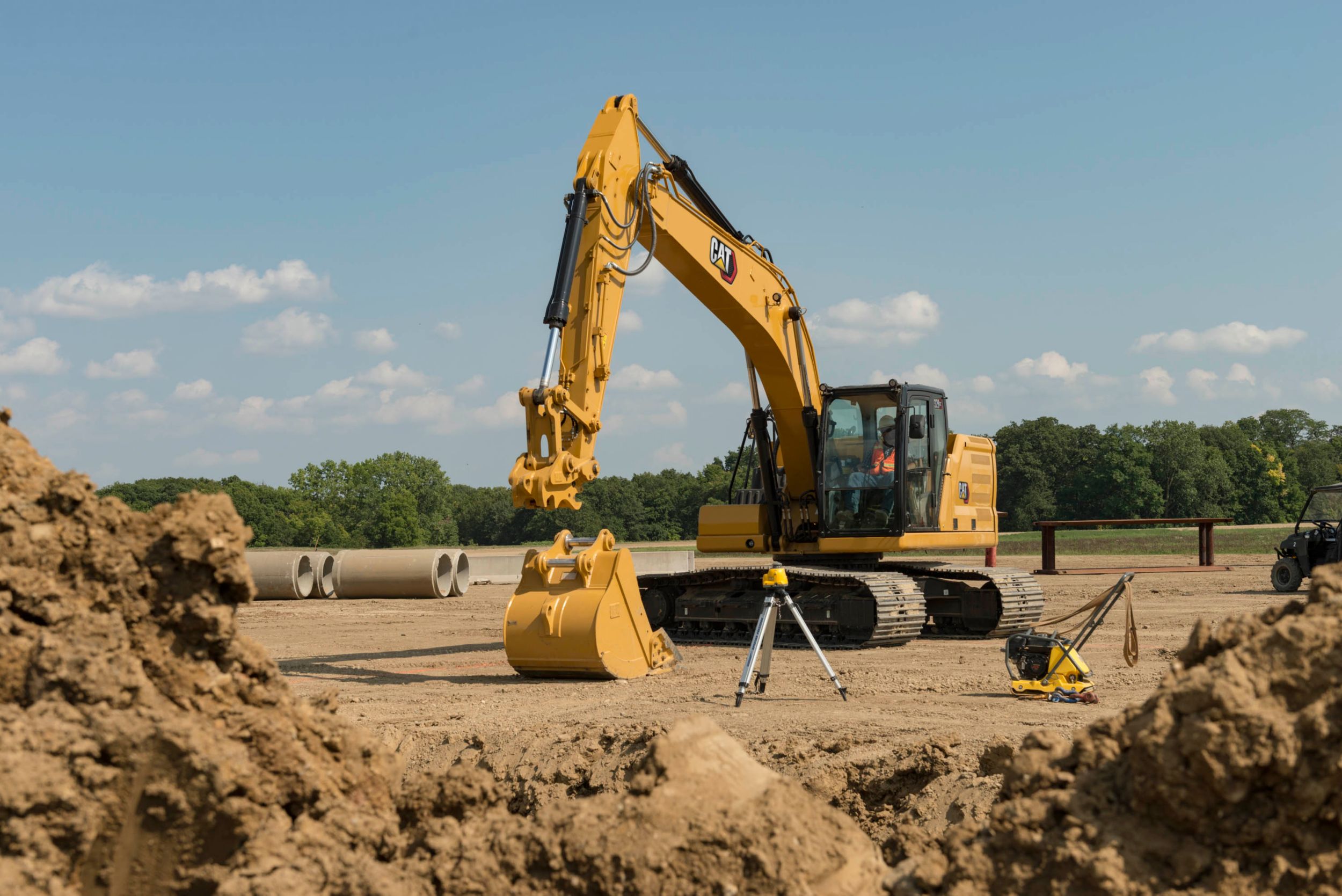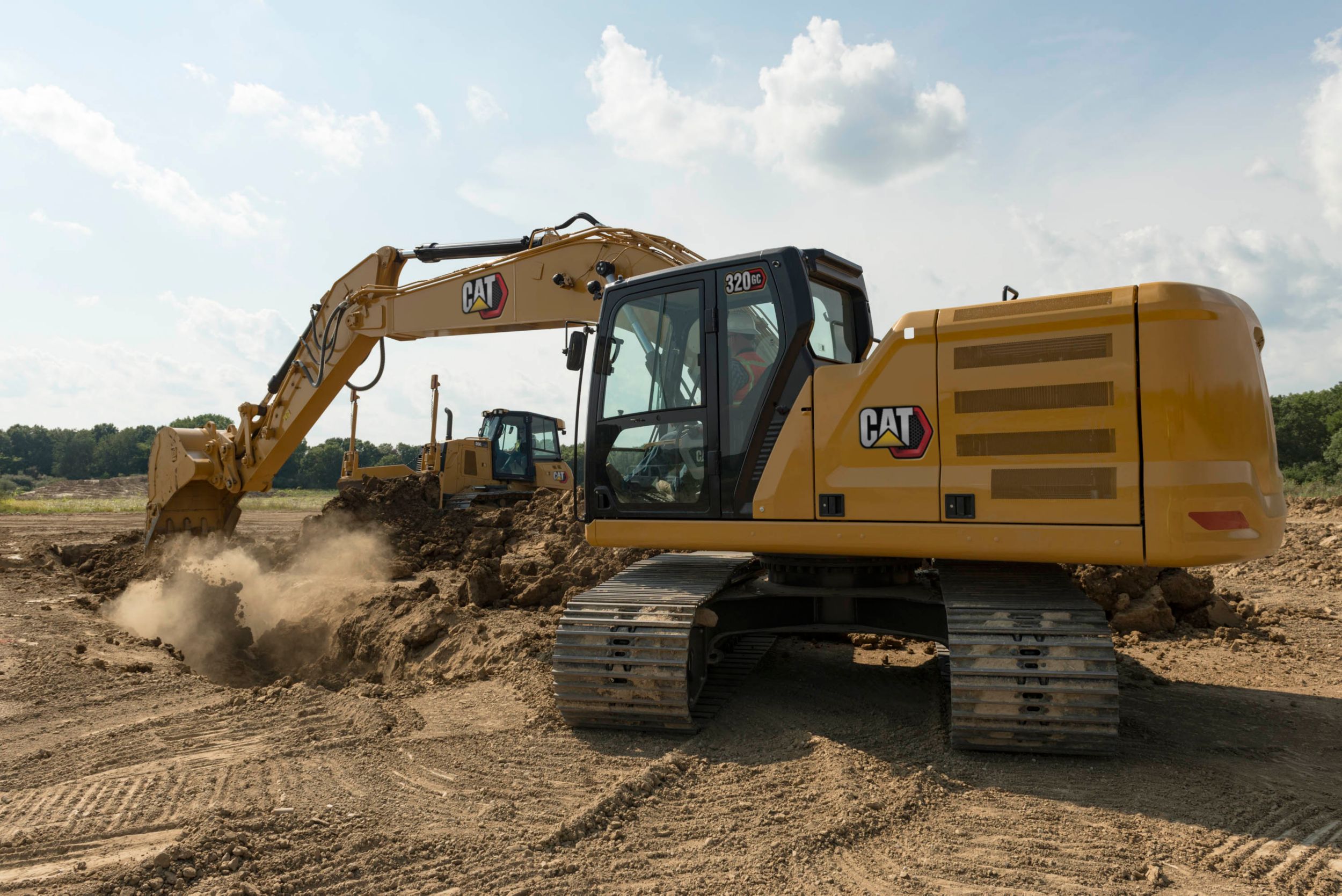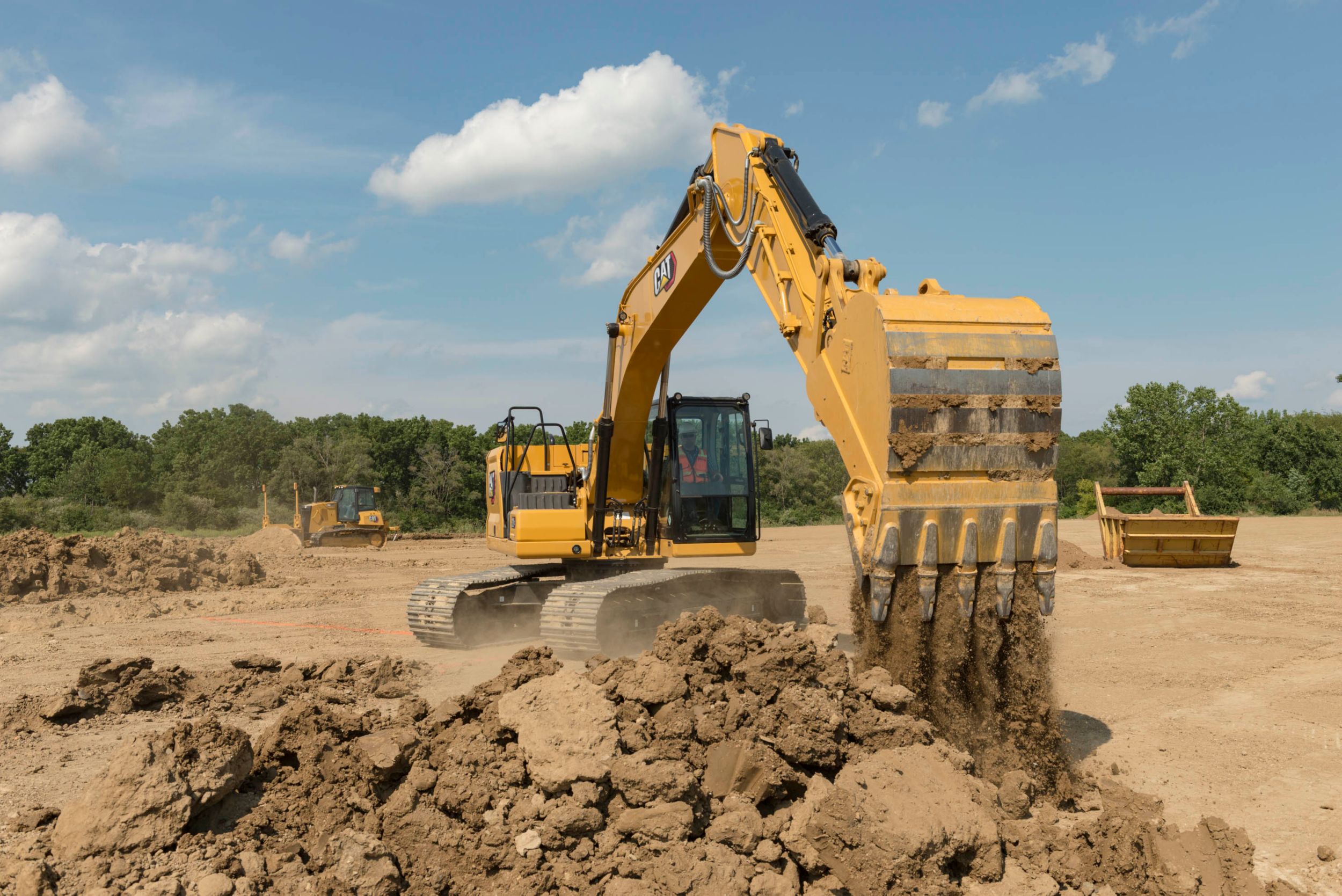 Other Models in this Category
Select Product Category