New | M 25 E Marine Generator Set
Designed for a high power output, the M 25 E is not only the right choice for customers seeking power density and increased load response capabilities, but also for those who choose to lower operational fuel costs utilizing selected load profiles in combination with the most efficient engine speed.
Generator Set Specifications
Minimum Rating
2016 kWe (2625 kVA)
Maximum Rating
3024 kWe (3938 kVA)
Emissions/Fuel Strategy
IMO II
Engine Specifications
Configuration
6,8,9 Cylinder
Bore
10 in
Stroke
15.75 in
Swept Volume
1244.88 in³
Generator Set Dimensions
Weight
43.0 - 56.0 t (94798 - 123459 lbs)
Length
7717 - 8713 mm (303.8 - 343.0 in)
Width
2357 mm (92.8 in)
Height
3866 - 4066 mm (152.2 - 160.1 in)
This Mak Design Principles Is Most Clearly Reflected In The Reduction Of The Number Of Components. About 40 % Of Parts Have Been Dispended. It Has Resulted In A Market Gain In Operational And A Reduction Of Operating Costs.
The Complete Diesel Generator Set Is Notable For Its Ease Of Installation, Reliable Operation, Ease Of Maintenance And Provides Good Component Accessibility.
In Addition To Many Outstanding Technical Features, The Long-Stroke M 25 E Engine Is Also Easy To Install And Provides Good Maintenance Access To All Components.
The Supply Of Complete Propulsion Systems Is A Market Requirement Which Is Becoming Increasingly Important.
System responsibility and supply from a single source, accurately matched interfaces and coordinated delivery data control
Standard Equipment
Air Inlet System
Air intake silencer / filter
Control System
Load sharing unit (for multiple engine plant only)
Modular Alarm Control and Protection System (MACS)
Speed governor
Cooling System
Electric cooling water preheater
HT cooling water pump (engine driven)
2-stage charge air cooler
Exhaust System
Exhaust gas expansion joint
Exhaust gas insulated manifolds
Turbocharger at counter-flywheel end
Fuel System
Fuel circulating pump (attached / for MDO/MGO only)
Fuel indicator filter
Fuel pressure valve (fitted / for MDO/MGO only)
Instrumentation
Control push buttons and lamps
Local control panel
Pressure and temperature indicator
Lube System
Lube oil cooler (separate)
Lube oil pump (engine driven)
Lube oil self-cleaning filter
Oil sump in base frame
Pre-lubricating oil pump (electric driven / fitted on base frame)
Pressure regulating valve
Mounting System
Flexible pipe connections
High flexible coupling
Resilient mounting
Starting System
Electrical barring device
Starting air valve
General
Engine, flexible coupling and generator mounted on a common base frame
Flywheel cover
Lifting device (rental)
Torsional Vibration Calculation (TVC)
Optional Equipment
Air Inlet System
Air inlet shut-off valve
Air intake transition piece
Expansion joint
Silencer / filter
Control System
Air injection control (for better load acceptance)
Electronic speed governor
Engine alarm system
Remote indicators (start air pressure, engine speed, etc.)
Starter for electric driven pumps
24 DC UPS
Cooling System
CW piping for generator cooling on base frame
CW piping for lubricating oil cooler on base frame
FW/SW plate cooler
HT cooling water pump (electric driven)
HT temperature control valve fitted on base frame
LT cooling water pump (electric driven)
Sea water cooling pump (electric driven)
Temperature control valve
Exhaust System
Silencer (with spark arrester)
Fuel System
Fuel oil cooler
HFO final preheater
HFO pressure regulating valve
HFO self-cleaning automatic filter
HFO supply and booster pumps (electric driven)
HFO treatment and supply modules
HFO viscosity control device
Mixing tank
Lube System
Lube oil centrifuge
Lube oil pump (electric driven)
Lube oil treatment and combined modules
Temperature control valve
Temperature control valve fitted on base frame
Mounting System
Double resilient mounting (engine and base frame)
Starting System
Starting air compressor
Starting air receiver
General
Engine PTO coupling
Generator customer supply
Part Load Optimization Kit for constant speed engine (SFOC improvement, smoke reduction)
Part Load Optimization Kit for variable speed engine (massive SFOC improvement,...)
PRO shaft on counter-flywheel side
listofrelationships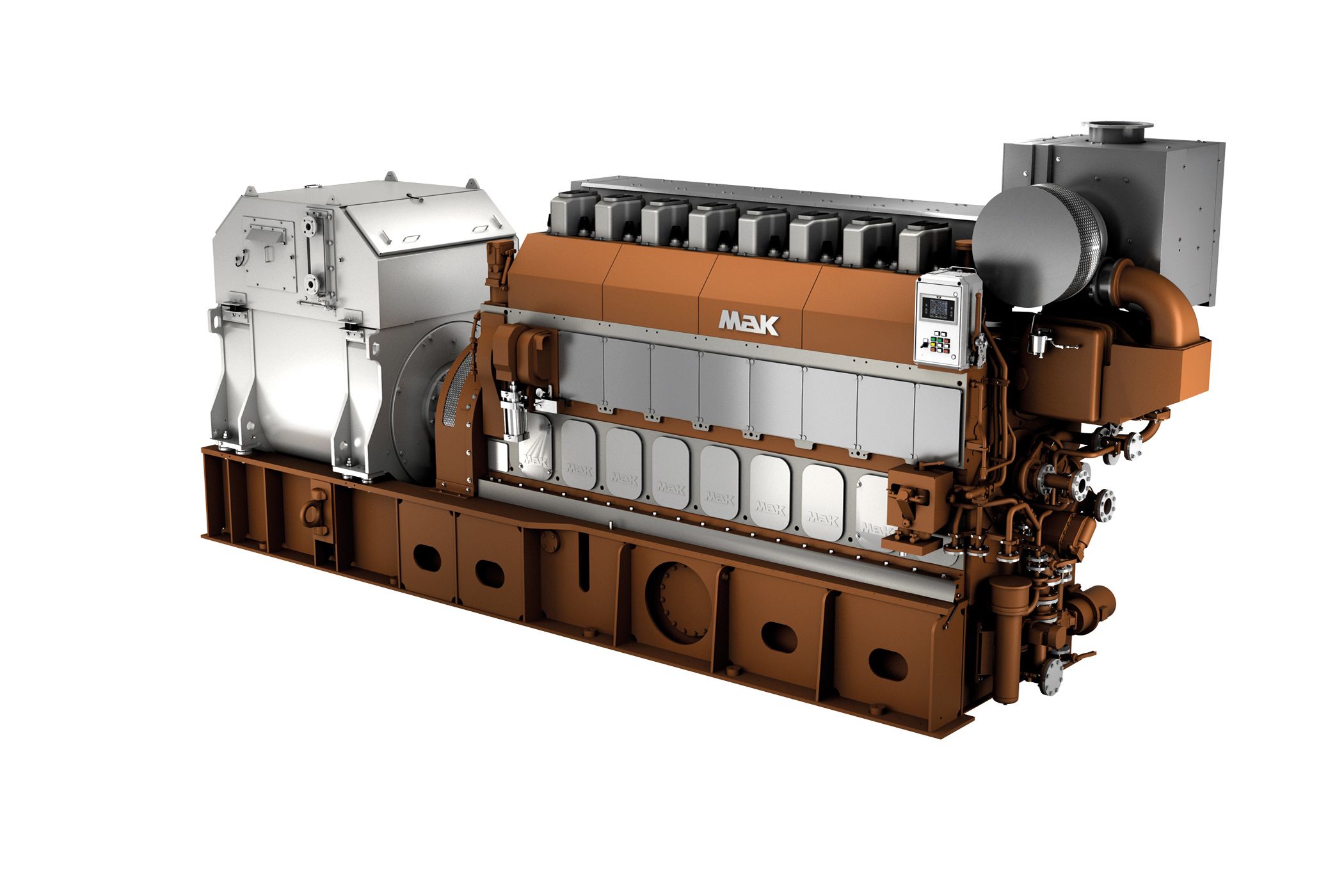 Other Models in this Category
Select Marine Power System Type