New | VM 32E Marine Propulsion Engine
The new VM 32 E engine is designed for our offshore customers seeking the greatest reliability and durability in combination with stability at high power output. The VM 32 E engine extends the output range of our recently announced M 32 E in-line engine above 5 MW and stands out with the same superior serviceability and long maintenance intervals. Additional properties of the VM 32 E are power output of 560 kW/cylinder, 100% PTO capability and a large portfolio of application-driven options. The VM 32 E has an improved power to weight ratio. It is the best solution for engine rooms that occupy fewer frames. Besides, the VM 32 E is a SCR, ready for the new Cat® SCR System to fulfill IMO III exhaust gas emissions.
Power Rating
Power Range
6360 - 8960 kW
Engine Specifications
Speed Range
720/750 rpm
Emissions
IMO II
Aspiration
Turbocharged
Bore
12.6 in
Stroke
18.9 in
Rotation from Flywheel End
Counterclockwise/Clockwise
Configuration
12,16 Cylinder
Swept Volume
2361.619 in³
Dimensions & Weights
Minimum Dry Weight
143300 lb
Minimum Length
273.6 in
Maximum Length
327.9 in
Minimum Height
138.7 in
Maximum Height
138.7 in
Minimum Width
117.5 in
Maximum Width
117.5 in
Part load optimization kit (PLK) for constant speed available.
Flexible Camshaft Technology (FCT) allows lower SFOC at part load area.
Technically lower risk – application of existing technology
Moderate Temperature Level Of Components Surrounding The Combustion Chamber, Corrosion-Free Turbocharger Casing Without Water Cooling
Lubricating Oil Automatic Filter Fitted To The Engine, Replaces Duplex Filter And Separate Automatic Filters, Pumps And Filters Operate Without Any External Power, Reduces The Parts Requirements
Long Intervals Between Overhauls, Simple And Fast Assembly/ Dismantling Because Of: - Plug-In Connections - Integrated Bores - Self-Centering
Standard Equipment
Air Inlet System
Air intake silencer / filter
Control System
Protection panel (emergency stop, override, reset push buttons)
Protection system (external cabinet)
Serial link interface (MODbus / canbus)
Speed governor cabinet incl. load sharing unit (for multiple engine plant only)
Start / stop panel
Cooling System
Electronic cooling water preheater
HT cooling water pump (engine driven)
2-stage charge air cooler
Exhaust System
Exhaust gas expansion joint
Exhaust gas insulated manifolds
Turbocharger at flywheel end
Fuel System
Fuel circulating pump (attached / for MGO/MDO only)
Fuel indicator filter
Fuel pressure valve (attached / for MGO/MDO only)
Instrumentation
Control push buttons and lamps
Emergency stop lever
Local control panel
Pressure and temperature indicator
Lube System
Dry sump
Lube oil plate cooler (separate)
Lube oil pump (engine driven)
Lube oil self-cleaning filter
Pressure regulating valve
Mounting System
High flexible coupling
Rigid mounting
Starting System
Electrical barring device
Starting air valve
General
Lifting device (rental)
Torsional Vibration Calculation (TVC)
Optional Equipment
Air Inlet System
Air inlet shut-off valve
Air intake transition piece
Expansion joint
Silencer / filter
Control System
Engine alarm system
Remote control system
Remote indicators (start air pressure, engine speed, etc.)
Starter for electric driven pumps
24 DC UPS
Cooling System
FW/SW plate cooler
HT cooling water pump (electric driven)
LT cooling water pump (electric driven)
Sea water cooling pump (electric driven)
Steam / thermal oil cooling water preheater
Temperature control valve
Exhaust System
Silencer (with or without spark arrester)
Turbocharger at counter-flywheel side
Fuel System
Fuel oil cooler
HFO final preheater
HFO pressure regulating valve
HFO self-cleaning automatic filter
HFO supply and booster pumps (electrical driven)
HFO treatment and supply modules
HFO viscosity control device
Mixing tank
Lube System
Lube oil centrifuge
Lube oil pump (electrical driven)
Lube oil treatment and combined modules
Pre-lubricating oil pump (electrical driven)
Temperature control valve
Wet sump with dip stick
Mounting System
Flexible pipe connections
Resilient mounting
Starting System
Starting air compressor
Starting air receiver
General
Cat Propulsion Systems
Engine PTO coupling
PTO alternator
PTO shaft on counter-flywheel side
Reduction gear
Reduction gear PTO coupling
Part load optimization kit for constant speed engine only (SFOC improvement, smoke reduction)
listofrelationships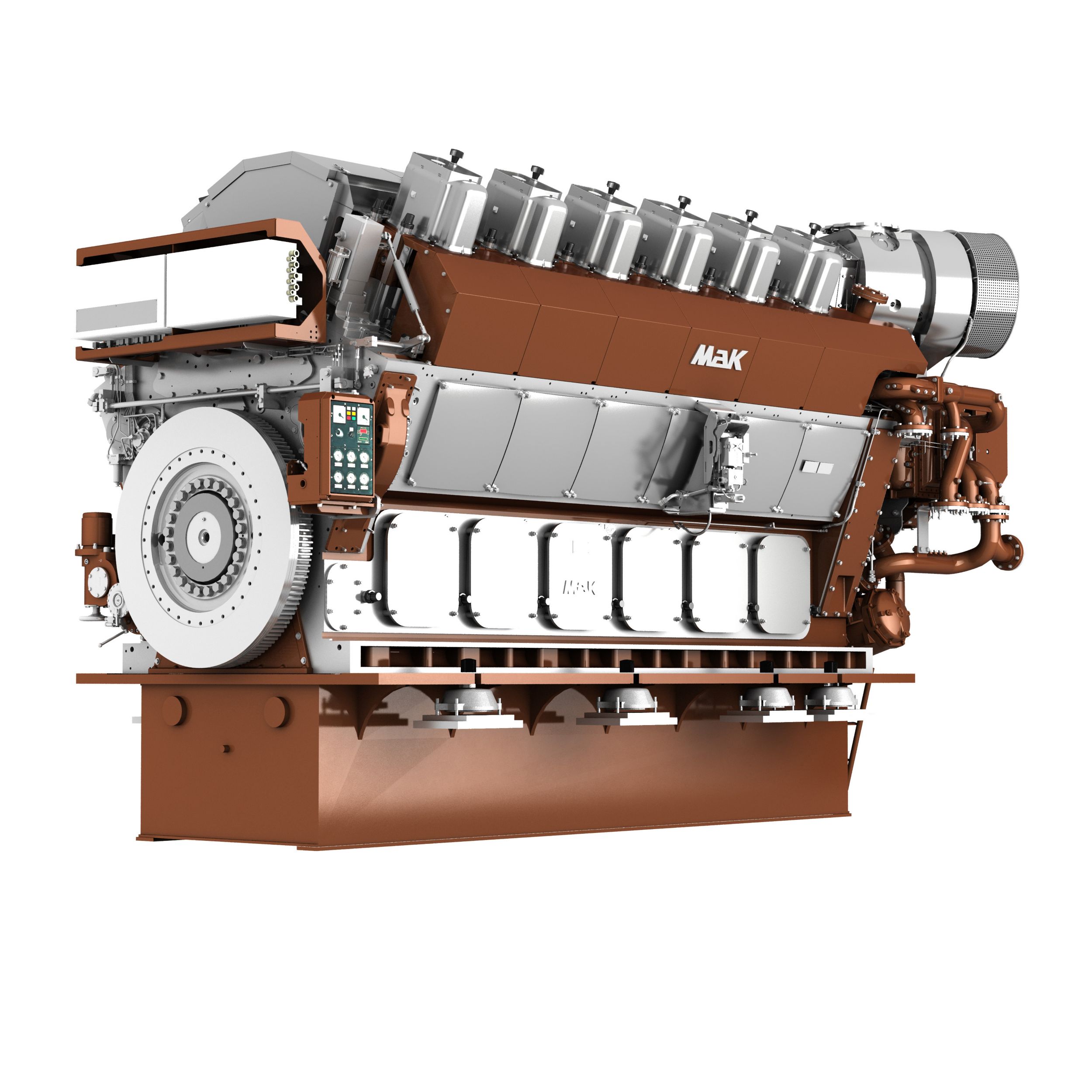 Other Models in this Category
Select Marine Power System Type