New | VM 46 DF Marine Propulsion Engine
Based on the successful M 43 C MaK medium speed engine, the M 46 DF was designed by Caterpillar Motoren, Kiel to meet and exceed the reliability and lifetime expectations of the M 43 C while maintaining its class leading position regarding operational efficiency. With its clean design, the M 46 DF does allow fast and easy access to the system and components supporting the operation, service and maintenance simplicity MaK products are known for. Designed to operate on gaseous- as well as liquid (MDO HFO) fuels, the M 46 DF will meet IMO III emission limits while operating in gas mode and injecting a small amount of ignition fuel to control combustion. Attention was paid to the customers´ demand for a safe and reliable operation at varying engine loads and gas qualities.
Power Rating
Power Range
10800 - 15440 kW
Engine Specifications
Speed Range
500 / 514 rpm
Emissions
IMO II in diesel mode / IMO III in gas mode
Aspiration
Turbocharged
Bore
18.11 in
Stroke
24.02 in
Rotation from Flywheel End
Counterclockwise / Clockwise
Configuration
12,16 Cylinder
Swept Volume
6181.7 in³
Dimensions & Weights
Minimum Dry Weight
352740 lb
Minimum Length
387.7 in
Maximum Length
470.2 in
Minimum Height
200.7 in
Maximum Height
201.7 in
Minimum Width
153.1 in
Maximum Width
158.5 in
Operational Simplicity
Service & Maintenance Simplicity
Operation on natural gas with min. methane number of 55 possible at reduced load.
Supports HFO operation according to CIMAC H55/K55 in diesel mode.
Standard Equipment
Air Inlet System
Air intake silencer / filter
Control System
Load sharing unit
Modular Alarm Control Protection System (MACS)
Speed governor
Cooling System
Electric cooling water preheater
HT cooling water pump (engine driven)
2-stage charge air cooler
Exhaust System
Exhaust gas expansion joint
Exhaust gas insulated manifolds
Turbocharger at flywheel / counter-flywheel end
Fuel System
Fuel circulating pump (electric driven / for MDO/MGO only)
Fuel indicator filter
Fuel pressure valve (separate / for MDO/MGO only)
Gas System
Instrumentation
Control push buttons and lamps
Emergency stop lever
Local control panel
Pressure and temperature indicator
Lube System
Dry sump
Lube oil plate cooler (separate)
Lube oil pump (engine driven)
Lube oil safety filter
Lube oil self-cleaning filter
Pressure regulating valve
Mounting System
High flexible coupling
Rigid mounting
Starting System
Electrical barring device
Starting air valve
General
Lifting device (rental)
Torsional Vibration Calculation (TVC)
Optional Equipment
Air Inlet System
Air inlet shut-off valve
Air intake transition piece
Expansion joint
Silencer / filter
Control System
Engine alarm system
Remote control system
Remote indicators (start air pressure, engine speed, etc.)
Starter for electric driven pumps
24 DC UPS
Cooling System
Cooling water preheater steam / thermal oil / electrical
FW/SW plate cooler
HT cooling water pump (electric driven)
LT cooling water pump (electric driven)
Sea water cooling pump (electric driven)
Temperature control valve
Exhaust System
Exhaust gas ventilation module
Silencer (with or withour spark arrester)
Fuel System
Fuel oil cooler
HFO final preheater
HFO pressure regulating valve
HFO self-cleaning automatic filter
HFO supply and booster pumps (electrical driven)
HFO treatment and supply modules
HFO viscosity control device
Mixing tank
Gas System
Gas flowmeter
LNG vaporizing unit
Lube System
Lube oil centrifuge
Lube oil pump (electrical driven)
Lube oil treatment and combined modules
Pre-lubricating oil pump (electrical driven)
Temperature control valve
Wet sump with dip stick
Mounting System
Flexible pipe connections
Resilient mounting
Propulsion System
Starting System
Starting air compressor
Starting air receiver
General
Engine PTO coupling
PTO alternator
PTO shaft on counter-flywheel side
Reduction gear
Reduction gear PTO coupling
listofrelationships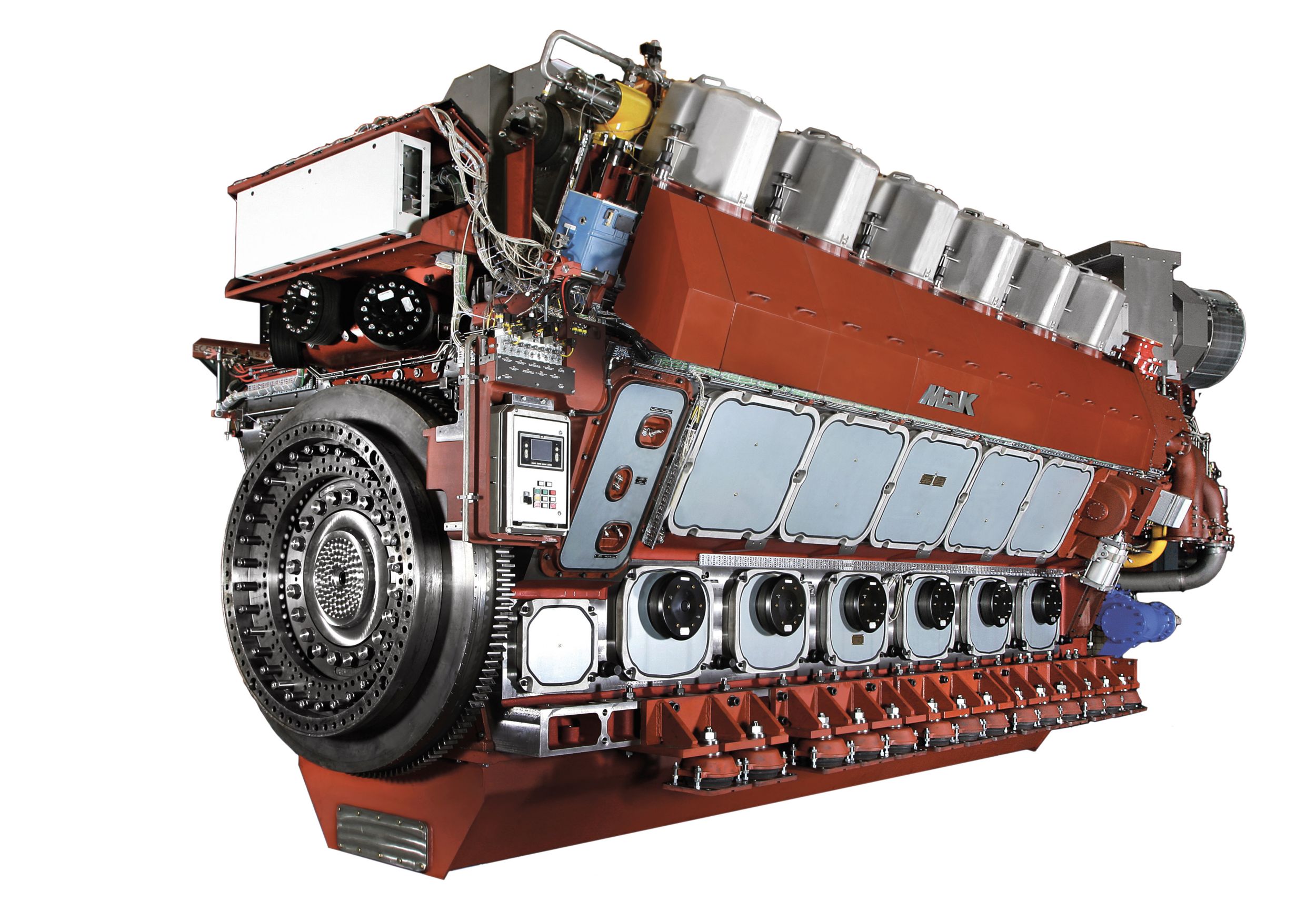 Other Models in this Category
Select Marine Power System Type