New | M 43 C Marine Propulsion Engine
Since its introduction into the market, the MaK long-stroke engine series M 43 has achieved an outstanding position on the marine applications market as an in-line engine in 6, 7, 8 and 9 cylinder versions. More than 650 engines with a total power of more than 6,500 MW have already been sold making the M 43 the market leader in the 5–9 MW power class. All the cylinder configurations have contributed to this market success. More than 90% of the marine engines run on heavy fuel within IMO regulatory limits.
Power Rating
Power Range
6000 - 9450 kW
Engine Specifications
Speed Range
500-514 rpm
Emissions
IMO II
Aspiration
Turbocharged
Bore
16.93 in
Stroke
24.02 in
Rotation from Flywheel End
Counterclockwise / Clockwise
Configuration
6,7,8,9 Cylinder
Swept Volume
5406.7 in³
Dimensions & Weights
Minimum Dry Weight
200620.7 lb
Minimum Length
325.6 in
Maximum Length
414.5 in
Minimum Height
202 in
Maximum Height
216.6 in
Minimum Width
113.3 in
Maximum Width
113.3 in
The M 43 C Is An Engine With A High Safety Level, Not Only Inside In Terms Of Component Life And Availability But Also With Regard To External Peripheral Safety. Solas Regulations Are Consistently Observed. There Is An Explosion Protection Cover For The Engine Block, Cladding For The Complete Fuel System From Fuel Filter To Injection Pump, While The Exhaust Gas And Turbine Casing, Including The Exhaust Gas Outlet Casing, Is In Stainless Steel - All Part Of An Overall Safety Concept For The Exhaust Gas Manifold.
The Cast Charge Air Cooler Casing Forms A Secure Foundation For The Turbocharger. The Rigidity Of The Casing And A 40% Increase In The Base Area For The Turbo - Charger Fastening Ensure Reliable, Low Vibration Operation.
The Governor Drive Is Of Simple And Robust Design. The Straight-Tooth Gearwheel Drive Is Safe And Requires No Further Adjustment. Designed As A Complete Module.
The Media Duct System Is Integrated Into The Components Wherever Possible. External Pipework Has Been Reduced To A Minimum. Maintenance Requirements Have Been Cut And Work Simplified By Plug-In Pipe Connections.
The Turning Device Is Of Compact Construction, Safely Flanged Onto The Engine Block. An Irreversible Gear And An Engagement Unit Ensure Simple Operation And Increased Operational Safety.
The Engine Block Consists Of Compact Nodular Cast Iron Components. There Is A Large Inspection Opening For Sideways Removal Of The Crankshaft Vibration Damper. Increased Rigidity Has Been Achieved By Means Of An Integrated Pump Mounting Plate. Fewer Components Mean Fewer Areas For Sealing.
All The Engine Performance Data Can Be Simply Inspected On A New Control Stand Arrangement With Reliable, Analog Displays. The Monitoring Components Are Arranged Centrally, Directly Above The Control Stand. This Ensures Increased Operating Convenience And Simplified Maintenance.
Lower Valve Drive And Injection Pump Drive "keep It Simple" - This Design Prin Ciple Is Consistently Applied In This Component. Of Modular Construction, The Component Is Of Simple And Robust Design And Boasts Increased Operational Safety Because No Ad Justment Work Is Necessary.
Cooled Injection Nozzles The Design Of The Cooled Injection Nozzle Provides A Number Of Advantages, Particularly During Heavy Fuel Operation.
Standard Equipment
Air Inlet System
Air intake silencer / filter
Control System
Load sharing unit (for multiple engine plant only)
Protection panel (emergency stop, override, reset push buttons)
Protection system
Serial link interface (MODbus / canbus)
Speed governor
Start / stop panel
Cooling System
Electronic cooling water preheater
HT cooling water pump (engine driven)
2-stage charge air cooler
Exhaust System
Exhaust gas expansion joint
Exhaust gas insulated manifolds
Turbocharger at flywheel end
Fuel System
Fuel circulating pump (electric driven / for MGO/MDO only)
Fuel indicator filter
Fuel pressure valve (separate / for MGO/MDO only)
Instrumentation
Control push buttons and lamps
Emergency stop lever
Local control panel
Pressure and temperature indicator
Lube System
Dry sump
Lube oil duplex filter
Lube oil plate cooler (separate)
Lube oil pump (engine driven)
Lube oil self-cleaning filter
Pressure regulating valve
Mounting System
High flexible coupling
Rigid mounting
Starting System
Electrical barring device
Starting air valve
General
Lifting device (rental)
Torsional Vibration Calculation (TVC)
Optional Equipment
Air Inlet System
Air inlet shut-off valve
Air intake transition piece
Expansion joint
Silencer / filter
Control System
Electronic speed governor cabinet
Engine alarm system
Remote control system
Remote indicators (start air pressure, engine speed, etc.)
Starter for electric driven pumps
24 DC UPS
Cooling System
FW/SW plate cooler
HT cooling water pump (electric driven)
LT cooling water pump (electric driven)
Sea water cooling pump (electric driven)
Steam/thermal oil cooling water preheater
Temperature control valve
Exhaust System
Silencer (with or without spark arrestor)
Turbocharger at counter-flywheel side
Fuel System
Fuel oil cooler
HFO final preheater
HFO pressure regulating valve
HFO self-cleaning automatic filter
HFO supply and booster pumps (electrical driven)
HFO treatment and supply modules
HFO viscosity control device
Mixing tank
Lube System
Lube oil pump (electrical driven)
Lube oil treatment and combined modules
Pre-lubricating oil pump (electrical driven)
Temperature control valve
Mounting System
Flexible pipe connections
Resilient mounting
Starting System
Starting air compressor
Starting air receiver
General
Cat Propulsion Systems
Engine PTO coupling
PTO alternator
PTO shaft on counter-flywheel side
Reduction gear
Reduction gear PTO coupling
listofrelationships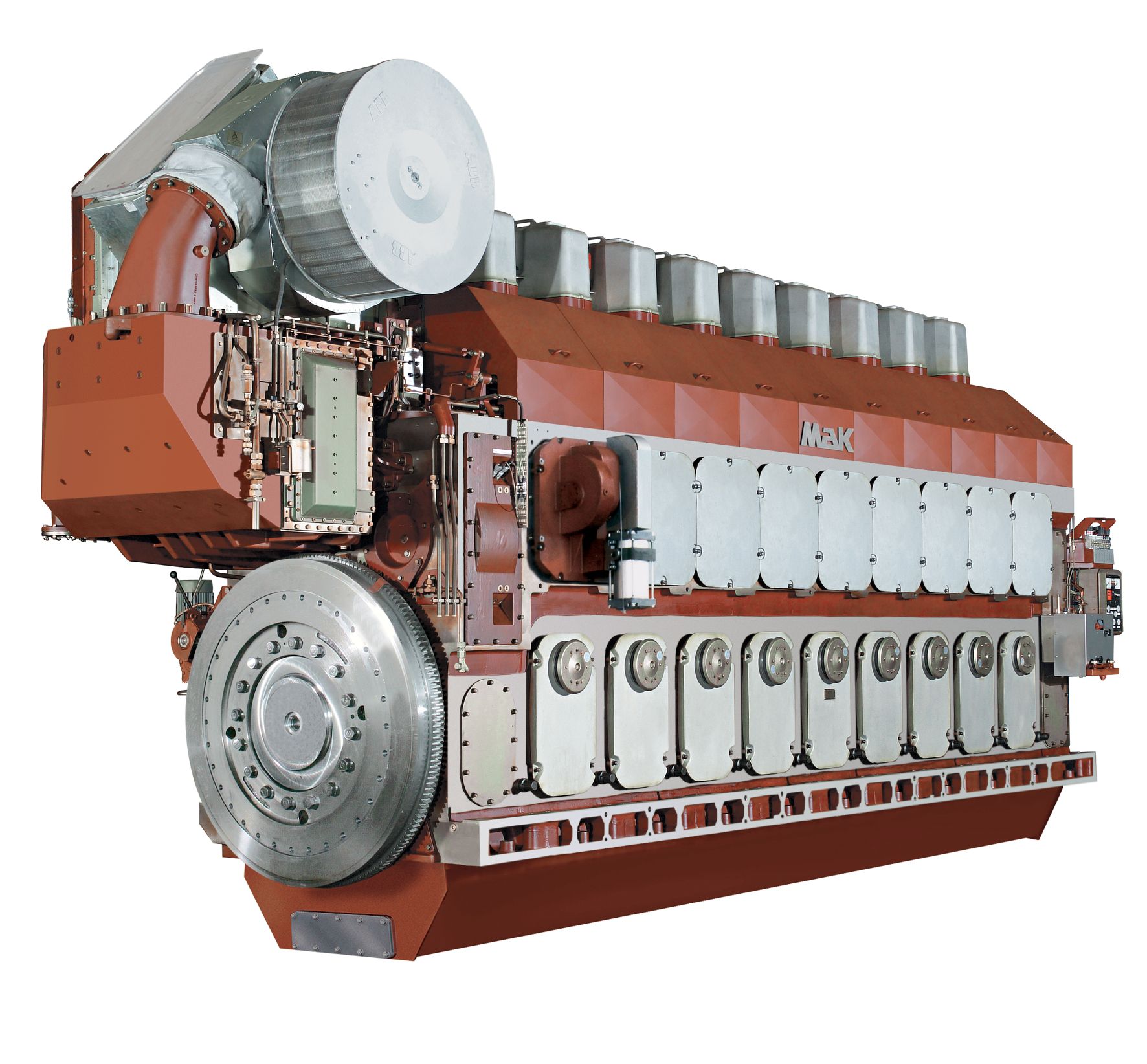 Other Models in this Category
Select Marine Power System Type